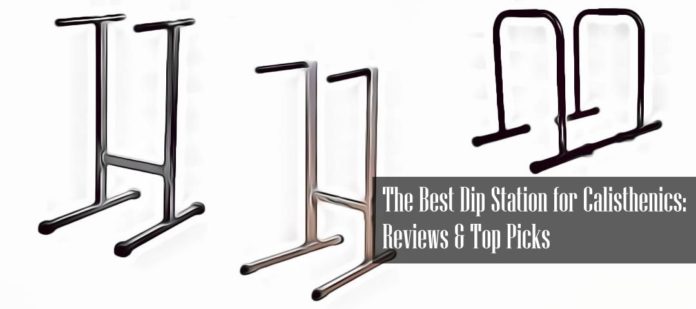 Want to find out which is the best dip station for calisthenics? I've got you covered!
After looking at more than twenty different models, I have come up with the top three dip stations suited for bodyweight workouts – and reviewed each model!
Want to jump straight to the conclusion?
Fine!
Here are the top three dip bars for calisthenics:
Top Dip Bars Comparison Table
Features
Sturdy
Nice Height
HIGH max body weight limit
Adjustable
Nice Price
Comfy Grips
Perfect Height
Superb Stability
Nice Feeling Rubber Grips
Features
Sturdy
Nice Height
HIGH max body weight limit
Features
Adjustable
Nice Price
Comfy Grips
Features
Perfect Height
Superb Stability
Nice Feeling Rubber Grips
Buyer's Guide to Purchasing a Dip Station
I get it:
Whether you're buying one for the first time or looking to upgrade from your old one, choosing appropriate dip bars for yourself is no easy decision. More importantly, it's definitely not something you should take lightly.
Purchasing and using the wrong dip bars will not only increase the risk of accidents and injuries but also throw all your dollars down the drain. 
And that is not the best way to treat your hard-earned dollars, right? 
Fortunately for you, that's why I'm here. I will guide you about the different features you need to look out for in dip bars according to YOUR needs and body type. Moreover, once you've understood what kind of dip bars is right for you, I'll even tell you about my personal top three dip stations of 2021.
Okay, time to get down to business:
Look for these features when choosing dip bars.
Weight Support
When you're selecting a dip station, look for one with adequate weight support.
It should be able to bear your body weight as you exercise without getting compromised in any way. 
Tips:
If you weigh 200 pounds, don't just directly go for a product that can support up to 200 pounds. Over time, you'll be bulking up, and your own weight will increase. As you move on to harder sets, you'll be adding additional weights to your exercises, such as dip belts. All of this will further increase the pressure on the calisthenics equipment.
Therefore, go for a product that has high weight support. Ideally, it should be greater than 300 pounds, and 500 pounds is more than adequate for most people.
Furthermore, proper weight support is not just necessary for you, but also for the dip bars durability and life later on.
Stability
Since you will be exerting a significant amount of pressure on the dip station, you certainly don't want it to topple under the weight. This is where the stability part comes in.
The dip bars should be designed so that their weight is either evenly distributed along the whole frame – or on the other hand – most of the weight is concentrated on the bottom.
Also, it should have a wide and heavy base that doesn't move around too much.
Moreover, this will depend on the type of dips you want to do, but a shorter dip station is also more stable as compared to a tall one. Then, as a result, you can avoid excessive wobbling of the dip station and accidents as you're using it.
Other than that, there are also some dip bars that you can directly mount onto a wall, and that's quite stable too.
The more stable your dip station is, the safer it is for you, and lesser chances of you falling on your face.
Frame Durability
Dip bars are not exactly something that you buy again and again.
Therefore, when you're choosing one for yourself, you want to make sure you get the right one that stays in good shape and lasts you a long time. 
The way to ensure this is to look for a frame built from the right materials.
 In this regard, heavy-duty stainless steel or iron will be your best bet!
You definitely want to stay away from any plastic frame…
Besides that, the metal frame of the dip station should also have a proper coating to keep it rust-free and durable.
Adjustability
If you're taller or broader than the average person, the standard dip bars might be a little uncomfortable for you to use. Therefore, you want something that you can adjust according to your body shape and height.
Even if the dip station is perfectly fine, an adjustable height will allow you to perform different kinds of exercises targeting different muscles.
Portability
If you plan to do your dips in different places or you move around the dip station a lot, look for a portable dip station.
Primarily, this means the dip station should be lightweight so that you can easily carry it around.
However, you have to be careful as opting for a lightweight dip station increases the chances of accidents as it becomes less stable. Therefore, you will have to find a balance between the two.
Storage
Not everyone has a big gym space in their house, but that doesn't mean they can't own and use a dip station. 
The only thing they'll have to be careful about is getting a dip station that is easy to store. Many dip stations come with a folding feature so that you can fold and store them in a compact place.
Therefore, if you're short on space, you'll need to look for foldability. Moreover, if you can't find an appropriate foldable one, you can even look for one that is easy to assemble and disassemble.
Comfort
Depending on whether you're a beginner or an expert or just your own preference, you'll want a certain level of comfort while doing dips. 
Therefore, look for appropriate features such as padding around the handles, leg stands, and so on.
2021's Reviews of The Best Dip Station for Calisthenics
Now that you've understood what a good dip station looks like, it's time to go and get one.
But wait.
You didn't think it was that simple, did you?
All you have to do is take one look in the market, and you'll know that's no easy task…
However, as always, I'm here to make things simple for you!
Here are my top three picks for the best dip stations for calisthenics in 2021.
---
THE EDITOR'S CHOICE
Measuring 35.5 x 23 x 53 inches, the Xmark Fitness Dip Station will be your favorite piece of equipment to work on at home.
It has a maximum weight capacity of 500 pounds, so you've got no worries about it not taking your weight!
Moreover, the dip station has a unique design where one end is slightly narrower. This allows both men and women to use it comfortably without any trouble.
Further adding to the comfort of the equipment are the two-inch cushions on the bar grips. You don't need to wear any additional gloves, and you can perform dips smoothly.
The square feet of the dip station ensure it stays on the ground without too much movement. Additionally, the dip station has an ideal height where you can easily do your dips without having to bend your legs too much.
The frame is of high quality that you can expect to last you a lifetime. Assembling the whole thing doesn't take much time either.
THE PROS
Large weight capacity
Suitable for men and women both
Comfortable cushioned grips
Stable and durable
Easy assembly
THE CONS
Can be hard to fold or store
---
THE AFFORDABLE CHOICE
Get your triceps in shape in no time with the ProsourceFit Dip Stand Station.
Built using strong iron tubes, this dip station has a tough frame that will stay with you for a while…
It can support up to 400 pounds of weight so you can do those dips and presses without any trouble.
What's more, the Prosource Dip Station is as easy to assemble as it is to disassemble. Additionally, it's pretty lightweight at 23.5 pounds so you can easily carry it anywhere you like as well.
With the stabilizing connectors, you can rest assured that the dip station will stay put no matter what you do. Similarly, the rubber feet prevent the frame from slipping around. The padded grips on the arms keep your hands comfortable and blister-free.
Best of all, the Prosource Dip Station has an adjustable frame. Not only does this mean that many different people can use it, but also that one can perform many variations of an exercise on it. 
The height, as well as the width, is adjustable to a certain degree.
THE PROS
Sturdy frame
Large weight capacity
Easy assembly
Lightweight and portable
Comfortable to use
Adjustable bars
THE CONS
Can be a little unstable at times
---
THE PREMIUM CHOICE

Another excellent dip station, the Body-Solid Dip Station, has loads of features that made me include it in my list…
It measures 38 x 27 x 53 inches for a massive dip station, and with a weight of 44 pounds, it sits pretty heavily on the ground as well. Therefore, you don't have to worry about any wobbling or shaking.
The bars are slightly angled towards one end so that people with narrow, as well as a broad build, can use it comfortably. With the thick padding on the grips, your hands don't feel tired or slippery either. 
There's also an extra-long hand grip so that you can try different positions to target different areas.
Furthermore, the frame is built using heavy-duty steel that won't get damaged so easily. Moreover, if you're still worried about it, Body-Solid even offers a warranty on their dip station.
THE PROS
Stable and safe with a wide base
Angled bars make it usable by everyone
Comfortable to use
Durable frame
Warranty
---
The Alternatives
When doing research for this review, I found several other available products also worth mentioning. Although they did not make it all the way to the top, these models are great alternatives to the reviewed models:
GoBeast Dip Station
Lebert Parallettes
Livebest Dip Station
Among the lot, the GoBeast Dip Station just missed one of the top three positions by a few inches…
FAQ: Frequently Asked Questions
How Tall Should a Dip Bar Be?
Well, how tall a dip bar should depend on your own height – but it should be somewhere in the region of 3 to 6 feet. By having adequate height on the bars, you will be able to perform both tricep and chest dips.
What Equipment do You Need for Calisthenics?
Basically, you do not need any equipment to do calisthenics. But there is a few that will definitely add to your calisthenics training routine:
Dip Station
Pushup Bars (parallette bars)
Power Tower
Resistance Bands
Suspension Trainer
Door Pull Up Bar
Gymnastic Rings
All of these will supercharge your training and provide you with loads of options for your full-body workouts!
How do You Use a Dip Station?
Depending on what exercise you are about to do, it can be used in several ways. Check out this video for instructions.
Are Dip Stations any Good?
Depending on the model, some dip stations are good, and some are not… As long as you stick to a model with good user ratings, your choice should be safe.
Final Words: Dip Stations Are Excellent for Calisthenics
Calisthenics – or bodyweight training – is by far one of the best ways to build functional fitness and strength. Incorporating a dip station into your workout will be a perfect addition well worth the spend…
Dips
Push-Ups
Rows
Hand stand shoulder press
Pull exercises
Upper body
Chest
Triceps
The list goes on…
Take your home CrossFit calisthenics training routine to the next level using dip bars – at least that's what I would have done.
Want to look for other options instead? Do you think that a power tower will be a better fit? Or maybe a set of parallel bars?
No worries!
Check out my LARGE collection of home exercise equipment reviews and fitness tips over at my home strength-building archive.
See you there!
Other Helpful Resources