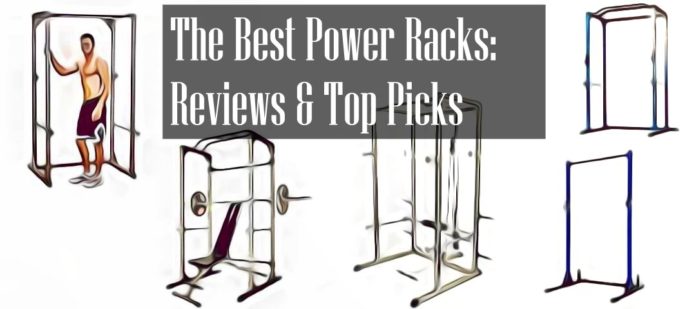 What is the best power rack for home gym setups?
As I love power racks, I have been looking forward to writing this review for some time.
By reading DOZENS of product descriptions, and TONS of customer feedback, I have come up with a list of 5 amazing racks – each perfectly suited their own customer segment.
If you are in a hurry, here is a quick overview of the 3 TOP racks reviewed today:
The Best Power Racks for Home Gym 2022: Comparison Table
Features
Wide walk-in design
18 adjustment levels
2 heat-tempered lift-offs
2 saber-style safety rods
Integrated wide knurled chin-up bar
10-year frame warranty
600 pounds weight capacity
2" x 2" Steel frame
Two 23" long chrome dual mounted safety bars
19 adjustable height levels for the safety bars
Multi-position over head chin up/pull up grip bars
Bench with smooth 12 position adjustable backrest
Can be "upgraded" with several attachments
800 pounds Weight Capacity
LOVED by consumers!
2" x 2" Steel frame
4 Plate Storage Pegs
4 Solid Steel Chrome adjustable weight bar supports
17 variable positions
Lat pull down station with Plate loading carriage
Pull Up Station with knurled grips
500 pounds weight capacity
Compact
Extended safety bars
Integrated multi-grip pullup unit
Built from strong, 14 gauge steel
High quality design
20 adjustable height levels for the safety bars
1000 pounds Weight Capacity
Compact
Built-in bar and weight storage
Integrated pull-up bar
Built from 11- and 12- gauge steel tubing
J-cup safety bar
Highly trusted brand!
750 pounds Weight Capacity
What is a Power Rack?
Why bother rushing to the gym after work, when you can get all the same amazing results from home?
For working out at home though, you need to have the BEST equipment available, and one of your most valuable assets will surely be a power rack.
A power rack is a large, metal, cage-like piece of strength training equipment used primarily for compound exercises using a barbell and weights. It enables you to use heavier weights without a spotter and the movement restrictions imposed by other fitness machines such as the smith machine.
If you desire to lift weights, in addition to having a good weight set and a good bench – the next thing you should consider is a quality power rack.
A power rack also can hold a barbell at any height you choose to start an exercise and provides safety rails that catch the barbell at the end of the set.
Working out at home can be dangerous if you aren't careful, so power racks are a piece of equipment that allows you to push yourself as hard as you desire without the fear of biting off more than you can chew.
In addition to providing you with an extensive range of weight lifting opportunities, a power rack usually also comes equipped with dip bars, a pull-up bar – and sometimes even weight plates. The added functionality offers other benefits such as allowing you to do chin-ups, pull-ups, and tons of other calisthenics exercises.
The power rack is the single most important piece of equipment in any home gym. It doesn't matter if you're training to gain muscle or lose fat, that big hunk of steel is going to help you get there.
Reference: bodybuilding.com – Training At Home: Power Rack Workout Program
Hey!
Why not combine the power rack with some resistance bands? I do, and I love it!
Tie the resistance bands to the bottom of the rack, or even from the pull-up bar at the top for different pressing and pulling resistance.
Feel those muscles burn!
Now, let's find out what to look for in a power rack:
The Ultimate Buyers Guide to Purchasing a Power Rack for Your Home Gym
There are many things to look into before choosing a power rack for your particular workout goals and workspace.
Besides safety, functionality, strength, and maximum weight capacity, there are many other factors to consider before making your decision to purchase a power rack.
Here are some main features to take notice of before choosing a power rack:
Frame Style
Frame Style is closely related to size; the style can also be helpful when deciding which design may better fit your available workout area.
Full power rack, half power rack, and folding power racks are the three most common frame styles to choose amongst.
Each of these rack styles has its advantages and disadvantages depending on how much space you have available and what other features you may require with your power rack.
Practically the full power rack will require more floor space, and if you have less space and don't require additional features, then the half-power rack would be ideal for your situation.
The fold-away power rack is ideal for a garage setting or any room that offers only minimal space.
This type of rack is wall-mounted and can be easily folded out when being used, and folded flat against the wall when not in use. This is definitely something to consider when floor space is limited.
Or if you are planning to use the rack in your low ceiling cellar, take a look at one of these superb short power racks…
Maximum Weight Capacity (300 – 1500 lbs.)
It is essential to know the maximum weight you will be using, also how much you may be using in the future.
However, it is not uncommon to add 100 to 200 pounds of weight to your current workout max over the years.
It is advisable to get high enough weight capacity now, instead to be stuck with a power rack one or two years from now that is no longer functional for your workout level.
Agree?
For anyone who plans on maxing out over 300 pounds of weight now or in the future, it would be highly recommended to choose the 600 to 1000 pound maximum weight capacity power racks.
Frame Strength
The structural stability of any power rack is notably our number one concern when choosing the right power rack for your workout level.
The steel needs to be of high quality, -no 0,04" poor-grade wannabe steel!
Welding strength is also important but is not a factor I would be very concerned about.
Any company, especially brands that have been around for a while would never risk a lawsuit due to an injury caused by poor welding.
But To be safe, just check all welding spots for any cracks, and if you have any concerns, contact the company for assistance.
Adjustments
To ensure a safe and effective workout, J-hooks and spotting bars should offer adequate adjustment levels.
Good adjustment measures would be about every 2" to 3" and the closer the holes, the more height adjustment levels you will have.
It will be harder to get the right setting for your specific exercise or body size if hole spacing is too wide. More than 3-4" is not recommended.
Warranty
It is crucial to double-check the warranty to protect your investment.
Although the best home power racks can develop problems, yet the warranty lets you use your new equipment with confidence.
J-Hooks
If the frame you want to buy comes with J-Hooks included, it's worth inspecting them with a keen eye.
The J-Hook you will choose should be high enough quality to support the drop of a heavy bar, but also keep your bar intact during loading and racking.
Extra Attachments
Gyms often choose to include some additional features on their lifting racks.
The main three are:
The Step Platform,
Core Plate, and
Dip Attachment.
The adjustability of the power rack makes it possible for them to be adjusted to any user and brings an element of functional training to your lifting zone.
Other smart features even include a prone row bench, grappler attachment, and medicine ball storage.
Bench
If you indeed want to buy a rack, it is worth keeping in mind the bench you'll be using with it.
It is worth considering a multi-adjustable bench if you don't have a bench.
This will give you the most training options both inside your rack as on the free weight floor.
2022's Reviews of The Best Power Rack for Home Gym Setups
Now.
Let's have a look at the kings and queens of power racks:
---
EDITOR CHOICE
PowerLine power rack helps weightlifters work out safely and efficiently while performing squats, military presses, loads of other workouts.
This power rack boasts a full walk-in design that offers plenty of side-to-side movement for a variety of exercises – along with two heat-tempered liftoffs and two saber-style safety rods that hold up to heavy use through the years.
Also, this rack offers a total of 18 positions, helping it accommodate a ton of different heights and exercises.
Wow!
Whether your exercise includes squats, incline presses, flat bench presses, shoulder shrugs, or calf raises, the power rack makes your routine easy and safe.
If this sounds intriguing, be sure to read my in-depth Powerline PPR200X Power Rack Reviews – where I really get into the nitty-gritty of this fantastic machine!
THE PROS
This rack is affordable and very sturdy.
It's wide, walk-in design allows you to perform a large variety of workouts.
It offers a total of eighteen different positions, accommodating most any user height and even further increase the number of exercises it can enable.
It comes with a ten-year warranty on the frame and a one-year guarantee on the parts.
THE CONS
The hooks on the rack are not the best for benching.
---
The Most Bang For The Bucks
FITNESS REALITY 810XLT Power Cage alongside the FITNESS REALITY 1000 12 Position Weight Bench can both save you money and provide the versatility you need to extend your workout options.
This power rack comes with two chrome dual mounted safety bars and two chrome lock-on safety.
Each of these bars can handle a weight capacity of 800 lbs and can be adjusted to 19 height levels to give you a total range of workout positions.
How about that?
When it comes to equipping your personal gym with what will probably be the most significant single investment, you should ensure you're getting a unit that is up to the job.
One of the most popular power racks for a home gym is the Fitness Reality 810XLT Power Rack.
This rack also gives you the confidence to perform heavy power moves like squats, deadlifts, and rack pulls safely, -even when there's no one else around to spot you.
THE PROS
This power rack can hold up to 800 pounds.
It is also affordable compared to other power racks.
It has a sturdy structure.
Built-in plate storage
Very easy to assembly
Comes with one year warranty
THE CONS
No Westside hole spacing
There is no option to add a lat pull attachment like some racks.
With the plate storage, it must be stored away from the wall and also
requires a lot of space.
Transitions between switches of plates are slow because of the location.
Fitness reality 810xlt super max power rack attachments must be
purchased separately
Might be convenient for people over 6-foot tall
---
The Premium Choice
The Valor Fitness BD-7 Power Rack offers 4 plate storage pegs to the rear of the unit, -2 on each side.
While the storage pegs are of standard size (1"), they can conveniently accommodate 2" Olympic plates with each peg measuring 8" long.
The Pull-Up station is situated at the top of the rack, it boasts solid steel construction with knurled grips at both ends. Measuring approximately 83" from the floor, it is suitable for users of all heights and up to 350 lbs.
THE PROS
Valor Fitness Power Rack has a solid and sturdy frame, and it works excellent for pull-ups
Very easy to assemble. it comes with clear instructions, and all you need is two basic wrenches to get the assembly done
The catch bars of this machine can handle heavy lat pull-downs.
A wide array of workouts can be done on the machine, especially if you add the lat pull attachment and the dumbbell holders
THE CONS
The dimensions of the machine may not accommodate your weight bench.
The pulley mechanism is a bit thick
---
The Best Design Award
Rep Fitness Power Rack – PR-1000 is designed to fit under your budget and under your ceiling.
This is a reliable and excellent power rack to put in a spare bedroom or basement/garage gym.
At a 700 lbs weight capacity, it can handle more weight than most of us will ever lift.
Weight storage pegs at its back add to the utility and stability.
Safeties ensured with a chrome coating, and -updated- J-cups with a plastic covering that gives this power rack an awesome look and finish.
THE PROS
Has holes that are closer together.
A 26″ pillar to pillar depth inside
This power rack can hold more than 800 pounds
Has a sturdy structure
THE CONS
Its weight capacity is only 700lb on the PR1000
If you attach the lat pull there'll be no rear pull-up bar.
---
The Affordable Choice
The cap barbell power rack Exercise Stand, which I've recently tested out thoroughly in my CAP Barbell power rack exercise stand review, is designed to do double-duty.
This machine is sturdy enough to use for resistance training, and you can place a bench inside and use it as a power rack.
All tube seams are perfectly welded to provide additional strength and stability.
THE PROS
It is made of 12 and 14-gauge tubular steel
It can hold up to 300 pounds
Doubles as a resistance training tool
Triple powder-coated finish
THE CONS
Doesn't come with a bench or any other attachments.
A little bit challenging to find accessories that will fit at the top
---
Final Words: All Home Gyms Should Include a Power Cage
If you're looking for a versatile power rack to use at home; you can't go wrong with any of these models.
I highly recommend these power racks, though they all have their pros and cons.
If you want to check out even more options, here are the racks that just missed a spot in this review:
Titan power rack
Atlas power rack
Xmark power cage
Rogue r4 power rack
Or maybe you would prefer a power rack smith machine combo? These are a little bit more expensive – but they offer tons of benefits!
Oh, and one more thing:
I suggest you take some time and check out my archive of home exercise equipment articles, LOADED with reviews of different workout machines, strength training routines and, helpful stuff – carefully created to suit YOUR needs.
Other Helpful Resources