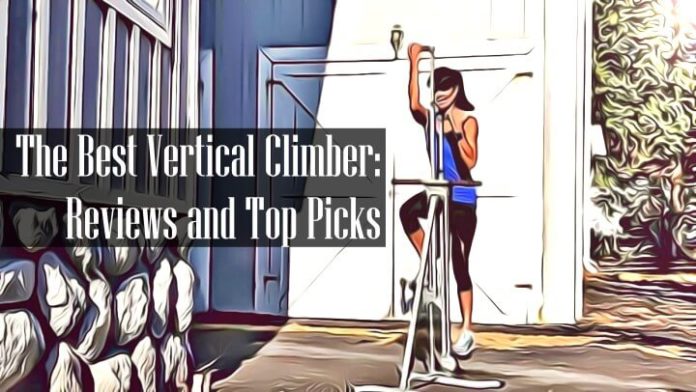 Are you looking for another alternative to jogging for hours on the treadmill? Are you tired of traditional cardio that at most brings moderate results?
Well, then it's time for a change!
And a vertical climber might be your perfect solution… Providing you with a full body workout that helps you lose weight, build strength and improve your cardio – packed in ONE equipment. I've looked at the four hottest machines currently on the market, and also added a thorough buyers guide and FAQ section to bring you the ultimate guide to vertical climbers!
If you are in a hurry and do not want to read the complete review, here is a quick look at the best vertical climbers of 2021:
If you want to dig deeper into each model, read on, and I'll give you all the juicy details…
Comparisons Table Of The Best Vertical Climbers
Before looking at the buyer's guide and review section, let's compare the best vertical climbers to see if any of them stand out:
Features
Isometric non-slip grip
Ergonomic design
Workout timer
Adjustable height
Quick fold
Ergonomic grips
Easy set up
Chain system
Adjustable height
Easy fold
LCD display
Quick assembly
Two step folding
Isometric non-stick grips
Wire system
Adjustable height
Non-stick grips
Ergonomic design
LCD display
Adjustable height
Compact when fold
The Ultimate Vertical Climber Buying Guide
First of:
Exactly what is a vertical climber then?
A vertical climber is a machine built to simulate the natural movement of rock mountain climbing.
Due to their smart design, vertical climbers are perfect if you are looking for an effective, easy to store away exercise equipment to tone your body at home.
But before purchasing one, be sure to consider the following:
Grips
Make sure the vertical climber you choose has ergonomically designed grips. Climbing for 45 minutes, holding on to some slippery uncomfortable grips will irritate the heck out of you.
The "Motor"
A chain is more durable than a plastic coated wire, -but will need additional maintenance (oil).
How often are you planning to use the climber?
And at what intensity will you be using it?
These are questions you ought to ask yourself before deciding on the type to buy. A chain equipped climber will suite the heavy user, while a wire will be sufficient for moderate usage.
LCD Panel
Do you own a pulse watch and do not care about the number of steps each workout?
Or do you want the climber to record your steps and calculate the amount of burned calories?
Some vertical climbers come with an LCD panel; some do not. Evaluate if this is a feature you want in your climbing machine, and put this into your equation.
Your Weight
Some climbers are made of cheap material, suited petite women and men. Some are made of heavy industrial steel, providing a maximum user weight of 450 pounds.
Who will use the climber you buy? Make sure you get one who carries their weight!
Pro tip: As your fitness level increases, you might want to supplement your climbing routine with a weighted vest. Be sure to get a climber where there is room to add extra weight as you get fitter!
Price
A vertical climber is placed at the lower price end of the cardio exercise equipment. With a typical price range from 70 – 200 bucks, they will provide a cost-efficient solution to your home gym cardio section.
Be sure to consider all of the above when evaluating which to get.
Remember:
Just because a product cost more doesn't mean it's a better fit. Think of it as buying a car:
Evaluate your budget and get the product that best fits YOUR needs.
Way too many people invest in fitness equipment costing loads more than what they can afford.
The Showdown: Vertical Climber vs Its Competitors
So:
How does the vertical climber compare to the other types of cardio equipment then?
Let's find out!
Vertical Climber vs Rowing Machine
Ok, tough one!
Rowing machines have become pretty mainstream in the last ten years, while vertical climbers still are unknown for most people.
While both are used mainly for cardio, vertical climbers add an extra element as it also makes your muscles work like crazy.
Which is best is hard to judge as with most other things in life; – it depends on user preferences.
I love doing my HIIT cardio using a vertical climber, so if you are like me, this will be your choice.
It's also worth mentioning that you should consider where the equipment will be placed, as the vertical climber and rowing machine leave to quite different footprints, and they also differ in their ability to be hidden away.
 

 

 

View this post on Instagram

 

 
While the vertical climber can be folded and stored, the rowing machine usually is an item of more permanent furniture were hiding it in your closet between exercises is not an option.
Vertical Climber vs Elliptical
Easy one.
At least that's my opinion!
I've never been a big fan of elliptical machines, much because I like exercises which make my whole body work – not only butt down…
While the elliptical is an excellent option if you've got problems with your joints, both the size and the fact that it mainly works your body from the butt and down makes it a no-go for me.
On the other hand: If you want a piece of cardio equipment which has a low impact on joints and tendons, and equipment size is not an issue – an elliptical might be an ok choice.
Vertical Climber vs Treadmill
I own an electrical treadmill weighing nearly 220 pounds… I used to use it like crazy, but the latter years it is mostly being used as a cloth storing device.
The fact is running on treadmills is both hard on your joints, and also the muscle work is limited to butt down here as well.
The vertical climber may beat the treadmill as an efficient fat- and calorie-burning furnace. http://t.co/X2kSX9B0lo pic.twitter.com/Rmv3vYy6ln

— Men's Journal + Fitness (@mjfit) May 30, 2015
Instead of running on my treadmill, I prefer doing HIIT using different exercises like burpees, skipping, or doing Tabata. I LOVE an intense workout!
I'm also in the process of getting rid of my treadmill and replace it with a vertical climber.
So guessing which gets my recommendation is a no-brainer…
Vertical Climber vs Stairmaster
My opinion is that Stairmasters are plain stupid…
At a fraction of the price, you could get yourself a low stool.
Voil'a, stepping up and down from the stool will bring just the same exercise as that hyped-several-hundred-bucks-engineering-disaster would bring.
So:
Vertical climber or Stairmaster?
Vertical climber 365 days a year!
Vertical Climber vs Stepper
I used to own a stepper.
They are small, practical, and makes you sweat! In addition, the stepper goes easy on your joints and will go soft on knees and back.
Compared to a vertical climber though I would choose the climber – but the stepper is an excellent choice if you've got limited space or if you simply want a piece of equipment to pull out and use while your kids watch the telly!
Vertical Climber vs Bike
Compared to an outdoor bike I would definitely want to use the bike – but that's from a "fun perspective" not exercise….
Cardio wise I would recommend the climber due to the total body workout climbing actually provides.
As with a lot of the other fitness equipment, the exercise bike is hard to pack and store as well – something that might end in you using it as a sweater hanger instead of a cardio asset!
Vertical Climber Machine FAQ
What Muscles Does a Vertical Climber Work?
Have you ever been rock climbing?
Probably not.
The climber machine is engineered to imitate the movements you do when climbing. A broad array of muscle will be activated, the major ones being:
Shoulders
Biceps
Core
Back
Butt
Thighs
Legs
That's a full body workout for you!
While most other forms of cardiovascular exercise will mainly let your legs do the dirty work, the climber burns calories by working the whole of your body.
To make the trip towards Everest even more challenging, suit up with a weighted vest to really have your body working!
What is the Vertical Climber Calories Burned Rate?
Compared to a lot of other workout equipment, the vertical climber burns calories like crazy!
Climbing at a moderate pace, a vertical climber burns approximately 500 calories an hour. To burn even more – increase the speed and go HIIT style… Feel that fat melt!
Are Vertical Climbers a Good Workout?
If getting in shape is your goal, then yes!
Working out on a vertical climber is a damn good workout.
As I've already talked about above, the vertical climber works your body from top to toe -both burning calories and toning your muscles at the same time!
If you're looking for cardiovascular exercise equipment for home use that brings results, a vertical climber is about the best choice there is.
What is the Best Vertical Climber for me?
It depends…
f your budget is limitless I would go for one of the more fancy models, -just because I could afford it.
But if you're on a budget, I would get a climber stripped for "extra features" like a digital calorie counter and other fancy stuff.
Which vertical climber is the best fit for you relies on your budget…
As long as you get one of the four reviewed in this article, you will be sure to end up with a top vertical climber exercise machine regardless of which you choose!
6 Amazing Vertical Climber Benefits
There are many benefits of using a vertical climber, here is a quick look at some of them:
A Complete Body Workout
A vertical climber will have all of your body working – from your fingertips to the edge of your big toe.
Climbing is regarded as one of the best activities to make every part of your body work together.
When working out on a vertical climber, you are simulating these movements, forcing all your muscles to cooperate while driving your body up the side of Mount Everest!
Easy to Set up And Store Away
Most vertical climbers are both easy to set up, and folds away in a matter of seconds.
While an elliptical or treadmill will have its permanent place on your floor, the vertical climber can be tucked under your bed or in a closet when not in use.
Burns Calories as Crazy
As the vertical climber imitates the natural movement of rock mountain climbing and makes ALL of your body work, the calorie burn-rate during a workout is immense.
Actually:
Research shows it burns more calories, increases heart rate, and results in higher levels of oxygen consumption than other forms of cardio.
Try doing a workout HIIT style and feel that fat melt off your body!
Cost-Efficiency
Compared to treadmills, elliptical, or rowing machines, a vertical climber cost next to nothing.
If you at the same time throw the results a vertical climber will bring into the mix; you are looking at a seriously cost-efficient piece of exercise equipment!
Low Impact on Joints and Tendons
Compared to running, using a vertical climber will have a low impact on joints and tendons.
While you when running will have your knees absorb energy each time your feet hit the ground, a vertical climber will go easy on your joints, making it a perfect alternative for injury-prone people.
Builds Strength
In addition to burning your fat, the vertical climber will build a substantial portion of muscle:
Legs
Shoulders
Hips
Glutes
Abdominals
Core
Back
Climbing is a whole body workout; after your first session, you will most likely feel sore places where you did not even know you had muscle!
"Turns out the best machine in the gym is the one you're not using. Spending just a few minutes on the vertical climber torches major calories (between 10 and 20 per minute depending on intensity), significantly increases your aerobic capacity and pretty much tones you from head to toe."
Reference: furthermore.equinox.com – THE 6-MINUTE WORKOUT
Why would you spend your time running on a treadmill when you can gain tons more benefits climbing Rocky Mountain?
Cardio Routine: The Vertical Climber 30 Minute Workout
This routine lasts for 30 painful minutes… If you're a beginner, feel free to hold a slower pace. Going "full throttle" if your body is not ready for it might kill your motivation and have you hating your newly acquired equipment.
And we do not want that to happen, do we?
So, here's the workout:
Warm-up:
– 4 minutes: Keep a pace of about 130 feet/min and strokes about 18 inches long to get your heart pumping and your muscles ready for action.
Interval 1:
For 3 minutes, do two rounds of the following:
– 45 seconds 200 feet/min, short 12-inch strokes
– 45 seconds 130 feet/min, long 18-inch strokes
30 seconds of rest
Interval 2:
For 3 minutes, do three rounds of the following:
– 30 seconds 200 feet/min, short 12-inch strokes
– 30 seconds 150 feet/min, short 12-inch strokes
30 seconds of rest
Interval 3:
For 4 minutes, do eight rounds of the following:
– 20 seconds 220 feet/min, short 12-inch strokes
– 10 seconds 120 feet/min, short 12-inch strokes
1 minute of rest
Interval 4:
For 3 minutes, do two rounds of the following:
– 30 seconds 140 feet/min, long 18-inch strokes
– 60 seconds 200 feet/min, long 18-inch strokes
Interval 5:
– 4 minutes 150 feet/min, short 12 inch strokes
30 seconds of rest
Interval 6:
For 3 minutes, do two rounds, then the 20 seconds interval a third time:
– 20 seconds 220 feet/min, short 12-inch strokes
– 60 seconds 140 feet/min, short 12-inch strokes
30 seconds of rest
Interval 7:
For 3 minutes, do two rounds, then the 45 seconds interval a third time:
– 45 seconds 130 feet/min, short 12-inch strokes
– 30 seconds 230 feet/min, long 18-inch strokes
Congratulations, you've made it to the end!!!
Now: Give yourself a tap on your back, get yourself a glass of cold water -and of course:
Hit the shower!
2021 Best Vertical Climber Reviews
---
THE EDITORS CHOICE
You might have seen this on TV?
Anyways, there is a reason why the Maxi Climber is the best rated vertical climber both on Amazon and in this review….
MaxiClimber has constructed a vertical climber perfect for your bedroom gym. It's easy to set up, takes a minimum of space and gives your body a real whole body exercise! The build quality is excellent, it actually comes with a lifetime guarantee!
While imitating the movement of rock climbing, the vertical climber from Maxi Climber both burns calories like crazy while building muscle at the same time. All while at the same time going easy on your ankles, knees, and joints.
It doesn't get better than that, right?
To top of their product package, the climber is delivered with the MaxiClimber Companion Fitness APP, helping you get the most of your workouts.
The users LOVE the Maxi Climber vertical climber! In addition to challenging all of your body, it also keeps track of your time and repetitions. Sure, it might seem boring to climb in thin air without getting nowhere… But when you see the results you will most definitely thank yourself for investing in this super-simple yet effective piece of body-toning-bastard!
The features:
57 x 10 x 6 inches.
Weight; about 33 lbs.
240 pounds of weight capacity.
Isometric non-slip grip.
Ergonomic design.
Personal workout timer.
Easy setup.
Lightweight and durable.
Adjustable height.
Come 90% assembled for a quick start.
Quick fold for super-easy storage.
Adjustable resistance.
THE PROS
The lifetime guarantee!
Digital calorie and step counter
Excellent grips
Easy to fold away
Several adjustment options
Ergonomic
Nearly 2000 happy customers at Amazon!
THE CONS
Will break if not mounted properly
---
The Best Affordable Vertical Climber
Conquer have managed to match up two features we consumers tend to love:
Stripping their equipment for "nice to have" features like a step and calorie counter, Conquer has had the ability to lower the manufacturer price without sacrificing their product!
With its nice silver finish and use of solid materials – you will be the proud owner of a vertical climber suited both beginners and seasoned trainers.
Due to the construction of its footprint, and the use of rubber non-slip pads the climber will stand as stable as a mountain to the surface while doing your daily cardio.
When you're all sweaty and ready to call it a day, easily fold the climber and store it until you're ready for more action. -Under your bed, in a closet or in the corner of your bedroom.
Even thou the Conquer Vertical Climber is relatively low priced, the manufacturer has found space for comfy ergonomic grips and a durable chain between the pedals. The chain is a feature especially worth taking notice of as this provides this stepper with a big advantage over the ones using cables or other pulley mechanisms -a far less trustworthy solution.
As with the MaxiClimber Vertical Climber, the Conquer Vertical Climber has got a big fan base as well. With over 150 positive user reviews and counting, this product is "field-proven" and will be safe to buy if you do not want any depressing surprises…
The features:
36 x 27,5 x 78 inches.
Weight; about 35 lbs.
250 pounds of weight capacity.
Ergonomic grips.
Easy setup.
Solid steel frame.
Chain system.
Adjustable height.
Easy to fold away for storage.
Adjustable handles.
THE PROS
Nicely priced
Easy to fold away
Several adjustment options
Nice grips
Durable chain system
More than 150 positive reviews at Amazon!
THE CONS
If chain "jumps off", had do get back on
Stripped for fancy features
---
Most Bang For The Bucks
The Merax Vertical Climber is another friendly priced vertical climber meant for the home exercise market.
Unlike the Conquer Vertical Climber though, the Merax vertical climber has used another strategy when engineering a product that balances top-quality and price. To name a few, Merax has equipped its climber with an LCD panel to track and monitor speed, calories, time and distance. All of this to help you reach your goals and keep the morale and spirit up when you feel like quitting your climbing adventure.
It also uses a plastic-coated wire instead of a chain, something that in my opinion is a step down in the ladder with regards to quality. But as trouble with the wire system has not been an issue according to user feedback, I guess this is not a big issue for this machine.
As with the rest of the climbers I have chosen to review, this climber as well is built using a solid steel frame and equipped with several different adjustment opportunities.
Yeah, and by the way:
It has got the ability to fold as well.
The features:
35,8 x 27,2 x 74,8 inches.
Weight; about 38,5 lbs.
350 lbs of maximum weight.
LCD display.
Quick assembly.
Two-step folding system.
Isometric non-stick grips.
Wire system.
5-Step adjustable height.
Durable and solid square steel tube construction.
THE PROS
Friendly price
Quick foldable system
Adjustable height
LCD monitor
High maximum user weight
THE CONS
Wire system
Fairly new product. Few reviews.
---
Top Vertical Climber for Beginners
The Feierdun vertical climber offers quality…
Feierdun is a well-known fitness equipment supplier with many years of experience in the industry on its back. If you are the kind of person who likes your purchases to be "safe" and provide value for your money, this is maybe the smartest choice of all…
Stuffed with features like LCD panel, several heights levels, isometric non-stick grips, a construction supporting 440lbs (!), and quick fold-away design – this sucker also comes with a 30 money-back guarantee and a 2 years warranty to assure you Feierdun is 100% behind their product.
The Feierdun vertical climber is pre-assembled on delivery, making the assembly process smooth and simple. Everything you need to get the climber up and running is delivered in the package, even the tools.
Folded it takes up minimal with space, making it easy to tuck away for storage.
Ok, let's look at the features:
37 x 28 x 85 inches.
440 lbs weight capacity
Quality non-stick grips.
Ergonomic design.
LCD display.
Comes pre-assembled.
Solid and durable steel frame.
Adjustable height.
Compact when folded for easy storage.
THE PROS
30 days money-back guarantee and 2 years warranty
LCD display
High maximum user weight
Folds away for easy storage
5 level height adjustment
Ergonomic design
Trusted brand
---
Final Words: Climbing Burns Calories and Builds Muscle
Adding a vertical climber to your at-home gym set-up is easily one of the best investments you'll ever do. While climbing, you will both burn massive calories and lose weight, and also build lean muscle!
Traditional cardio equipment like treadmills, bikes, steppers, and so on will also burn calories – but not at the same level as the vertical climber.
And taking the equipment price range into the equation, we end up with a highly cost-effective home gym equipment bringing massive value for your money.
So:
If you are looking for cardio equipment that is both effective and affordable – a vertical climber is a solid choice!
If you want to check out other options as well, feel free to visit my complete guide to cardio exercise and workouts. Here you'll find LOADS of helpful stuff to assist you in your search for your perfect cardio routine!
Other vertical climbers also worth consideration:
Weslo Vertical Climber
Zema Sports Vertical Climber