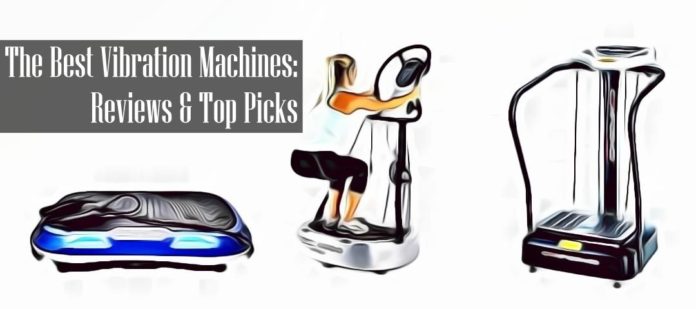 A full-body vibration exercise machine can be an excellent addition to your at-home workout zone.
However, the market is saturated with different brands and models – choosing a model suited YOUR needs can be overwhelming.
Agree?
Well, I'm here to help!
Read on to find out what is the best vibration machines to buy in 2022! I have picked the perfect all-round choice, the premium choice, and the best affordable vibration plate. Here's a quick look at the models:
2022 Best Vibration Machine Reviews: Comparison Table
Whole Body Vibration Machine Buyers Guide
Before buying a whole body vibration platform you should consider the following:
How Thick is Your Wallet?
There are several different types of vibration machines. Some come with a dual motor, some come with resistance bands, some have a remote control in the bundle and some even come with more than 50 speed settings!
Make sure you know both what type of vibration machine you want, and how much money you have available to spend.
How Much Finesse Do You Need?
Would you like a model that incorporates resistance bands for upper body workouts into their vibration machine? Do you need loads of speed settings, or are you happy with a few?
Consider the features you want to come with the vibration machine, and buy a model that matches your expectations.
Which Technology do You Prefer?
There are several different vibration technologies:
Pivotal or Oscillation (Side-to-Side)
Linear or Vertical (Up-and-Down)
The Elliptical Machine (Circular Type Motion)
Tri-planar (Linear with Extras)
Sonic (Sound Waves)
Which is YOUR cup of tea?
To learn more about the different kinds of vibration machines, check out The ABC to Vibration Machines – PACKED with helpful information.
Which Size Should the Vibration Machine Have?
Do you need a small, portable vibration machine – or a big one with a built-in heart rate monitor, etc?
Some of the vibration machines come in practical sizes, making them easy to pack and bring on a business trip – while others are made for permanent installation. Which kind do you need?
What is the Best Vibration Machines to Buy in 2022?
---
EDITORS CHOICE
The Confidence vibration platform is an excellent choice if you are looking to improve your bone density, strength, increase your body energy – and get relief from body pain.
It is also known to improve that muscle tone of yours!
If you want to see better and quicker results, it is recommended that you combine vibration workouts with a few other exercises. You know – variety is king!
Use the included yoga straps to add an extra dimension to your routine, or why not jump straight into some push-ups after the vibration session?
The machine is straightforward to assemble, and you will only be required to assemble it once. And the process only takes 20-30 minutes!
Yay!
Once the setup has been done, depending upon your purpose to use it, you have the option to sit, stand, or lie on the vibrating plate of the machine.
The control panel is very user-friendly, navigating through it is a breeze.
The speed of the unit can be adjusted from a level of 1 to 50 by clicking the minus or plus buttons. The larger the number, the more powerfully the machine will vibrate.
Pretty obvious, right?
Other than this, it also features three built-in preset speed programs that alter the speed of the machine at regular intervals. You will only be required to turn the device on, pick the ideal setting – and use it!
Another cool feature is the built-in pulse rate monitor:
To use the feature, you need to place your hand on the silver dots present on the handgrips. Wait a couple of seconds, and your heart rate will be displayed!
But:
Like everything else available on the market, the Confidence Fitness vibration platform also has a few downsides…
Excited?
One of the main downsides of this unit is that even though it is not difficult to assemble, a few customers have reported that the instructions provided in the guide were not easy to understand.
The equipment setting up procedure can be made quicker if you get help from someone who knows how it works.
Other than this, a few users reported that the wires connected to the screen can get squeezed during assembling. If this happens, your exercise details won't show up on the screen.
Bummer!
To make sure you don't damage the wires, be a little careful not to let them get tangled during assembly.
Pros of the Confidence Fitness Vibration Plate
Improves your overall body fitness.
It helps improve your blood circulation and metabolism.
It has a robust and sturdy build.
The LCD it features is user-friendly.
It allows you to check your pulse rate.
Cons of the Confidence Fitness Plate
A few users found it a little challenging to assemble.
The screen wires can get tangled during assembly.
---
MOST BANG FOR THE BUCKS
LifePro Waver Vibration Plate Exercise Machine is another unit that is known to help its users lose fat and weight quickly.
To start off, one of the best things about this machine is the price it is available at. Considering its high-quality build and the features it has to offer, it is available at a very reasonable price!
The LifePro waver exercise machine has been designed to help you improve your fitness and flexibility. Other than this, it also allows you to work towards a leaner body by enhancing your muscle strength.
Listen:
What basically happens when you exercise on this machine is that the vibration of the unit allows your muscles to contract more, which in return stimulates your muscles. This helps to increase your blood circulation, enhance your metabolic rate, burn more calories and fat, and make your muscles stronger!
Also, it helps reduce cellulite and increase bone density.
That is a lot of cool effects!
One of the best things about this machine is that it allows you to perform low-impact exercises. You won't notice any stress on your muscles and joints once you are done working out on this machine.
The LCD is very simple to read and also easy to use.
The speed of the unit can be adjusted from 1 to 99. The larger the number, the more intense the vibration will be.
If you're a beginner, it is better to start off with a lower intensity and gradually work your way up…
A lot of customers have reported that they saw results earlier than they expected!
Also, they found that this machine was more efficient in helping them lose fat as compared to working out or walking…
It has even been reported by customers that the massages alone can result in a significant difference in your body weight over time!
Wow!
But don't get too carried away now:
Keep in mind that vibration machines alone is not enough to replace your diet plan and a conventional workout program. However, it is still an excellent addition – and you will definitely see positive results.
When you receive the machine, no assembly is necessary. The device comes pre-assembled – just plug it in, and you're ready to go.
Furthermore, the frame of the unit is built using quality materials – making it both sturdy and durable. You won't need to worry about damaging the unit as long as you keep it with care.
But all is not just positive.
Although the unit comes with many features, it does have a slight downside to it:
The LifePro Waver Vibration Plate has been designed to accommodate only 330 lbs of weight. In other words – if you are big like "The Rock" this machine will not be the best for you!
Other than that, LifePro has engineered a great device that is definitely worth your money.
Pros of LifePro Waver Vibration Plate Exercise Machine
It helps with weight loss and general health improvement.
It comes with an easy-to-use manual.
It has a sturdy and robust build.
It helps to burn calories, lose weight, and eliminate cellulite a lot quicker than other machines.
It comes at an excellent price.
Cons of LifePro Waver Vibration Plate Exercise Machine
As mentioned above, it can only support 330 lbs. of weight.
---
THE PREMIUM CHOICE
I've saved the best for the last!
The 3G Cardio AVT 6.0 is a fantastic premium vibration machine, the perfect choice if you have pockets full of dollars…
The machine not only guarantees positive results but promises top quality as well. And quality is one thing that should be at the top of your list when your health is concerned.
As soon as you start exercising on this machine, you will notice the stable force that is offered by the vibrations. The device is known to help customers lose weight, burn calories, and strengthen and tone their muscles fast and effectively!
Most of the vibration plates allow a weight limit of 250-350 pounds; however, the 3G Cardio AVT 6.0 offers an impressive weight limit of up to 500 pounds.
That should do the trick!
The platform of the unit has been designed to ensure it is sturdy yet comfortable enough to allow you to perform various different exercises.
Barefoot or with your favorite Nikes – no problem! Either way, you will feel comfortable standing on the plate.
To add to the premium feel, it also features a fitness app to make the workout session easier.
The LCD it features are really easy to use and have been designed to guide you all the way through your workout.
Overall, it is an awe-inspiring machine that is worth every single penny of its price!
As far as the downsides of this unit are concerned, I would like to mention there are not many.
However:
One problem is that even though the unit is very sturdy, it is not easy to move – therefore, portability might be an issue. This should not be a problem if you plan to keep the machine in one place.
But:
If you are someone who is looking for a machine that can easily be moved from one place to another, then this might be a bit of a concern for you. Although it's nothing you can't put up with.
Pros of the 3G Cardio AVT 6.0 Whole Body Vibrator
It does not cause any extra stress on your joints and ligaments.
It has an impressive weight limit.
There is a lot of space on the platform.
Cons of the 3G Cardio AVT 6.0 Whole Body Vibrator
It has a sturdy build, but it is not very portable.
---
Best Whole Body Vibration Platform Machine Alternatives
If you want to check out some alternatives, here are the models that just missed this review by a hair's breadth:
Powerfit vibration machine
Merax Whole Body Vibration Machine
These are all whole body vibration machines worth checking out if you need some more alternatives. I especially like the Hurtle Fitness vibration platform – it is superb for weight loss and building bone density, and at the same time compact and practical.
If you need more information about the mentioned models, I suggest you do a Google search for a term like "powerfit reviews". Check out the first three results and evaluate the pros and cons.
Best Whole Body Vibration Machines FAQ
Does a Vibration Machine Really Work?
If a vibration machine works or not depends on what your goal is… If you want to build muscle like Hulk Hogan – NO! If your goal is to burn fat – and you are combining vibration machine workouts with a diet – then YES!
Do Vibration Machines Tone Your Body?
A whole body vibration machine can help tone your body if combined with other types of exercise as well. Use a pair of resistance bands to work your upper body along with a healthy meal plan, and you are on your way to a better you!
What are the Side Effects of Using the Vibration Machine?
If whole body exercise machines are safe depends on who you are asking… There are as many opinions as there are different brands – some claim they can cause back injuries, mess with your cardiac system – and that the vibration even can cause brain damage!!!
My self, I believe they are totally safe – as long as you follow the user manual and your general health is at a normal level.
How Much Time Do I Need to Spend on the Whole Body Vibration Machine?
How much time you will need to spend on whole body vibration machines to see results depends on several factors:
What is your weight?
At which speed level are you using the machine?
Are you combining the vibration machine with any other whole-body workouts?
As you can see there are some things to consider before answering the question at hand. But using the machine for more than 15 minutes at a time is not recommended.
What is the Best Vibration Plate for Home Use?
If you are looking for a whole body vibration machine for home use, I would recommend my editor's choice from Confidence Fitness. The model comes with resistance bands which makes it perfect for upper body workouts.
If you need a smaller and more compact whole body vibration machine, the Life Pro model also is an amazing choice. With its remote control and dual motor, you will get a lot of bang for your bucks!
Do Vibration Plates Work if you Just Stand on Them?
If you just stand on your vibration machine waiting to see results you will be disappointed. Vibration machines are best used if combined with other workouts. It would help if you get a pair of resistance bands and work your upper body – or maybe you can do calisthenics using your body weight?
Either way, you will get better results when combining vibration machines with other kinds of physical activity. If you stick to it results will come with time.
Final Words: Choosing the Best Vibration Platform
So, there you have it.
To summarize:
If you are short on cash; the affordable vibration machine from LifePro is your perfect choice!
If you, on the other hand, own a Ferrari and money is not an issue; the 3G Cardio ATV 6.0 would be my pick seven days a week…
But:
For an average Joe like me, the Confidence Fitness Slim Full Body Vibration Platform is the one to get! Packed with all the finesse you will ever need in a vibration machine – all at a sober cost, this vibration machine will definitely not disappoint you!
In addition to your vibration routine, it is highly recommended you do some other kinds of exercise as well. I have gathered a truckload of super-effective workouts in my home strength and fitness archive – be sure to bookmark it before you leave my site!
Thanks!
Other Helpful Resources