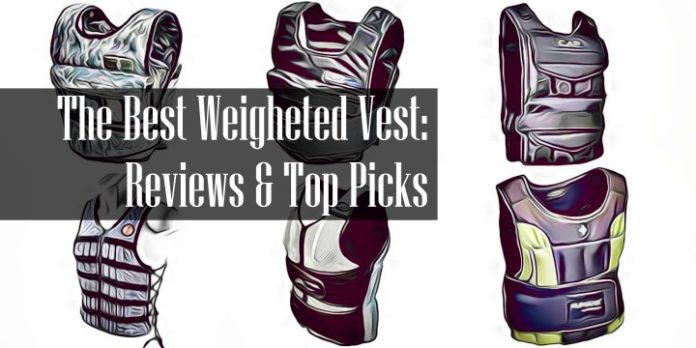 Finding the best weighted vest is like searching for a needle in the haystack.
All brands come with their own sales pitches – and they all sound pretty darn convincing!
So, which of them live up to their promises? And which brands are talking mumbo-jumbo?
Read on, and I'll tell you!
I've done the nitty-gritty digging and research for you – and listed the six best weight vests currently around.
I've looked at the features, weight capacity, price, and pros and cons to provide you with the perfect review needed to decide which model best suits YOUR needs!
And to top it off, I've added a thorough buyer's guide and an FAQ section as well!
I'm feeling pretty excited, do you?
Let's get on with it! Here is a quick preview of my top three favorite models:
Cross101 Camouflage Adjustable Weighted Vest (THE EDITORS CHOICE): A flexible and comfortable to use allrounder, equipped with evenly distributed weight pockets. Made from super-durable material making it last for years!
RUNFast/Max Pro Weighted Vest: Multi-use affordable vest, packed with easy to remove weights and dual straps for a comfortable fit. Made from breathable material to prevent a "soggy feel" while working out.
HumanX Weight Vest: A weighted vest perfect for running. The double padding makes it comfortable to wear and keeps it tucked to your torso during your run.
Now:
Let's move on to the exciting stuff!
What is the Best Weighted Vest of 2022? Comparison Table
Award
Best Weighted Vest To Wear Under Clothes
Usage
Strength Training
Walking
Running
Cardio
Crossfit
Calisthenics
Strength Training
Walking
Running
Cardio
Crossfit
Calisthenics
Walking
Running
Cardio
Crossfit
Calisthenics
Usage
Strength Training
Walking
Running
Cardio
Crossfit
Calisthenics
Usage
Strength Training
Walking
Running
Cardio
Crossfit
Calisthenics
Award
Best Weighted Vest To Wear Under Clothes
Usage
Walking
Running
Cardio
Crossfit
Calisthenics
The Ultimate Buyers Guide To Purchasing a Weighted Vest
Before I show you the review section, let's take a look at some vital stuff to consider before deciding on which of the weighted vests best ticks off all YOUR boxes…
How Heavy Vest Do You Need?
It depends on your physical condition and lifestyle.
If the majority of your time is spent watching TV or playing computer games, suddenly donning a weighted vest is a bad idea…
For starters, it's best to start with vests weighing around 5-10lbs, so you don't over-stress your body. If you're already used to weight training, heavier types can be worn.
Some brands can provide up to as much as 140lbs of additional weight!
Pretty heavy, right?
To save yourself from the risks of injury, give your trainer a call, and seek advice about using this kind of exercise equipment. He or she can give you an exercise plan suitable for your physical capability.
What Are You Going To Use The Vest For?
The design of the vest also plays a factor in how it should be used:
Vests with narrower shoulder straps are designed for exercises requiring wider arm movements and a free range of motion.
Exercises like:
pull-ups and calisthenics,
punching,
CrossFit,
and climbing
can benefit from this design.
Weighted vests with broader shoulder straps are more comfortable to wear and are best worn for walking, hiking, and running.
There are even some built for treating patients with ADHD, osteoporosis, and those with joint conditions!
RELATED:
Do You Need a Vest With Adjustable Weights?
The pocket placements are essential in defining the vest's balance when you wear it. They should be equally placed at the front and back portions.
Poorly placed pockets can throw you off balance or even cause unnecessary muscle strains!
Some vests don't offer options to add or remove weighted plates. This can be limiting and may be difficult for some to use. It's, therefore, for most users recommended to go for a vest with adjustable weight options.
These types provide versatility by allowing you to select where and how much weight to add for a more progressive training process.
Weights come in various forms too:
There are those made of packed sand, while some use iron ingots as weights.
When choosing a model, make sure the pockets/ plate carrier employs strong enough straps to hold the weighted plates. Weights may fall out when you lean or jump if the pocket straps are of poor quality.
And that is irritating as h***!
Be Sure To Get a Model That Fit Your Body
Getting a size too small or too big can be uncomfortable and may introduce instability to your workout.
It can also increase the risk of injury since the weight pockets are not aligned with matching parts of your torso.
Manufacturers have sizing charts you can look into to determine the size appropriate for your body. To secure safe exercise, look for one that snugly fits your chest.
What Is Your Budget?
Prices range from everything between $20 and $300, depending on the features.
Some vests already include a few weights when you buy them, while extra weights will cost you some more dollars. Also, manufacturers use different types of materials – nylon being the most common – in creating their models.
Features like ventilation design, shoulder padding, and stretch pockets vary with different brands.
All of the above will inflict the price, carefully consider which features you are willing to pay for – and which you can live without.
2022 Reviews of The Best Weighted Vests
Well:
Now that you have looked at the comparison table, read the buyers guide – and checked out the FAQ it's decision time!
In this section, you will find my reviews – packed with everything you need to decide on which model is YOUR perfect match:
---
THE BEST WEIGHTED VEST: EDITOR'S CHOICE
The all-rounder. I simply love this vest!
Here's why:
The vest is flexible; you can easily choose among several weight capacities allowing you to use it for a wide range of workout regimes – either its strength training or cardio exercise.
The vest has only one size to fit both men and women. It measures 13in in length from your collarbone and 15in wide from one shoulder to another.
There's an adjustable belt on the vest to fit it to your torso tightly. It perfectly fits those with a gigantic frame and also those with a petite stature.
All vests come with weights included in the package so you can begin using it right away. The weights are made of small sandbags that conform to your body's natural shape for better comfort.
In addition, the fabric of the vest is both comfortable and durable, making it the perfect exercise partner whatever your goal is.
Running, calisthenics, weight training – whichever exercise you prefer, the heavily stitched pockets will surely hold the weights in place.
No wonder users love this weighted vest!
Weight capacity: 20lbs, 40lbs, 50lbs, 60lbs, 80lbs, 100lbs, 120lbs, up to 140lbs
THE PROS
 Made of highly durable materials
 Evenly distributed weight pockets for improved stability
 Velcro waistbands secure the vest from moving while in use
 The unique design prevents it from obstructing your movements during workout
 Its unique camouflage color is great to look at
 The product has a one-year warranty. You can return it for repair if the pockets or shoulder straps fail to hold
Loved by its users!
THE CONS
No shoulder and neck pads. Put thick pads when carrying heavier loads to avoid chafing your shoulders. Pads are sold separately.
 Camouflage design may work against some situations. Some owners say they feel like they're scaring people – thinking they're part of a bomb-defusing team
---
MOST BANG FOR THE BUCKS
Don't you just hate feeling like being trapped in a claustrophobic latex suite?
So do I!
Well, that won't be a problem when using the RUNFast/ Max Pro weighted vest.
RUNFast has produced its vest from delicate, breathable fabric – ensuring improved ventilation and a "fresh feel" when wearing it during exercise. In addition to enhanced ventilation, the fabric is durable, making sure it will keep its shape even after years of hard work!
The weights are made of grain-type iron, which is the ideal component for strengthening exercises requiring muscle flexibility.
Whether you're into outdoors calisthenics or intense workouts like cross fit, this weighted vest got you covered!
Oh, you just need a vest to use when doing your cardio?
No problem!
The RUNFast/ Max Pro weighted vest is an ideal partner during your cardio workouts as well.
And the beautiful thing is that all of this comes at a pretty darn affordable price compared to a lot of other vests out there!
No wonder the RUNFast/ Max Pro weighted vest is my obvious choice for the "most bang for the bucks" title!
Weight capacity: 12lbs, 20lbs, 40lbs, 50lbs, and 60lbs
THE PROS
 Dual straps snuggly fit the vest onto your torso
 Weights are easily removable
 Fits nicely even to people with a smaller body frame
 Friendly price
 Suitable for all kinds of exercise
 Breathable fabric
THE CONS
One size fits all does not apply especially to people with a larger body frame
Some missing weights upon delivery
---
THE BEST WEIGHTED VEST FOR TRAINING STRENGTH
The Cap Barbell model has a breathable mesh design and adjustable straps to fit almost any body type. You can adjust the weight using the cylindrical sandbags, each weighing around .75lbs.
A safety strip can be found on both the front and back portions of the vest, allowing you to see where it is even in the dark.
WOW!
A pocket dedicated to MP3 players and cellphones can be seen stitched on the vest. So listening to Spotify while getting your sweat on is no problem.
Shoulder pads are built with neoprene for improved comfort.
With a weight capacity of up to 150 lbs, this adjustable vest is your perfect partner when heavy resistance and loads of weight options are your main criteria.
What about doing some calisthenics wearing a weighted vest loaded with 100 lbs…
Now we're talking!
Weight capacity: 40lbs, 50lbs, 60lbs, 70lbs, 80lbs, 100lbs, 120lbs, and 150lbs
THE PROS
 A wide array of weight capacity
 One size fits all; size applies to both men and women
 Price is excellent for its weight capacity
 Breathable mesh design
 Pocket for your favorite Spotify-player
 Shoulder pads for improved comfort
THE CONS
 Unclear instructions on how to optimally load the weights
 Shoulder pads are not thick enough to provide comfort on heavier vests
 Velcro straps are too short to fit the vest snuggly. They lose their tackiness after some time
 Hard to insert/remove the weights from the pocket
---
THE BEST WEIGHTED VEST FOR WALKING
This adjustable weighted vest is designed specifically for hiking, strolling, and conditioning exercises.
It has 2 large zipper pockets to hold phones and MP3 players. Its ultra-thin design allows it to fit even under your shirt.
Reflector stripes can be found on the front and back portions for improved visibility. The porous mesh design enhances airflow.
Unlike other weight vests, you don't need to lift Ironwear Cool Vest above your head to wear it. Its front zipper allows you to slide it on like a normal vest – making it easier to wear.
There are also waist and chest belts that adjust to fit measurements from 22in to 54in. And even more, its patented double lock system also keeps it sticking to your torso even during heavy use.
Weight capacity: 1.5lbs to 30lbs
THE PROS
 Very comfortable to wear
 You can wear it under your everyday shirt
 Pocket for your favorite Spotify-player
 The front zipper makes it easy to wear
 Unique ventilation due to porous mesh design
THE CONS
 Expensive
 Limited weight capacity options
---
THE BEST WEIGHT VEST FOR RUNNING
Its compact design and smaller weight capacity make it ideal for sprints and weight training. Dual shoulder and chest paddings ensure comfort even during prolonged use. It's a one-size-fits-all weight vest.
It has a neoprene belt, ensuring it is tucked close to your torso even when you're running.
Due to its durability, fit, and comfort, this weighted vest is also ideal for cross-fit and other calisthenics workouts.
Weight capacity: Up to 40lbs, adjustable by 1lb increments.
THE PROS
 Very durable; one user reports he's been using it regularly for 3 years and it's still in good condition up to this day
 Double padding makes it comfortable to wear
 Easy to wash
 One-size-fits-all
 Keeps tucked to the torso when running
THE CONS
 Limited adjustment options for weight capacity
 No storage pocket
---
BEST WEIGHTED VEST TO WEAR UNDER CLOTHES
If you're looking for a vest you can wear casually, this is your answer!
Its unique fabric allows it to comfortably fit your body like a compression shirt. You can even wear it with your office clothes on top! This feature is ideal for exercises requiring an unrestricted range of motion.
The Hyperwear Hyper Vest Pro is odor resistant and has a wide-open side portion for increased ventilation.
It comes loaded with 10lbs upon delivery of the package.
Weight capacity: Varies on the size of the vest. Weight ranges from 21.4lbs to 60lbs.
THE PROS
 Comes pre-loaded with 10lbs of weight
 The compact design makes it comfortable to wear
 Odor-resistant material
 Superb ventilation
 Can be used as a replacement for your t-shirt
THE CONS
 Weights can get rusty from your sweat
 Pockets holding the weight bars get easily worn out
 Stiff price
---
Alternatives Worth Considering
If none of the above looked like a good fit for YOUR needs, there are several other models also worth looking closer at. There was a really tight race to be included in my reviews – some of the models just missed being included by a few inches…
Here are the models that just missed being included in the top 6:
V force weight vest
MIR weighted vest
Box weighted vest
ZFOsports weighted vest
Invest weighted vest
Brute Force weighted vest
Empower Weighted Vest
Especially the Empower and Box weighted vests deserve to be considered if you are serious about buying yourself this type of exercise equipment. I am currently working on doing a review of the Empower model – I'm sure you'll love it!
Weighted Vests FAQ
Are Weighted Vests a Good Idea?
Yes, if you are into bodyweight exercise, a weighted vest is definitely a good idea.
Adding extra weight to your body is an excellent way to take your calisthenics routine to the next level and supercharge the effect of your exercise efforts!
How Heavy Should Weighted Vests Be?
No proven study has been released on how heavy they should be.
However, therapists suggest you use vests weighing 5-10% of your body weight. This estimation is based on the maximum backpack weight a person is supposed to carry.
Wearing vests exceeding this recommendation can cause muscle injuries to the untrained.
Are Weighted Vests Good To Run With?
Results about the benefits of running with a weighted vest are mixed.
Generally, it doesn't help you to run faster – but that depends on your physical condition.
Some research says running with a weighted vest improves your power to carry extra weight while on the move. It may also benefit your stamina and musculoskeletal system. However, it won't necessarily improve your agility and running speed.
The benefits you'll gain running with this type of equipment are also minimal compared to the injury risk you're taking:
The increased load on your upper body may impact your hips, knees, and ankles negatively. Aside from that, you may be sacrificing proper form when you run wearing a weighted vest.
Trainers say you'll be better off continuing your usual running exercise and add some variations to it.
To sum things up, leave the thought alone!
But if you really want to try it out and defy science, make sure your body is ready for it…
You have to be a trained runner before you wear one. Guidance from your fitness coach is also essential to avoid unnecessary injuries.
Are Weighted Vests Bad for Your Knees?
As long as you start with a light one for your training, it won't be bad for your knees. If you start feeling pain in your knee joints, it means you're doing things wrong!
Have you seen how obese people have trouble walking correctly for prolonged periods?
That's because the extra weight is more than their knees and lower body can handle. You're simulating this scenario when you wear a weighted vest.
Even though your torso and shoulders carry the load, the added weight also strains your lower body.
As long as you maintain proper form and do not overexert your knees, you're okay wearing a weight vest. Doing otherwise may result in joint injuries.
Are Weighted Vests Bad for Your Back?
It can be harmful if you're wearing a weighted vest that is too heavy for you to handle. Poorly built weight vests can also introduce back problems.
Wearing a weight vest is not without any consequence:
Your spine supports your whole torso. Add to that the load from the weight vest and the chances of spinal compression increase.
When the space between your spinal discs gets narrower, less blood and oxygen pass through them, resulting in back pain.
Also, the additional weight may alter your center of gravity. This stresses your spine more than usual in maintaining your balance.
Make sure you know your body's condition and limit and maintain proper posture when wearing a weight vest. Don't hastily jump to 20lbs or more unless approved by your trainer!
Remember:
Even Atlas shrugged when he carried more than he can handle.
Will a Weighted Vest Build Muscle?
A definite yes on this one! A weighted vest will absolutely build muscle…
The efficiency of weight vests in boosting muscle strength has been proven as they're being used in training firefighters, military personnel, and similar jobs that require carrying heavy loads.
Why don't you try to add a weighted vest to your suspension training workout routine?
The combination is deadly – and will increase the effectiveness of your strength training by miles!
Are Weighted Vests Good For Fat Loss?
Another yes on this one.
The added weight adds more intensity to your exercises since your muscles work harder to handle the extra load.
This way, you breathe harder and burn more calories than training without vests.
RELATED:
What Muscles Do Weighted Vests Work?
You're still working out the same muscle groups during training – but with more stress this time.
Weight vests supercharge your workout routine, amplifying the strain on your muscles by a few percent.
Planks, pull-ups, push-ups, and crunches still punish your midsection.
Calf raises, lunges, and squats hit your hips and lower body muscles harder than before.
Jumping, running, and walking raises the activity of your heart and lungs, improving your cardiovascular system.
Should I Use a Weighted Vest While Doing Calisthenics?
Of course, you should!
Loading up with a weight vest when doing your calisthenics gives you that extra resistance to make sure your muscles work like crazy.
Start easy and gradually add more weight to your vest as you get stronger!
RELATED:
What Size Of Weighted Vest Should I Get?
Know your height and weight to know your vest size.
The vest should measure from your shoulders to your navel or a bit lower.
Do a Google search for the vest brand to find each separate vest size chart. A lot of vests come equipped with a "one size fits most" size, these fit all kinds of different shaped bodies – big as well as small…
Is Wearing a Weighted Vest All Day Bad?
Wearing a weighted vest all day will help build core strength and strengthen your tendons.
By adding weight gradually, your body will adapt to the increased resistance – just as when you gain weight by natural means.
But:
Be careful not to overdo it!
You should slowly build up your strength by adding a pound at a time – increasing the resistance over an extended period of time. If you go all gung-ho, there will be a serious risk of injury!
Final Words: Increase The Benefits of Your Training Efforts Wearing Extra Weight
Wearing a weighted vest can increase the benefits you'll get from normal exercise.
You don't have to undergo Spartan-like training to push your body to its limit. Simple exercises while wearing a weighted vest is good enough to maintain a healthy lifestyle.
But remember:
Knowing your body's physical capacity is vital in determining whether you can handle the extra load these types of equipment provide. Forcing your body to take in additional stress beyond its limit can result in injuries if exercises are not done correctly.
But as long as you gradually increase the load – and at the same time focus on your technique – buckling up a weighted vest will be an investment worth every dollar!
Oh, wait!
One more thing before you leave:
Be sure to bookmark my ultimate resource to strength training. If building muscle is on your agenda, this collection of articles is a MUST!
Other Helpful Resources
Bestseller No. 1
Bestseller No. 2
Sale
Bestseller No. 3