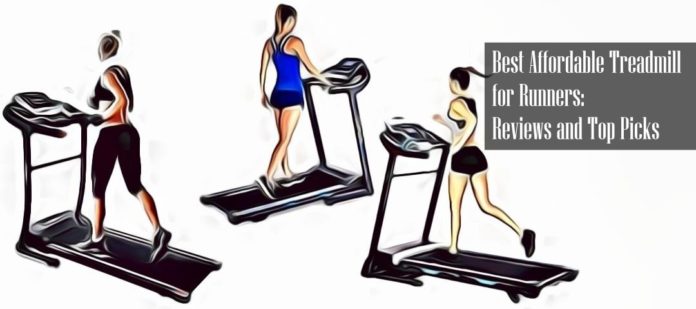 Are you looking for an affordable treadmill to add to your at-home gym zone?
Even if you are short on cash, and your wallet holds nothing more than a few receipts and a couple of bucks – you can still get hold of a pretty decent treadmill.
Really!
Sure – if you are in the market for a budget model, you cannot expect a machine with a 20″ touch screen and built-in microwave oven.
But who needs that anyway, right?
Read on and discover what is the best affordable treadmill for runners. Here's a quick look at the top three models:
The Top 3 Affordable Treadmills for Runners: 2021 Comparison Table
Large, Easy to Use LCD Screen

Adjustable Incline for Added Resistance

Easy to Store When Folded

High End Shock Absorption

Powerful and Ultra-Quiet Motor

High Max Speed for Fast Running

Amazingly Priced Budget Treadmill

Fast Folding Design for Quick Storage

Compact, Space-Saving Footprint
Buyers Guide to Purchasing a Treadmill for Runners
If you are unsure what to look for when looking for the perfect affordable treadmill for running, here are a couple of things to consider:
What Are Your Preferences?
Contemplate your choice of exercise.
Whether you're the high-intensity jogger or more of a fast-paced walker, determine your choices beforehand so that you know which treadmill will be able to put up with the workout load.
There are treadmills with stronger motors for heavier workouts and less horsepower for lower pace.
Where Will the Treadmill be Used?
Look for the appropriate place in your house as a treadmill is not something you want to drag all around.
Choose a place with some entertainment present at hand.
But:
Most importantly, buy a treadmill that is the right fit for the amount of space you have available!
You'd be disappointed to buy a colossal machine for a little corner…
Look at the Specifications
Remember your preferences while you're standing in the shop, and you won't ever get confused.
Consider points like whether only you will use the treadmill or if there are multiple users in the house. Is there a need for an attached monitor for playing videos, or maybe you need extra holding spaces built-in?
Eliminate all the high-tech features like Bluetooth and Wi-Fi connectivity, built-in fan, USB charging port, built-in speakers, tablet holder – and much more if you're not looking for something fancy.
Here are a couple of specifications I personally would consider:
Frame and motor,
weight capacity,
top speed and incline,
and shock absorption.
Running Area/Running Surface
Running area/running surface could be listed among the specifications above – but to highlight the importance of this specific specification, I dedicated a separate section to it.
Both the length and width of the treadmill belt will affect the treadmill's usability. To run at high speeds – or doing HIIT, make sure the belt is both wide and long. If the treadmill primarily will be used for walks – a small belt will be fine.
Be Aware of the Built-in Workout Programs
Never shy away from asking about the little details that matter!
Only YOU know what exercise routine you will have, so ask for the installed workout programs. Some of the most budget-friendly models do not come with sufficient built-in workout programs – that might be an issue for some.
Look at The Design
Take my advice for it, always try the treadmill if you are at a physical shop!
You never know which shape might be perfect for you. Some treadmills are huge, but their deck length and width are short and narrow, making running a tough task.
A treadmill suited your neighbor might be a bad fit for you…
Safety First
Even though all treadmills have safety features, it's wise to check if the model you are looking at ticks all your HSE-boxes.
Choose according to your health issues as some people are prone to losing balance, or fainting, which calls for extra safety features so that the treadmill stops immediately.
2021 Reviews of The Best Affordable Treadmill for Runners
---
THE EDITORS CHOICE
Build and Design: The sturdy construction made of high-quality steel makes the treadmill one of the most durable around the block.
It has a motor of 2.25 horsepower to allow you to work out with great intensity – without any hiccups. Moreover, the folding mechanism will make you save up space – fold it away into the corner behind your door…
Easy-peasy!
Functionality: The high-tech treadmill has 12 built-in workout programs, making sure you never get bored!
And of course- safety is taken seriously! The extensive safety features ensure all aspects of safety and protection is taken care of.
THE PROS
Heavy-duty treadmill with a foldable body.
The treadmill allows all kinds of workouts, such as endurance, high-intensity, and interval training.
It features a visible LCD for displaying the progress of the workout.
Simple to set up and use.
Affordably priced.
THE CONS
It does not support wireless connectivity.
---
THE PREMIUM CHOICE
Build and Design: A tough body and foldable structure make a deadly combination.
The running of the treadmill is flawless and noiseless, with amazing safety features.
Functionality: The treadmill allows Bluetooth connectivity for the Fitshow app to make you enjoy the workout.
THE PROS
Sleek and simple structure.
It is lightweight and easy to drag around due to wheels.
The company offers 1 year of warranty.
It has a heart monitor and bottle holding spaces.
Cool smartphone app.
THE CONS
It might seem a little expensive to some people.
---
THE AFFORDABLE CHOICE
Build and Design: It boasts a powerful motor fitted into a straightforward structure of the treadmill.
The machine features a multi-functional LCD along with a set of speakers.
Functionality: The treadmill has 12-preinstalled programs and three countdown modes for spicing up your workout…
That should do it!
THE PROS
Noiseless running.
The handle has convenient shortcut buttons to control the machine.
The foldable feature enhances the compact structure.
Space-saving design
THE CONS
It does not support the wireless connection of the devices.
---
Affordable Treadmill FAQ
What's The Best Treadmill for Running at Home?
I would say the best treadmill for running at home is the NordicTrack T 6.5 S Treadmill. Other than that, all of the three affordable models reviewed in this article are excellent for home use:
You should also check out this best treadmill for home use review – LOADED with high-quality treadmills!
What is the Best Inexpensive Treadmill?
To find the best inexpensive treadmill, you will first need to know if you are looking for a motorized treadmill or a manual one.
I always recommend the Merax Electric Folding Treadmill as the top inexpensive model among the motorized and the Phoenix 98516 among the manual treadmills.
How Long do Cheap Treadmills Last?
A cheap treadmill can last everything from one year to ten…
It all depends on the quality of the model you buy! Look at the customer comments on Amazon for user experiences – some of the cheap models can be far better and durable than the expensive models!
What Does a Decent Treadmill Cost?
A decent treadmill costs anything from 300 to 3000 dollars – where the entry-level models are less expensive, and the higher end treadmills cost more.
The treadmills in the 500 dollar price point usually are more than decent and will be an amazing addition to most at-home gyms!
What is the Best Treadmill Brands?
There are lots of good treadmill brands – but to name a few, all of these are great treadmill brands:
NordicTrack
Merax
BowFlex
Horizon Fitness
How Should a Beginner Use a Treadmill?
Beginners should start slow when first using a treadmill.
Get to know the treadmill and your body. Running on a treadmill is NOT like running outdoors.
How far can you push yourself before getting uncomfortable?
What speed can you cope with?
Do you feel any pains?
How does your heart rate react?
Try out some of the built-in programs and gradually increase your workouts' difficulty as your fitness level gets better!
Final Words: An Affordable Treadmill is Good Enough
So, are you convinced, or should I add more details?
There are several affordable treadmills for runners – but if I were to choose one, I would definitely get one of the following:
And under the treadmill, I would put one of these high-quality treadmill mats for reducing noise.
But of course: Better than anything is running outdoors. Sun, fresh air and birds singing…
Wonderful!
Oh, by the way:
Be sure to bookmark my cardio workouts archive, JAM-PACKED, with exercises, tips, and equipment reviews.
See you there!
Other Helpful Resources