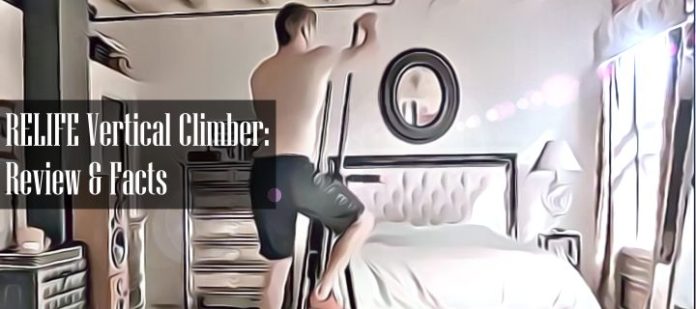 If you are looking for a RELIFE REBUILD YOUR LIFE Vertical Climber Review, you just found the one you HAVE TO read…
Instead of stealing your valuable time, I will just jump straight to it.
Let's jump straight into it!
2021 RELIFE REBUILD YOUR LIFE Vertical Climber Review
This smart Vertical Climber is a cardio workout machine that works on your upper and lower body. Relife, the manufacturer behind this wondrous innovation, has been making workout equipment for many years.
The Vertical Climber can be a long-lasting and fun addition to your personal gym. No matter where you stand in terms of fitness and skill level, this cardio machine suits all kinds of people weighing up to 250 pounds.
The good thing is, those above the weight limit have not registered any complaints so far. That is probably because they found this workout climber more efficient.
That could be true because this "Fun to Use" workout machine is known to burn three times more calories than other cardio machines. All of that, in relatively less time. Impressive, isn't it?
According to Relife, the Vertical Climber works effectively on your "upper, core, and lower muscles." After using the machine, you are likely to notice improved strength in arms, abdomen, calf, and thighs. That's old-school – move your body to lose weight and build stamina.
In connection to that, you'll feel much more relaxed after using this climber machine as workout will improve heart and lung functions besides reducing fat. This, in turn, will boost your blood circulation and enhance muscle strength and stamina.
We all know, Cardio workouts are also useful for your back muscle and hips. By exercising regularly, you can develop strong bones too. And to make your bones stronger, you should work out more often, and Hard.
If you're wondering whether this climber can sustain longer workout sessions, better try it! Relife Vertical Climber features a triangular design that keeps the machine stable throughout your tough workouts. How hard can you go?
The Vertical Climber has five levels to adjust the difficulty. You can begin with more manageable levels and gradually build resistance by adjusting the rails. You can use the four rails to increase the challenge, and the higher you go, the more the resistance. The fifth level is equal to climbing a cliff.
To back the claim, Relife offers a one-year warranty on the frame and a lifetime warranty on other parts and accessories.
What about installation and assembling? Don't worry, because this part is super-easy. Just follow the installation manual that comes with supporting diagrams, and there you have it. Installation should not take more than 20 minutes.
The foldable construction of the Vertical Climber translates to convenient storage. When you are done working out, fold the machine and place it at any spot or slide it under your bed.
Features
If you have made it this far into the article, we are sure you are curious to know more. We have noted down three features of the Climber that stand out.
Foam and Button Hole
It is hard to disassemble workout machines. Plus, long durations of work out can leave you with gross handles and mess up your grip.
Relife Vertical Climber has sweat-absorbent handles covered with anti-slip foam to protect your hands and the machine. The result: comfortable grip and durable handles.
You can experience a comfortable workout in your room while watching tv, or listening to your favorite song on the stereo.
Another remarkable thing is the embedded buttonhole on each handle. It makes disassembling ten times easier.
Four Metal Guide Rails
The four metal guide rails add to the versatility of the Vertical Climber. The different levels represent resistance. The higher you go, the more resistance you experience.
The levels of 1-2 are equivalent to jogging. Levels 3-4 are parallel to running. Finally, level 5 is rock-climbing. So, you can always challenge yourself with different levels of effort.
These levels produce difficulty through the user's weight. That is precisely the case with any of the exercises you perform outdoors, like jogging and cliff climbing.
Unique Foot Pedal
The thick metal foot pedal ensures maximum user comfort. The tilted structure of the pedal adjusts the center of gravity and provides more stability of the machine while exercising.
Along with stability, the sliding cable in the Vertical Climber is impressively enduring. It is wear and tear-resistant so that the machine lasts you a long time without causing any troubles.
The machine has managed to secure four stars on Amazon for a reason.
Quick Facts
The machine weighs 43lbs. It's super light.
It comes in Black. Standard and classy.
The maximum height is 16.1 inches. It's usable under low ceilings.
The pedals measure 4.72×3.98 inches.
The LCD monitor shows burnt calories, time, etc.
It has five adjustable levels for increasing difficulty.
The climber is made of square steel tube.
The machine can endure up to 250 pounds. However, there were no complaints from users over the limit.
THE PROS
Cost-efficient
Workout for your entire body
Triangular design
Sturdy, not shaky
Easy assembling
Folding
Several difficulty levels
Anti-slip handles
One-year warranty on the mainframe, lifetime warranty on other parts
THE CONS
Needs greasing every few workouts
Assembling requires 15-20 minutes
Battery-operated screen
Risk of falling
---
Who is The Product Best Suited For?
If you are new to working out, this climber is ideal for you. You can start with a lower difficulty level and increase the levels with time. The resistance is your own body.
The affordable machine will be very convenient if you have no time to head to the gym or shy due to the extra pounds. You can start with the climber and climb your way up till you are ready to upgrade.
The Vertical Climber is easy to assemble and can be folded and slipped into a corner or under the bed. The solid build will keep the machine stable, reducing the chances of falling.
Even if you are a pro at cardio, the Vertical Climber will prove to be a long-term addition to your home gym. On days when you don't feel like hitting the gym or need to burn some extra calories, get on the climber, and start exercising.
No matter what your exercising needs are, the Vertical Climber can do it all. Whether you want to lose some extra pounds or maintain your shape, the key is consistency. With the machines in your room, you will have no excuses to skip your workouts.
"A workout on a vertical climber mimics the movement of climbing a mountain. It combines both cardio and aerobic activity with strength training."
health.clevelandclinic.org – A workout that combines the best of cardio and total-body strength training
Interestingly, the users have reported an improved hiking experience after a month of working out with the cardio machine.
This user-loved Vertical Climber is reliable, durable, and has a long life. The customers have also appreciated the excellent customer service of the company.
Relife stays true to its word and replaces any broken parts in a short amount of time. It also repairs any damages to the frame within one year of warranty.
The Alternatives
I have gathered my favorites in my best vertical climber reviews. Here you'll find the top affordable choice, the best allrounder – and the more expensive premium choice.
In addition to the models listed among my top favorites, these are also great options:
If you are in doubt if this is the model for you, go check out these instead!
Final Words: Why I Recommend the Relife Vertical Climber
Now that you have read my review, I suppose you understand I really like this climbing machine.
Packed with cardio-boosting powers, this device tones your whole body from top to toe! After your workout, it is easily folded and stored away in a corner. Perfect!
If anything goes wrong during the first year, the product is protected with a warranty on the frame and a LIFETIME warranty on the other parts. It doesn't get better than that.
But if you are having second thoughts if a climber machine is a good fit for you, visit my GIGANTIC at-home cardio archive – LOADED with tips, hacks, and cost-efficient exercise equipment.
I'm looking forward to seeing you there!