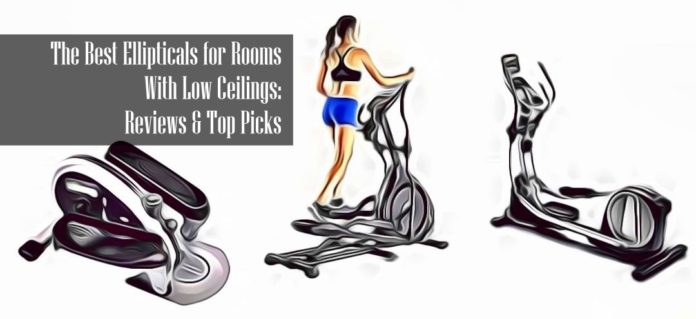 You might think that the best ellipticals for low ceilings are just the same as for any other room in your house. But the fact is that when looking for an elliptical machine to use in a low ceiling room, there are several critical factors to consider.
With this in mind, I have looked at dozens of different ellipticals – and ended up with the 5 top models perfectly suited low ceiling rooms.
Here's a quick look at them:
Now, lets move on and have a look at the buyers guide and reviews!
The Best Elliptical Machines for Low Ceilings Comparison Table
Award
THE BEST COMPACT ELLIPTICAL
Features
Large Flywheel
Hefty Warranty
Low Workout Height
Loads of Features
High Value!
Comfy Foot Pedals
Advanced Sensor System
Excellent Warranty!
Premium Feel
Friendly Price!
Super-Compact
Very Low Step
Extremely Portable
Cool Color Options
Highly Affordable
Buyers Guide to Purchasing an Elliptical Machine for a Low Ceiling Room
So you have a low ceiling room and are worried about space and safety while using an elliptical machine. Well, worry no more because I've got you covered, my friend!
After extensive research and deep analysis of the top elliptical machines in the market, I have finally found the top picks for people with low ceiling rooms.
But…
Before we get to that, you have to be aware of the features to look for when shopping for an elliptical machine – much less one that is actually safe enough to use in a low ceiling room.
So without further ado, let's get to it!
Vertical Height
Since this guide is about elliptical machines for rooms with low ceilings, it is only fair that we mention the importance of vertical height as the first crucial feature to look out for.
Here, you'll have to take into consideration not only your ceiling height – but also your height as well as your step-up/step-on height which is the total height from the floor to the top of your head when you are on the highest point of the elliptical.
Your step-up height should be much lower than your ceiling height. I recommend the least difference to be about 12 to 14 inches.
Now that we have your vertical height figured out let's get to the other good stuff that would take your workout experience to the next level!
The Flywheel
For smooth movements that have less impact on your joints, you should definitely opt for an elliptical with a heavy flywheel.
This way, you get to put in less effort while working out while burning more calories without getting too tired.
The Foot Pedals
The size of the foot pedals is another pivotal feature for a smooth workout experience. The bigger the foot pedal, the better it is going to be for you.
Large foot pedals offer support for your feet, allowing you to go much longer, and burn more calories with less effort, which is effective in reaching your goals within a short period of time.
Cushioned foot pedals offer extra support.
Incline
Should you need to have the option of increasing your workout intensity, all while targeting different muscle groups, you should definitely look into getting an elliptical with an inclination feature.
In that case a front drive machine is what you should be looking for.
The LCD Console
The cherry on top of a pleasant workout experience could be the LCD Console on your elliptical.
There are varieties of LCD Consoles:
Back-lit,
those that come with a USB charging port,
inbuilt speakers,
Bluetooth connectivity,
etc.
There are endless options to choose from!
In-Built Workout Options
Most of the top ellipticals on the market today come with several in-built workouts that vary in intensity, muscle groups to be targeted, etc.
Choosing an elliptical with in-built workout options could be beneficial to you – especially if you're looking to change up your workout routine frequently.
The Step-on Height
The step-on height is a vital feature when looking for an elliptical for low ceiling height.
Machines with a low step height will make it possible for even the tallest user to use it without knocking their heads towards the ceiling.
Elliptical Trainer for Low Ceilings FAQ
NEVER buy a piece of exercise equipment without doing a fair amount of research. Using a type not suited your body type might cause injury and decrease the effectiveness of your training.
In this section, you'll find a bunch of frequently asked questions with answers. If you have any other questions than the ones listed here, please feel free to reach out to me, and I will do my best to provide you with an answer.
What Ceiling Height do you Need for an Elliptical?
Well, there is no specific ceiling height recommended using an elliptical trainer. But of course – if you have a low ceiling, you don't invest in a tall model!
Most users prefer elliptical trainers with low step-on height to avoid a conflict with their low ceiling. Choosing an elliptical also depends on your own height – are you a tall or short person? The tallest user should have a trainer where the top of their step is as low as possible – while it really does not matter that much for short users.
How Much Space is Needed for an Elliptical?
The space needed for an elliptical trainer really depends on the specific model's footprint.
Some elliptical trainers are big and weigh more than 300 pounds, while other models are smaller and weigh twice as little.
If you own a small apartment or are planning to utilize the elliptical machine in a compact room – going for one of the smaller models should be your priority.
Take measures of your floor space and ceiling height to help you decide on which machine size you want.
Which Elliptical is Better Front or Rear Drive?
What is better between a front or rear drive machine depends on your preferences.
While a front-drive will provide you with more of a slope, these types of elliptical trainers will give you more like a climbing experience.
The rear-drive models provide you with less of a slope, and using these machines for exercise will bring more of a running feeling.
Concerning effectiveness, they are both great cardio machines!
What are The Best Elliptical for Low Ceilings? 2021 Edition
Now that we're through with crucial features to consider when shopping, brace yourselves for my top picks of ellipticals in 2021!
Of course, all the products listed below are suitable for rooms with low ceilings. Regardless, I still advise you to do your due diligence and calculate the vertical height difference.
---
Editor's Choice
Manufactured by a badass company when it comes to workout machines – this beast of an elliptical comes with some serious guns:
18-pound heavy flywheel,
18-inch stride length,
as well as transport wheels for easy storage!
What? What was that? Oh, you want one with all the features mentioned above, huh?
Well, your dream is now a reality with the existence of this awesome 215 pounds of goodness!
Moreover, you'll get much more incredible features than you bargained for. But don't worry, with this option, the more features you get, the better your experience is!
As expected, you get a 5 inches cool backlit LCD console packed with finesse! It's iFIT Coach ready, has one-touch resistance controls that you can use to choose among the 22 resistance levels it comes with – and an auto breeze inbuilt workout fan, among many other useful features…
Working out on a NordicTrack Spacesaver SE7i is a smooth ride – bringing you an excellent elliptical workout no matter your ceiling height, or if you are tall as a mountain.
No wonder it's my best pick among the lot!
THE PROS
Suitable for low ceilings
Possesses all features for an out of world workout experience
Lifetime frame warranty, 2-year parts warranty, and 1-year labor warranty
THE CONS
Their customer support is not proactive
---
The Most Bang for the Buck
With 3 options that range in price to choose from, the Nautilus Elliptical Trainer allows you to choose the elliptical of your dreams without having to compromise on features.
Read on to learn about them all – and what they have to offer you.
Nautilus E614 (EXCLUSIVE): Allows users to set individual goals during workouts with 22 programs: 9 profiles, 8 heart rate controls, 2 custom, 2 fitness tests & 1 quick start. Also, it packs 20 levels of resistance, has a weighted flywheel and Dual Track LCD displays.
Wow!
Nautilus E616: Comes with a Bluetooth connectivity feature that can sync up to the Nautilus 2 App as well as other fitness tracking apps. It has a 20-inch Precision Path stride, 25 levels of resistance, and 29 programs: 12 profiles, 9 heart rate controls, 4 custom, 2 fitness tests, 1 recovery test, and 1 quick start.
The elliptical is driven by a high speed, high inertia drive system – with a perimeter weighted flywheel for easy start-up and smooth, consistent workouts. As if that's not enough, it also has DualTrack LCD displays, media shelf, in-console speakers with an MP3 input port, USB media charging, and an adjustable fan.
Impressive?
Well, I've saved the best for last:
Nautilus E618: This one is much similar to the Nautilus E616 when it comes to its features.
The only difference is that it has a 22-inch Precision Path stride compared to the former's 20-inch Precision Path Stride.
THE PROS
Same product with 3 options to choose from due to different features offered
Cushioned foot pedals to provide extra support during your step
Provides high value
THE CONS
Customer support could be better
---
The Premium Choice
If you're looking for quality and durability, something that can last you an eternity – the Sole Fitness E35 Elliptical Machine should be on your priority list! It was a close race between this model and the Horizon Fitness Elliptical, but Sole Fitness really is something special…
Measuring at 27 by 58 by 83 inches (W x H x D), with 230-pound weight and 375-pound weight capacity – this workout monster machine provides a high challenging cardio workout!
Supported by a blue backlit LCD display that allows you to track your workout data, working out on this machine is both inspiring and fun!
Everything you could ever need during your workout is provided for you.
Need to listen to some music, but you don't want to have earphones on? No problem! Inbuilt speakers are available for you.
Want to hydrate while working out? Hey, I thought you'd never ask! A water bottle holder is right in front of you.
But wait, there's still more!
It also comes with adjustable pedals and adjustable power stride and an incline of 0 to 30 degrees; 20-to-22-inch maximum stride length; six standard programs, two custom programs, and two heart rate programs.
Puh!
THE PROS
Long term warranty: lifetime on frame; five years on electronics and parts; and two years on labor
Advanced sensor systems: Stationary handlebars with built-in pulse sensors for monitoring your heart rate and a heart rate chest strap are great for ongoing pulse monitoring and heart rate interactive programs.
Perfect option even for the tallest user
THE CONS
It doesn't have Bluetooth connectivity
---
The Best Budget Elliptical Machine
If you're on a tight budget – the Stamina Inmotion Compact Strider is by far the best pick.
Although it doesn't come with any fancy features, the machine provides you with all you need for an effective at-home cardio routine!
It comes with eight levels of smooth magnetic resistance, reverse motion pedals, and a weight limit of 250lbs. Hey, you will even be able to remove the handlebars and turn the machine into an under the desk device!
Due to its compact design and low step – the Stamina Inmotion Strider is the best budget choice even for the tallest user!
THE PROS
Affordable!
Compact
Portable
Detachable handlebar
THE CONS
Lacks a lot of features that more expensive models come with
No LCD monitor
Little maximum weight capacity
---
The Best Compact Elliptical Trainer
If you are looking for the smallest among the small, the Stamina InMotion E1000 Compact Strider is definitely your best choice!
Even though it's super-small, it comes with both adjustable tension and multiple movement options.
Hey, are you going away for the weekend?
No problem!
At 24,5″ x 17″, and 24lbs – the Stamina InMotion E1000 Compact Strider is portable and easy to bring on your family vacation.
No matter your ceiling height, if you are tall or short, this machine will be a safe option for loads of workout hours!
THE PROS
Super-compact
Fits the lowest ceilings
Perfectly suited even the tallest users
Comes in several color options
Low step design
THE CONS
No built-in programs
Few "fancy" features
---
The Best Ellipticals For Rooms With Low Ceilings: The Top Alternatives
As I restricted this review only to include the best 5 models, I had to turn down a lot of great models…
Either if you are going to use the machine in a basement with a seven foot ceiling, or in a small garage – there are other options available for you to choose amongst.
Among my favorites worth your consideration, you find the Horizon Fitness Ellipitical and the Octane Q35. I especially like the Horizon Fitness model as it just missed out on the best premium model prize.
But although there are other great alternatives to my top top 5 ellipticals – the models reviewed in this article are by far the best ones if you've got a low ceiling room.
Final Words: Choosing the Best Elliptical Machine for Low Ceilings
Either if you've got a seven foot ceiling, or a gigantic mansion – adding an elliptical trainer is an excellent investment!
Elliptical trainers will improve your cardiovascular capacity, and at the same time, help you shape your lower as well as your upper body.
By measuring the height from the top step to the ceiling, and subtracting your own height – you will see if the elliptical in question is a good fit for you. The machine should have as low step-on height as possible to assure even tall users can use the equipment without bumping their heads in the ceiling.
The ellipticals reviewed in this article will all be an excellent choice – and a perfect fit for a low ceiling room.
If you've got a 7-foot ceiling or more, these models reviewed in my Bowflex vs Nordictrack Elliptical showdown should also be considered…
If you want to check out even more equipment reviews and exercise tips – visit my CRITICAL ACCLAIMED cardio workouts archive – packed with actionable and helpful stuff!