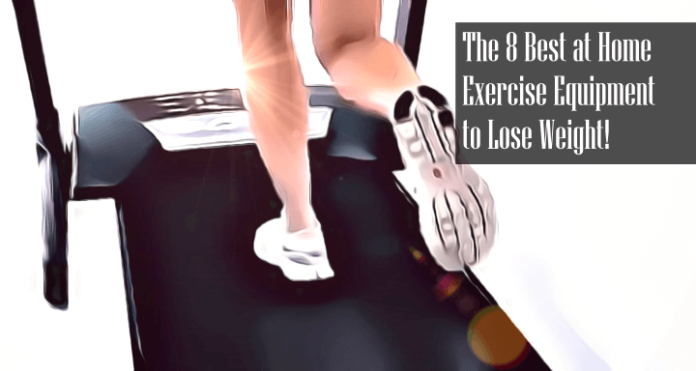 What is the best exercise equipment for home to lose weight?
I'm glad you asked because I've got the answer!
I have reviewed 8 different exercise equipment types to help you find YOUR perfect match. Here are a quick glims at my three favorites:
What is the Best Exercise Equipment for Home to Lose Weight? 2021 Comparison Table
Buyers Guide to Purchasing Exercise Equipment For Home to Lose Weight
NEVER buy exercise equipment without doing thorough research first. There is too much hyped crap equipment available, all claiming to be the best – even if they are useless!
Here is what you should consider before your final choice is made:
What is Your Body Size?
If you are 5,2" and weigh 220lbs – don't get yourself a vertical climber and think it will be your perfect fit… Make sure the equipment you choose "fit" your current body size – if not, you might find it challenging to get the most of your workout session…
How Long Are Your Legs?
Did god equip you with super-long legs? In that case, be 100% certain that the equipment you choose has sufficient adjustment possibilities to fit those legs of yours!
Read the specifications, or even better – try the equipment at your local sports warehouse. Not being able to do the complete movements because of missing adjustment possibilities is a sure road to failure!
How is Your Injury History?
Do you have back pains? How are those knees of yours? Do you hear strange noises from your ankles when you walk stairs?
Remember that the different exercise equipment provides load on different parts of your body. Think of your history of injuries before pushing the "buy now" button. You do not want a piece of equipment that potentially can be harmful to your body…
After all, your goal is to lose weight and be healthy -not suffer chronic lower back pains!
What Activities do You Enjoy Doing?
No matter my given "fat burn rating" or recommendations, one of the most important factors to consider is your personal preferences (if you have any).
What do YOU love doing?
Are you fond of cycling? Well, get yourself a stationary bike!
Do you like running? The treadmill should be your choice.
Do you get it?
As losing weight is not done overnight, you will need an activity that you feel happy with over a long period of time.
If you hate the activity, the chance of you quitting your weight loss regime increase drastically…
Where Are You Going to Place the Equipment
Do you own a 100 square feet basement where you house your home gym equipment? Or will the equipment be placed beside your bed in your cozy little bedroom?
Be practical and make sure you have sufficient space to room your new fat-melter!
Do you Need Equipment That can be Tucked Away?
Most of the best exercise equipment for home to lose weight is pretty bulky and will claim a couple of feet of space…
But a few come with a magical fold-away feature that provides you with the possibility to tuck the equipment away under your bed after your workout…
Do YOU need this feature?
Do you Need Built-in Training Programs?
The low-priced products often come with limited built-in programs and resistance adjustment possibilities.
For some, built-in programs are a must. For others, it is not worth the bother.
But anyway, please consider if this is something YOU want or not before splashing the cash!
2021's Reviews of The Best Exercise Equipment for Home to Lose Weight
This review will look at 8 of the most popular home exercise equipment for losing weight.
I will tell you a little about each piece of equipment, look at which person it is best suited, and I will give you their calorie burn rate. The calorie burn rate is found using the following formula:
For men:
Calories Burned = [(Age x 0.2017) — (Weight x 0.09036) + (Heart Rate x 0.6309) — 55.0969] x Time / 4.184
For woman:
Calories Burned = [(Age x 0.074) — (Weight x 0.05741) + (Heart Rate x 0.4472) — 20.4022] x Time / 4.184
Since I am a man, I have used the formula for men in the reviews. I have based the numbers on a 12-minute high-intensity workout – the numbers might surprise you!
---
Vertical Climber: The Fat Killer
MY VERTICAL CLIMBER TOP PICK: MAXICLIMBER
Fat Burning Ratio:
Space Friendly:
Beginner Friendly:
Yes, I know.
A vertical climber might look a bit strange, but don't let the first impression fool you! Climbing is a rock-solid way of melting fat, and with a vertical climber, you get all those climbing benefits!
A study published by PubMed has shown that vertical climbing elicits higher VO2max than running on a treadmill and rowing.
As a high VO2max is dependent on your heart working like crazy to deliver all that oxygen-fuel to your muscles, our calories burned rate will be pretty high when doing the vertical climber:
[(38 x 0.2017) — (195 x 0.09036) + (185 x 0.6309) – 55.0969] x 12/4.184 = 148.1732 calories
That sure is 12 pretty intensive minutes! That's about one small bar of chocolate, all wiped away in a matter of minutes!
Considering that the vertical climber's high calorie-burn rate, that is both practical in terms of storage and that it's pretty fun at use – this kind of exercise equipment is highly recommended if you aim to get rid of that fat without leaving your front door!
---
Treadmill: The Runners Choice
MY TREADMILL TOP PICK: XTERRA FITNESS TR150
Fat Burning Ratio:
Space Friendly:
Beginner Friendly:
If you love running (or at least if you think it's more enjoyable than the rest), a treadmill is a no-brainer.
With a treadmill, you have several speed levels and a wide range of incline possibilities to simulate running up hills. If you get an advanced version, you will also get a ton of built-in programs crafted to help you towards different exercise goals.
If you are free from knee problems, back pains, or other injuries that get inflicted by running – you just cannot go wrong with a treadmill. In my opinion, a treadmill for losing weight at home is one of the safest choices of all!
I know. There is a lot of mumbo-jumbo out there claiming treadmills and running are bad options. But if you read between the lines, these guys usually have their own agenda… "The Super Fat Buster 2300 GT", "Fat Melt Machine RX 2 CC" -The list of BS exercise equipment is ENDLESS!
But often the simple is best…
The only downside to the treadmill is they tend to be large and heavy. Sure, you can fold some of them when not in use, but the fact is that even when folded, they are way bigger than some of the alternatives out there.
Ok, so how did the treadmill do in the calories burned ratio equation?
[(38 x 0.2017) — (195 x 0.09036) + (180 x 0.6309) – 55.0969] x 12/4.184 = 139,1252 calories
That is pretty darn good if you ask me!
---
Stationary Bike: Good, But Not The Best
MY STATIONARY BIKE TOP PICK: SUNNY HEALTH & FITNESS SF-B1002
Fat Burning Ratio:
Space Friendly:
Beginner Friendly:
Trust me. I have laid down a lot of mileage on stationary bikes during my 20 years as a fitness enthusiast…
But does that automatically mean that I enjoy it?
No!
Among all of the equipment on this list, a stationary bike is what I like the least. The reason for this is simply that I find the other equipment more entertaining. As you need to enjoy your exercise to keep from giving up, a stationary bike is not for me.
But it might be for you.
If you like cycling and have limited space – exercise bikes are absolutely a good option.
Anyways, when it comes to the calorie-burning ratio, the stationary bike comes a little short compared to the best:
[(38 x 0.2017) — (195 x 0.09036) + (170 x 0.6309) – 55.0969] x 12/4.184 = 121,0310 calories
But even if it is not among the best, it still does a great job at getting rid of those pounds!
---
Rowing Machine: The Seasoned Trainers Choice
MY ROING MACHINE TOP PICK: CONCEPT2 MODEL D INDOOR ROWING MACHINE
Fat Burning Ratio:
Space Friendly:
Beginner Friendly:
Have you ever been to the gym and looked at those people rowing like crazy? They are firmly placed at the rower when you arrive, and they are still there when you leave…
The reason for this is simply that some people LOVE the rowing machine.
While using the rower, you use large amounts of muscles at the same time as the calories gently are shredded off your body…
But be aware!
While the rowing machine might be a good piece of equipment to lose weight, it is not the best option if you are a beginner. Correct technique is essential if you are to get the best from your rowing exercise. Both the push with your legs and the pull with your upper body needs to be perfect in harmony if the workout should bring the wanted results.
Also, be sure to have sufficient space to use the rower as the best ones really take up some room!
Okay, so what is the rowing machine's calorie-burning ratio?
[(38 x 0.2017) — (195 x 0.09036) + (175 x 0.6309) – 55.0969] x 12/4.184 = 130,0781 calories.
130 calories are not bad at all! Taking into consideration that rowing is an excellent total-body workout, the rowing machine is one of my top picks for seasoned trainers!
---
Stair Climber: Effective Weight Shredder
MY STAIR CLIMBER TOP PICK: STAIRMASTER 7000 PT STEPMILL
Fat Burning Ratio:
Space Friendly:
Beginner Friendly:
Stairclimber.
The secret weapon to all those magic butts packed in fancy tights.
Of course, that butt is not a product of only the stair climber -but also hours of squats and other lower body exercises.
Spending 30 minutes on a stair climber daily will most definitely help you lose weight as the stair movement involves several large muscles of your lower body. Due to the uncomplicated movement needed to use the stair climber, it is perfectly suited also those who are beginners or just starting with their weight loss regime…
So, how about those calories then?
[(38 x 0.2017) — (195 x 0.09036) + (182 x 0.6309) – 55.0969] x 12/4.184 = 142,744
With a calorie-burning rate of close up to 12 calories a minute, the stair climber is absolutely one of the most effective fat burners you can get!
The stair climber comes in a lot of different variants, with prices varying from the "affordable segment" to the "premium segment." I recommend you get a mid-priced one as these usually come with more than enough features – and these will usually do just fine for an average person.
---
Recumbent Bike: Nice on Joints And Tendons
MY RECUMBENT BIKE TOP PICK: SCHWINN 270 RECUMBENT BIKE
Fat Burning Ratio:
Space Friendly:
Beginner Friendly:
Recumbent bikes are excellent choices if you are struggling with some kind of injury or if you for some reason need to sit while doing your fat burning exercise…
Many people love recumbent bikes due to their comfortable workout position while pedaling along. But you know what? If you aim to lose weight, and if you do not have any medical reason for needing the comfort of a recumbent bike – don't get one!
Losing weight is not supposed to be comfortable. It takes pain! And HARD WORK!
Looking at the calorie-burning rate compared to the top dawgs, you see that you will get more fat burned per minute using other options:
[(38 x 0.2017) — (195 x 0.09036) + (168 x 0.6309) – 55.0969] x 12/4.184 = 117,4121
So:
If you have got back pains, bad knees, or you, for some reason, struggle with the "standing options", a recumbent bike is an excellent option.
If not, go for other equipment!
---
Skipping Rope: Affordable and Super Effective!
MY SKIPPING ROPE TOP PICK: SONIC BOOM M2 HIGH-SPEED JUMP ROPE
Fat Burning Ratio:
Space Friendly:
Beginner Friendly:
I LOVE the skipping rope…
It cost next to nothing, and it is effective as he**!
There is a reason why boxers skip like crazy. Sure, they work on their agility, but also, a skipping rope is excellent at cardio workouts – and a super-effective fat burner!
The pitfall with a skipping rope is that it is not for everyone. First of all, you need the technique to be good to gain maximum benefits. To maintain a high skipping rate, your coordination will need to be top-notch, and you will also need to be strong mentally to keep your arms from slowing down the rope…
Secondly, it can be hard on both your ankles and knees, leading to pain for some.
But if you can manage the coordination and if your skipping rope technique is above average – this little piece of rope will do wonders with your weight!
Here is the calorie burning rate:
[(38 x 0.2017) — (195 x 0.09036) + (189 x 0.6309) – 55.0969] x 12/4.184 = 155,4100
Wow!
Considering the price is starting as low as 5$, that sure is a steal!
---
Elliptical: Effortless Weight Loss
MY ELLIPTICAL TOP PICK: SCHWINN 470 ELLIPTICAL MACHINE
at Burning Ratio:
Space Friendly:
Beginner Friendly:
Like with a lot of the equipment listed in this review, the elliptical also comes in several different variants.
You have got the big high-end commercial-grade ones and the small affordable ones. As the small is okay for some, others might want a piece of equipment with a few fancy features bundled in…
When using the elliptical, your legs will work in a fixed position while moving in a running motion. To add challenge, you adjust the resistance making the running motion gradually harder.
The equipment is fairly simple to use, but elliptical might be a less user-friendly choice for some body types. Before buying an elliptical, I would go to my local gym shop and try one out before deciding on taking one home…
But how about that fat calorie burning?
[(38 x 0.2017) — (195 x 0.09036) + (180 x 0.6309) – 55.0969] x 12/4.184 = 137,3158 calories
Not bad at all!
If I were to get myself an elliptical, I would consider Schwinn, Bowflex, or NordicTrack – as all these are well-established equipment providers known for their quality products.
---
Final Words: So, What Is The Best Home Exercise Equipment to Lose Weight?
Well, that depends…
Yeah, the vertical climber might be a monster – but is it a monster that fits YOU?
The most important factor when deciding on which exercise equipment you choose is getting one that YOU LIKE USING. If not, you will most likely quit eleven workouts down the road…
If you do not know your preferences, go to your local sporting warehouse to try out a couple of models.
Investing in home exercise equipment for weight loss is an essential step to a healthier you. So make sure you end up with equipment that will be used!
Want to read more articles like this? Check out my comprehensive guide on home cardio equipment for LOTS of reviews and inspiration!
See you there!
Other Helpful Resources