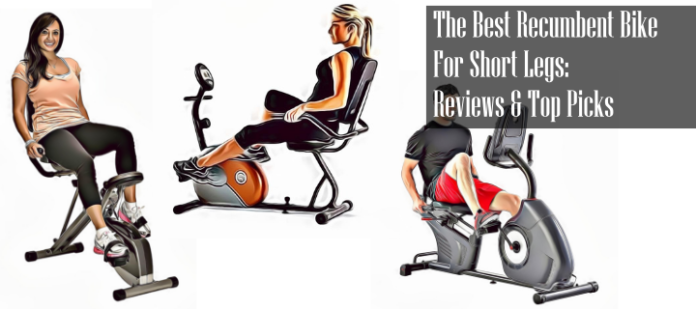 Yes, I know.
There are TONS of different recumbent bikes; finding the one perfect for YOUR needs could be overwhelming.
But if you're a guy or girl shorter than the "average Joe," I've got a treat for you:
I have looked at a lorry load of bikes to find the best recumbent bike for short legs. And to make your choice easy, I have listed and reviewed the three best contenders:
The Top Recumbent Exercise Bike for Short Persons Comparison Table
Features
Electric
25 Resistance levels.
29 Built in programs.
Bluetooth synchronization.
300 lbs maximum user weight.
User height; 4'2 ft – above 6 ft
Footprint; 66,5×12,5×27,5 inches.
+++ Much more!
Magnetic.
8 Resistance levels.
Transport wheels.
300 lbs maximum user weight.
User height; 5 ft – 6 ft
Footprint; 55,5x25x37,5 inches.
Magnetic.
8 Resistance levels.
Foldable.
300 lbs maximum user weight.
User height; 5'2 ft – 6'2 ft
Footprint; 33x19x46 inches.
Features
Electric
25 Resistance levels.
29 Built in programs.
Bluetooth synchronization.
300 lbs maximum user weight.
User height; 4'2 ft – above 6 ft
Footprint; 66,5×12,5×27,5 inches.
+++ Much more!
Features
Magnetic.
8 Resistance levels.
Transport wheels.
300 lbs maximum user weight.
User height; 5 ft – 6 ft
Footprint; 55,5x25x37,5 inches.
Features
Magnetic.
8 Resistance levels.
Foldable.
300 lbs maximum user weight.
User height; 5'2 ft – 6'2 ft
Footprint; 33x19x46 inches.
Short Persons Buyers Guide to Purchasing a Recumbent Bike
Being short and looking for suitable exercise equipment could sometimes be hard!
Before making a choice, there are several things you should take into consideration.
Following are four important features when buying a recumbent exercise bike for people with short legs:
The Distance Between Seat and Pedals
Pretty obvious, right?
If your legs are short, the most critical factor in determining if the equipment will be a good choice is the distance from the seat to the pedals.
Most recumbent bikes offer several adjustment possibilities, but only a few will let the seat slide close enough to the pedals for a 5 feet person to work out comfortably.
Make sure to do proper research and get yourself a bike where you can sit comfortably while simultaneously using the pedals like they are supposed to!
Way too many people end up being dissatisfied due to overlooking this vital factor.
Don't fall into the same trap!
The Equipment Size
Some equipment might be big and bulky – and might even be hard to move around for a 6,5 ft guy.
Get a bike that you will be able to handle!
Moving around a recumbent bike weighing 100 lbs might be "clunky" if you're a 4,5 ft person…
Agree?
Placement and Adjustment Possibilities of Handle Bars
If you are a short person, your arms will most likely fit the rest of your body.
Short legs usually equal short arms. That is just how evolution has made us!
Check out the handlebars' placement and make sure they have several adjustment possibilities.
To get the most of your workout, you need to sit comfortably with a solid "natural" grip on the bars.
A wrong position might end up in an uncomfortable ride, and even worse:
The notorious back pain!
Best Recumbent Exercise Bike for Short Legs: 2021 Reviews and Top Picks
Ok. Now, let's move on to the reviews:
---
THE EDITORS CHOICE
Among the lot, the Schwinn 270 Recumbent Bike really is the best choice if the distance between the seat and pedals are of high importance.
Users as low as 4,11″ have positive experiences with the bike, as the seat adjustment provided is far bigger than most other recumbent bikes out there.
In addition to bringing workout opportunities even to people with shorter legs, the Schwinn 270 is packed with other cool features as well:
As opposed to the other recumbent bikes in this article relying on magnetic resistance and a battery-driven display, Schwinn is all-electric!
By plugging it into your wall socket, you will get several different programs, a wide range of resistance adjustments, and Bluetooth connectivity for trainer add synchronization.
Due to the power-driven resistance, you will get a far wider specter of resistance, ranging from beginner to seasoned trainer.
While pedaling, you will be sitting on a quality seat engineered for comfort and effective workouts. Due to its excellent drive system and smart flywheel, you are ensured a smooth and consistent exercise from start to end.
Quick Facts:
Measures: 66,5×12,5×27,5 inches
Weight: 93 lbs
300 lbs max user weight
User Height is not stated by the manufacturer. But have it has received positive feedback from users as low as 4,11″
Features:
Electrical driven
29 built-in programs
25 resistance levels
Built-in speakers
Media rack with USB charging
Bluetooth connectivity for app synchronization
2x Blue Backlit LCD Displays
Free downloadable Schwinn app's
Adjustable fan
Contact & telemetry enabled heart rate monitoring
Warranty
THE PROS
A lot of cool features
29 ready-made programs
25 resistance levels
It fits even the smallest persons
Synchronizes with several fitness apps
---
THE AFFORDABLE CHOICE
Why Would you pay 1000$ for a recumbent bike when you can get a good enough model for a fraction of that price?
The Marcy Recumbent Exercise Bike might not have that all fancy HD touch screen panel, built-in B&W loudspeakers, and 200 resistance levels – but you can be sure it delivers a he** of an exercise!
Built from heavy-duty steel tubing and a compact design, the bike is both robust and takes up little space.
Hit it with your vacuum cleaner, drop your mobile phone on it, or simply stumble over it while on your way to the toilet. No problem:
The bike will manage it all without noteworthy damages!
But how is the bike in use?
Well:
The seat is engineered to fit your body perfectly, letting all your movements target the muscle they are intended to. No lack of focus due to soar buttocks or glute cramps!
And with eight levels of resistance, there is something to have both beginners and "pros" sweat like crazy…
Want to check out some workout stats?
The 3,5″ LCD display will tell you everything you need to know about your exercise!
Quick Facts:
Measures: 55,5x25x37,5 inches
Weight: 60 lbs
300 lbs max user weight
User Height 5 to 6 feet
Features:
Powder-coated 14-gauge steel tubing
3,5″ LCD display
Eight levels of adjustable resistance
Ergonomic padded seat
Weighted pedals with adjustable straps for maximum foot comfort
Built-in transport wheels
Two years limited warranty
THE PROS
Built to last using high-end materials
Ergonomic design
Good value for your money
THE CONS
It might not provide enough resistance for seasoned trainers
---
THE FOLDING CHOICE
This is one of the most popular recumbent bikes available on the market today.
Not only is it one of the top recumbent exercise bikes for short people, but it will also fold away for easy storage!
Within seconds of finishing your exercise, you can fold – and tuck away the recumbent bike until the next workout-date.
The manufacturers stated user height 5 feet 2 inches to 6 feet 2 inches, but even people as low as 5 feet will fit this bike nicely.
Built using a high-quality, three-piece high torque crank system, the bike delivers an excellent smooth pedaling motion.
It is equipped with a large non-slip footplate to keep your feet from slipping while pedaling and a big cushioned seat to make the ride comfortable for people of all sizes.
Due to a balanced flywheel and a smart V-belt 2x drive transmission system, the bike provides lots of power!
To make your exercise challenging, Exerpautic 400XL comes with eight different resistance adjustments.
Oh!
Want to know how many calories you have burned?
No problem! Everything can be monitored via the LCD display, which tracks it all: Distance, Speed, Heart rate, Time, and Calories burned.
Quick Facts:
Measures: 33x19x46 inches
Weight: 43 lbs
300 lbs max user weight
User Height 5'2 to 6'2
Features:
V-belt 2x drive transmission
LCD display
8 level magnetic resistance control
Large cushion and backrest
Foldable
Hand Puls sensors
3 Piece cranking system
THE PROS
Foldable for easy storage
Suitable for both big and small persons
Smart, quiet crank system
Many adjustment possibilities
THE CONS
Hard to get hold of spare parts if the need of repair
---
Final Words: Conclusion and Alternatives
Usually, when I do my reviews, I end up with several options for you to pick among.
But if you have short legs and want a recumbent exercise bike, I honestly have a clear favorite:
The Schwinn 270 Recumbent Bike.
It offers far more than most other bikes in this price segment, and its adjustment possibilities are superior.
The only downside is its size, as it might be a little too big for some.
If size DOES matter:
Both Exerpeutic 400XL and the Marcy recumbent bike are great options. They offer less "fancy" features and do not provide the same resistance, but in exchange, they bring a more compact design to the table. The Exerpeutic even folds for easy storage!
If, for some reasons, none of the above options are your "cup of tea," here are some other options to consider:
Marcy Magnetic Recumbent Bike NS-908R
Exerpeutic 900XL Extended Capacity Recumbent Bike
Sunny Health & Fitness Magnetic Recumbent Desk Exercise Bike
Stamina Elite Total Body Recumbent Bike
Or maybe you want to skip the recumbent bike altogether? If so, I've got dozens of alternatives for you in my massive guide to Cardio Exercise Equipment loaded with smart and practical equipment for your home cardio workout!
Other Helpful Resources