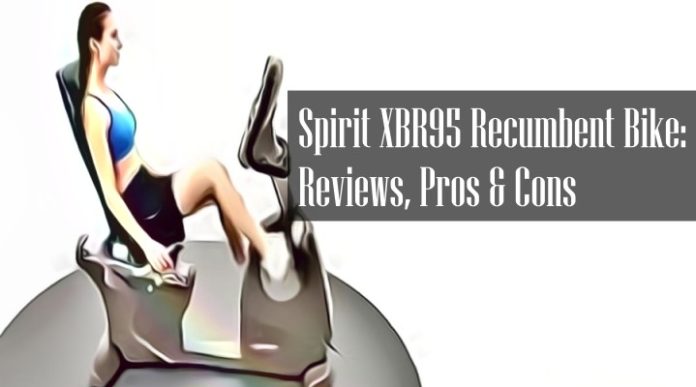 Are you looking for Spirit XBR95 recumbent bike reviews?
Well, you just found it!
I'll show you the pros, cons, which the machine is best suited for, and also some alternatives.
Before we dive in, let's take a quick look at the machine and its features:
Now, let's get on with it:
2021 Spirit XBR95 Recumbent Bike Reviews
---
As far as recumbent bikes are concerned, the Spirit Xbr95 with its self-generated light stands on top of the pile.
Coming with a rather straightforward walk-through design, you'll quickly discover how comfortable, long-lasting, and thoroughly convenient this bike is.
As if that's not enough, you can make adjustments almost at the flip of a button, look at your progress via a bright-blue 7.5 backlit LCD screen while an adjustable cooling fan helps regulate the temperature.
Also, the mesh back seat doesn't just represent the standard expected of such bikes; it's exquisitely designed with your comfort in mind.
You can adjust the mesh seat to suit your style as you go through innovative programs. The Xbr95 also has a 30 lb. Flywheel, resistance levels numbering 40 and since it has a self-generating light feature, you won't be needing electricity any time soon. It gets better though…
The caliper grip and handle resistance switches make for comfortable interchange as you easily glide through levels.
Notable Features
MP3 Audio Jack and Speakers
Yes, you read that right. Workout and music are like butter on bread! In line with this, you could have your favorite songs providing the perfect motivation when you plug in your chosen device into the MP3 audio jack.
If you love your music blaring, the speakers are up to the task.
Heart Rate % Profile
To measure your workout, the Spirit Xbr95 comes with a heart rate training system that helps you refer to your % in comparison to the maximum projected heart rate.
To figure this out, the Green LED light stands for 65% to 80%, the Amber got 50% to 60%, and the Red signaling 85% or more.
Remote Adjustment Keys
Using the Spirit Xbr95 bike couldn't be any easier. You don't have to stand or move to adjust resistance levels. You can do this from the handlebars on either side of the seat.
Quick Facts:
30 lbs. steel flywheel
147 lbs. product weight
350 lbs. max user weight
40 resistance levels
2-Degree Pedal Inversion
57″ x 30″ x 50″ dimensions
Heart rate strap
Cable-activated lever for adjustment
Reclining mesh backrest
The Pros
Safe for elderly or overweight people
Very comfortable
Multi-tasking ability
The Cons
A bit expensive outlay to acquire
Needs much space for set up
Who is the Xbr95 Recumbent Bike from Spirit Best Suited for?
Seniors/Elderly Persons – Getting around for seniors can be quite the ordeal. With a stationary recumbent bike like the Xbr95, they can keep fit in comfort.
Overweight Individuals – People who find losing weight a problematic process will appreciate the ease with which they can do that on an Xbr95 Exercise Bike.
Recovering Athletes/Persons – The Xbr95 helps those recovering from injuries to slowly pick up the pace as they return to full fitness.
The Alternatives
Depending on your goals, there are several different recumbent bikes to choose from.
If you have short legs, I would check out one of these best recumbent bikes for short legs.
If you, on the other hand, need a bike to fold and stuff into your closeth, the Exerpeutic Folding Magnetic Upright Exercise Bike would be a great choice.
Or maybe you just want the most popular recumbent bike available? Then the Marcy Recumbent Exercise Bike would be your number one choice.

Final Words: Should I Buy the XBR95 Exercise Bike?
If you're looking for a stress-free routine where you can break a sweat and still feel comfortable about it, then an Xbr95 recumbent bike is just what you need.
Although it costs a bit more than the usual recumbent bike for home use, it is packed with nice features and brings excellent comfort to the table.
Combined with one of these at home cardio routines, you will have a routine with a high grade of variation – which is the key to motivation and success!
Bestseller No. 1

Bestseller No. 2