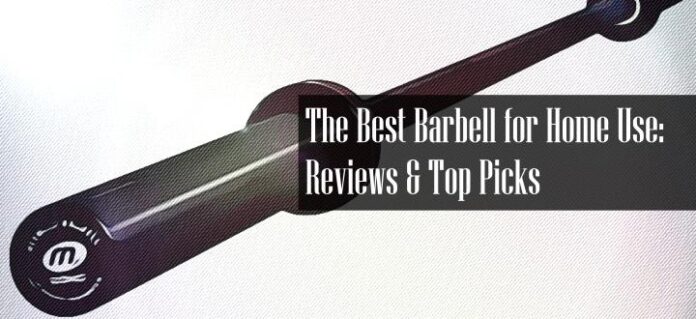 To find the best barbell for home gym use, you will need to consider several critical factors. Failing to do so might set you up with a bar providing limited usage.
How long should the barbell be? How much weight should it handle? What kind of plates are you planning to use? And where are you planning to store the equipment? The list goes on…
I have spent more than 15 hours reading product descriptions and user feedbacks – and have eventually come up with a list of three superior models:
RAGE Fitness Olympic Training Barbell (THE EDITORS CHOICE): A perfectly balanced Olympic barbell, equipped with comfortable knurly grips, durable sleeve bushings, and high weight capacity. If you are looking for a high-quality barbell but do not want to break the bank – this is it!
CAP Barbell Classic 7-Foot Olympic Bar (THE PREMIUM CHOICE): If you want the best, you will have to pay for it! Everything from the grips, bushings, and the general build to the material used – the CAP Barbell Olympic bare oozes premium. As a result, the lifting comfort when using this bar is in a league of its own.
Sunny Health and Fitness Barbell (THE AFFORDABLE CHOICE): If you are relatively new to weightlifting or simply want an affordable choice, Sunny Health and Fitness have made the perfect product. The bar is both thinner and made from simpler materials, but it will tick most boxes for an average home gym.
Read on for an in-depth review of each model.
Best Barbell Comparison Table
2" Center hole for Olympic-style plates


Rotating bushings for enhanced lift comfort


Anti-slip knurling keeps your grip tight


Perfectly balanced for maximum lifting comfort


Olympic-style plates and build


Diamond knurling and top coat for a secure grip


Small design for easy storage


Star locked collars keeps plates in place while lifting

Buyers Guide to Purchasing a Barbell for Your Home Gym
In recent times, there has been an increase in the number of online stores selling various types of barbells; this makes it quite rigorous to pick the best product suited YOUR needs. However, when buying a barbell, some key features must be put into consideration, they include: 
The Whip of the Bar
The whip of the bar helps you transition between a jerk and a clean. It is the bounce that takes place as the lifter stops moving. When picking the amount of whip for the bar, it is vital to consider the bar diameter, types of material from which the bar is made, and the plate's thickness. 
Sleeves  
The sleeves play a huge role in determining how much spin the bar will have. It works through the use of bushings or bearing. The bushings, found primarily on powerlifting barbells, are solid materials with less friction. They are made of brass and durable.
In contrast, bearings are made of high-quality small needles that allow for a very fast spin. They are found in expensive Olympic weight lifting bars. 
The Strength of the Barbell
The strength of the barbell is determined using two different measurements. They include the yield and tensile strength. The yield strength can be described as the amount of weight taken to bend the bar permanently. It is calculated statistically and tested by adding more weight to each end of the bar. 
On the other hand, Tensile strength tells you how much pressure is needed to get the barbell snapped. It is rated in pounds per square inch (PSI) because it is the breaking point of the barbell. Ideally, a weightlifting barbell should have at least 165,000 PSI. 
Load Capacity
The load capacity is also a critical factor to consider when choosing a barbell. One of the major determinants of the load capacity is the plate width. For instance, plates in powerlifting weights are thinner and designed to handle more loads than those used in Olympics.
Finish
The finishes of the barbell determine its feel in hand and also keeps it protected from rust. This is why you must put this factor into consideration. Barbells are made with different materials. For instance, barbells made with steel offer a firm grip on the hand and feel natural, but they rust on time and require more maintenance. Others are made with black oxide; these barbells are more protected and do not require maintenance. Most high-end weight lifting bars are made with stainless materials; they offer a better feel in hand but are generally expensive.
Knurling
Knurling keeps the bar on the back while you are back squatting. It is created primarily to assist heavy deadlifts where a grip failure is most likely to occur. 
2021's Reviews of The Best Barbell for Home Gym Use
---
THE EDITORS CHOICE
RAGE Fitness Olympic Training Barbell is a lightweight, six-foot aluminum barbell designed for use with Olympic-style plates with 2″ center hole.
Although there are barbells way more exclusive than the RAGE model, it is an excellent choice for 90% of the population and a perfect addition to any home gym.
The barbell has a maximum weight of 300 pounds and an extra firm grip – keeping it from slipping when your hands start sweating (trust me, they will). The durable rotating sleeves with bushings help keeps the plates from rotating during workouts, preventing unwanted distraction while lifting. The diamond knurling and diameter of 1,1″, make the aluminum bar fit perfectly into your hands, providing you with a professional feel – at a budget price.
Either you are a beginner interested in learning the basic techniques of Olympic weightlifting, or a seasoned trainer looking for a barbell for your home gym, you cannot go wrong with the RAGE Fitness Olympic Training Barbell!
Check out all features by visiting the product page at Amazon.com.
THE PROS
Affordable
Perfect for beginners
Spin freely
Durable
THE CONS
The maximum weight rating is 300 pounds
---
THE PREMIUM CHOICE
There is a reason why this 7-foot Olympic barbell is one of the best sellers on Amazon!
With 15″ sleeves, you've got loads of room for plates, making it an excellent choice if you are all about heavy lifting!  The 30mm diameter medium-depth diamond knurling is specially designed for a tight and secure grip, keeping the bar from slipping even at high loads. To prevent you from zoning out during your workout, the sleeves and bushings swivel as you lift, reducing the pressure on your forearms and wrists – preventing injuries and unwanted distractions while lifting.
But what makes the bar rise above the rest, and give it the premium label, is its amazing balance and lifting comfort. The 110000 psi tensile strength Japanese cold rolled steel bar responds perfectly both in the upwards – and downwards movement. And this is critical if you are looking to do serious lifting!
And to top it off, the black oxide finish looks like 1000 bucks!
Check out all features by visiting the product page at Amazon.com.
THE PROS
It can accommodate any 2inch Olympic plates
Has diamond knurling for a secure grip
Has clear acrylic coat for a clean look
Durable
THE CONS
Sometimes include a few splinters
---
THE AFFORDABLE CHOICE
Versatile and of good quality, this barbell should be your number one choice if you are looking for a budget barbell for your home gym. Be aware that this is NOT an Olympic bar, but as long as you are not an experienced lifter, this should not be a problem.
Use it for your total body workout: Front squat, back squat, overhead squat, deadlifts, rack pulls, push presses, power snatches – no problem!
Opposed to the Olympic barbells, the Sunny Health and Fitness model is compatible with 1″ center hole plates – not the usual 2″. The plates are secured with star-locked collars to prevent them from sliding off while training. As with most barbells, the knurled grip is also in place on this model. Although the chromed steel does not feel as comfortable and tight as the other models, it is sufficient for most people.
As this bar is mainly aimed at small commercial gyms and home gyms, the bar only measures 60″, and weighs about 12 lbs. Roll it under your bed when it is not in use, and away it is!
Check out all features by visiting the product page at Amazon.com.
THE PROS
Ergonomic design to improve productivity and increase energy level
Compact and suitable for home and gyms
Star-locked collars to Slippage
THE CONS
Product packaging seems poor
---
The Alternatives
Although I have only listed three models, it does not mean that there are no others worth considering. While doing research, I found several other models also worth taking a closer look at. Some of them are:
Fringe Sport Wonder Bar
Fitness Gear Barbell Set 135 lb
American Barbell Stainless Bearing Bar
Grizzly Power Bar
Day 1 Fitness Olympic Barbell
Final Words
Choosing the right barbell for your home gym weightlifting regime need can be pretty challenging.
Luckily, I've made a detailed guide to help you out.
If you are a beginner and still in doubt, the RAGE Fitness Olympic Training Barbell should be your best choice. This weightlifting bar is lightweight, excellent balanced – and perfect for a home gym. For most of you, this barbell will exceed your expectations!
If you need a premium quality barbell designed for Olympic weightlifting, then the CAP Barbell Classic 7-Foot Olympic Bar is your best choice. It cost more – but if you want the best, you've got to pay for it!
Or:
For everyday workout at home, why not opt for the affordable and easy-to-use Sunny Health & Fitness 60 Inch Threaded Chrome Barbell? This barbell is a versatile and high-quality workout tool that provides fast and effective results – at an affordable price!
Now that you know which barbell to buy, why not start setting up a workout routine? Check out my MASSIVE at-home strength-building archive for TONS of actionable tips, hacks, and workout routines! See you there!
Other Helpful Resources