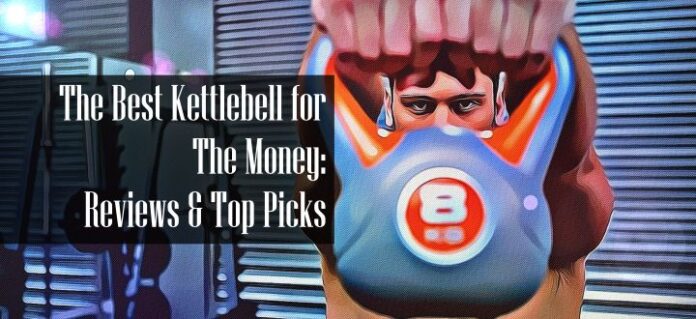 What is the best kettlebell for the money? I'm glad you asked!
Although all kettlebells somewhat look the same – they definitely are not. Grip size, materials, shape, and balance are just some of the differences that impact the final product.
Taking this into consideration, I spent just about 13 hours reading dozens of product descriptions and user reviews. So you don't need to. Here is a quick glimpse at my top three models:
Amazon Basics Iron Kettlebells (THE EDITORS CHOICE): With a wide and ergonomic grip, and smooth vinyl coating, the Amazon Kettlebells are comfortable and easy to use – for both beginners and seasoned trainers. The friendly price tag and high-quality build make these kettlebells my undisputed editors' choice. 
Toughest Gains Hercules cast iron Kettlebells (THE PREMIUM CHOICE): If you want the best – and are willing to pay for it – Toughest Gains got you covered! Engineered with the professional athlete in mind, these kettlebells are the ultimate choice if you are dead serious about your workouts!

No products found.

(THE AFFORDABLE CHOICE): If you want to add some kettlebells to your home gym set-up, but you are short on cash – Yes4All have goy just the product for you. Made from cast iron and covered vinyl, they perform just as well as many of the twice as expensive models. Although not the same balance and feel as the two other models, these are an excellent buy also.
2021 Top Kettlebell Comparison Table
Build from solid cast iron for extreme durability.


Wide grip for excellent comfort - with both one and two hands.


Enamel coated for a smooth look and feel.


Unique ergonomic handle for enhanced comfort


Perfectly balanced for maximum workout comfort

Vinyl coated finish protects both kettlebell and surfaces!


Corrotion free and super-durable design

Buyers Guide to Purchasing a Kettlebell
Shop for Comfort and Durability
When splashing the cash on your new kettlebells, the product's comfort and feel should be of great importance. After all, you will (hopefully) be utilizing them a lot. Look at the material, and also consider options with a vinyl coating. The vinyl coating will make the kettlebell nicer to the environment, helping preserve the integrity of your workout space.
This is especially true with the heavier weights as they are placed on the ground with more force behind them. You may also consider a weight mat or weight rack for extra protection against damage to your home. A vinyl cover will also add extra security for pets and children who may be playing in the area.
And we all cherish HSE, right?
Considering Body Size When Choosing
The size of your hands can be a variable to consider when making your first kettlebell purchase, and opting for a slightly wider handle may be the better option.
Body size plays a role in which weight is appropriate. You may consider purchasing a lower warmup weight in conjunction with a more challenging yet reasonable higher weight. If you're larger, use your best judgment to assess what you can handle and refrain from being overambitious to reduce the risk of injury.
If you have never trained with weights before, then the 10-12 pound range is an excellent place to start. By using this weight, most people will feel comfortable performing the base exercises without unnecessary strain.
Analyzing Your Long Term Exercise Goals
Kettlebells are a fantastic stand-alone workout in cross-fit applications – but can also serve as a complement to an existing workout regimen. They will help you attain more flexibility and strength in a unique and exciting method! When purchasing kettlebells, you are committing to an endeavor that will change your perspective regarding exercise possibilities.
Asking yourself what goals you want to accomplish will help you realize the vision of the future. We have the power in our minds to bring forth results that cater to our desires regarding exercise, and these can be implemented for serious athletes or the average person.
Athletes who are already conditioned through other exercises may benefit more from starting with heavier options. Cardio is generally better with the lower weights and allows for better endurance training and flexibility drills. In the reviews section, I will list some of the best selections on the market that come with unique features to elevate your experience.
Determining goals is an essential step before purchasing any exercise equipment, and we all start at different levels. From considering these three options, you will be safe either which you choose.
What is the Best Kettlebell for the Money? 2021 Reviews
---
THE EDITORS CHOICE
The Amazon Basics Iron Kettlebells is an excellent option to consider for all and everyone!
Sounds too good to be true? Well:
It includes colors that match any given weight and has a comfortable vinyl coating to reduce scuffing up your home. They are perfect for agility and cardio training and will help you achieve a higher level of exercise prestige!
How can you beat that?
No matter where you do your workouts, the Amazon Basics kettlebell set will last long with corrosion-resistant materials. They effectively reduce the amount of noise in your personal gym so you can focus more instead of worrying about intrusive elements. They create a smooth workout experience that is unparalleled and are growing in popularity because of their unique design. This set is cast iron with a comfortable grip for long-term usage and will last for years of dedicated training.
THE PROS
Made of durable cast iron metal
Ideal for preserving the integrity of any gym or living space
Simple and effective in their application
THE CONS
May roll around if not properly secured
Increased risk of injury without proper technique
It may take time to learn how to use them properly
---
THE PREMIUM CHOICE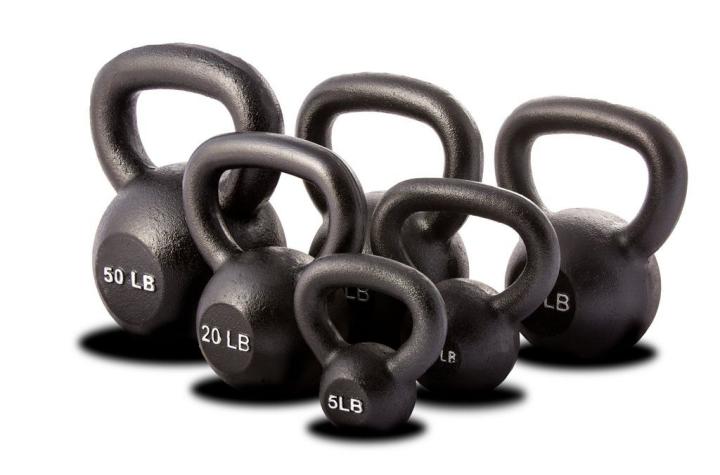 The name of this brand says it all. Toughest Gains Hercules cast iron Kettlebells:
You may not ride a flying horse and take down the God of the underworld, but you will certainly be training with heroic equipment! Elite athletes are encouraged to try this brand as these kettlebells simply are the best of the best.
The kettlebells have been forged to give athletes that extra edge in competition and over-deliver in their ability to help you realize your optimal physique. This premium choice is recommended for those who take the craft seriously and wish to engage in CrossFit movements like the Russian swing, one-armed clean, and two armed push press, among many others. The handle is smooth and allows for a fluid ergonomic motion that is unparalleled.
You are guaranteed to get the most out of this option with serious results.
THE PROS
Supreme quality and design for serious athletes
Appealing texture and appearance for continuity
Beneficial for those who wish to push themselves hard
THE CONS
May not be suitable for beginners
Lacks vibrant colors like other options
They are more on the expensive side but for good reason
---
No products found.
THE AFFORDABLE CHOICE
No products found.
No products found.
If you're looking for a budget-friendly option, then look no further than this affordable and effective set of kettlebells.
Don't let the price tag fool you because these are made with high-quality cast iron material with no welds or weak spots that can hinder training. They are durable and encased in vinyl to protect your workout space, reduce noise, and give a pleasant appearance with a deep ocean blue coloration.
The wide and smooth handle is suitable for all hand sizes and is comfortable and secure. Chalking your weights isn't necessary with this model as well as the others, and it features a flat bottom to prevent the weights from rolling around. There are no limitations regarding age, gender, or skill level when it comes to this beginner set.
It's easy to grow tired of lifting traditional dumbbells or plates, and this friendly alternative frees your body to achieve a more natural exercise flow state.
THE PROS
Has an appealing design that stands out but doesn't overwhelm
Functionality is high for a lower price
Suitable for all walks of life
THE CONS
May not be the best option for professional athletes
May contain some bumps or creases
may have questionable weight accuracy
No products found.
---
The Alternatives
Although I only included three kettlebells in my reviews, there are still several different models to consider. Here are a couple of kettlebells that just missed the final three – but that are still excellent alternatives:
TRX Kettlebells
Kettlebell King
Metrixx Kettlebells
Perform Better Kettlebells
Rough Kettlebells
Onnit Kettlebells
TRX, Rough and Onnit, are all popular brands – known for their quality exercise equipment. Buying any of these brands will be safe – even though I personally would rather purchase one of the reviewed models.
Frequently Asked Questions (FAQ)
How are Kettlebells Effective?
Kettlebells are effective in several ways. While working out using kettlebells, you engage several muscles throughout your body. When turning up the intensity, your kettlebell workout will not only build power and strength – but will also do wonders for your cardiovascular fitness.
No products found.
Also, kettlebells come in a wide variety of weights – making them perfect for both beginners and experienced fitness enthusiasts.
How Heavy of a Kettlebell Should I Buy?
The weight of the kettlebell depends on several factors:
What are your goals?
What is your current fitness level?
What exercises are you planning to use them for?
As kettlebells can be used for a large number of different exercises, both "heavy lifting" and "light lifting," – it is advisable to buy a couple of different sizes so you can do them all.
What Makes a Quality Kettlebell?
A quality kettlebell should tick off all the following criteria:
The handle should be wide and fit comfortably in your hand.
A quality kettlebell should be made from a single cast construction, meaning it was crafted with one cast. You do not want a kettlebell that is welded from several pieces of iron.
A durable and robust coating should cover the kettlebell exterior. The coating works as a shield surrounding the iron – protecting it from rust and wear.
Kettlebells should have a flat and smooth bottom. The flat bottom makes the kettlebell both easy to grip when placed on the ground, and it will also be more gentle to the floor when ending your workout set.
No products found.
How Should I Care for my Kettlebell?
Taking care of a kettlebell is pretty straightforward: Keep it stored in a dry place, keeping it away from moist environments. Wash the equipment once a month using a damp cloth, removing all debris and salts.
When the coating loosens over time, gently pick off the loose flakes and repair them using a sealant.
Final Words
In summary, the benefits of the editor's choice include a well-balanced option of functionality and design. They feature a vinyl coating that will protect your home and preserve the life of your equipment for years to come.
The premium choice includes the highest level of training equipment available for a steeper price. If you take working out seriously, then this is the option that will pay off more for your body.
Those who are new to this type of exercise will benefit more from trying the affordable choice. They are a great entry-level option to get a feel for the experience.
Before you go:
Be sure to visit and bookmark my MASSIVE at-home strength-building archive – LOADED with equipment reviews, fitness tips, and workout hacks!
See you there.
Other Helpful Resources