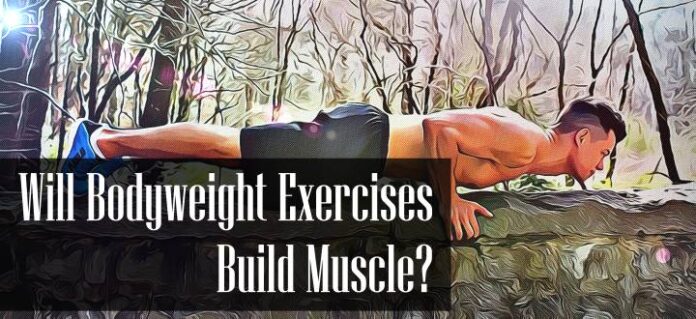 Will bodyweight exercises build muscle?
Let me take you for a dive into the sea of bodyweight training. The kick-ass form of exercise you can do anywhere.
If you're looking for a fun, flexible form of training that delivers results fast, check out these 9 benefits of bodyweight training!
Bodyweight Training Builds REAL Strength: The Benefits
Ok then, give me those damn benefits. Why should I stop using the "Monster Muscle Flex RX Rack 6200 GT" and start doing body weight exercises instead?
Well, read on and find out:
It Takes All Sorts
Bodyweight exercises don't discriminate, because everyone can do them!
No matter your level of fitness, your exercises can be modified to suit your needs. By varying the speed of the exercise, adding repetitions, or focusing on technique you can instantly modify the level of challenge.
That's why I say calisthenics is suited for both beginners as well as super-fit individuals!
To The Very Core
As one of the most important muscle groups, the core is useful for just about everything.
Your front, back and sides are included. You'll struggle to find a bodyweight exercise that doesn't strengthen your core.
Flexy as Hell
There's some truth in the stereotype of lifters being inflexible.
If you're looking to build and maintain mass without tight muscles and rigid joints, you'll want to trade the bench press for bodyweight training.
There's a reason yoga and pilates have taken hold worldwide- they are a form of bodyweight training; a highly effective way to loosen up joints, muscles, and improve posture.
Build Muscle (And Keep it)
Want to eat more and get away with it? Not only does muscle look good, it actually increases your required calorie intake.
The more muscle you have on your body, the higher your metabolic rate. You got it, that's why Michael Phelps can eat 12,000 calories a day when training!
Lucky for you, bodyweight exercises are a killer way to build and retain muscle. Not only will these muscles increase your metabolic rate, but they will aid ALL types of exercise.
So by integrating bodyweight training into your regime, you're pumping up your ability to swim, run, cycle, and more.
Have Some Heart
All types of exercise are dependent on the heart, and body weight is one of them.
Feel the heart pumping away when you're working out? Here are the ways your heart health is being improved:
Reduced cholesterol levels
Protection from cancer
Increased longevity
Reduced risk of stroke
Freedom
If you're looking to build muscle, weights are the obvious choice. But how portable is a few hundred kilograms worth of dumbbells?
Many exercises involve equipment, or at least specialized clothing. The only equipment needed for bodyweight training is your body, so get creative with where you do it, -and experience a whole new level of freedom when you work out.
Save Time
Not all of us have HOURS to set aside for our workouts, so the need for time-efficient workouts is greater than ever.
Bodyweight training is all about quality, not quantity- achieve more in less time!
With this form of exercise, there's no commute, no subscription, or no other time-wasting exercises. Just find an empty space and get straight down to business!
Bodyweight exercises are proven to offer massive gains in short periods, by turbocharging your heart rate and blasting calories. Due to the lack of equipment, you can quickly transition between exercises to keep your heart pumping.
Stay Balanced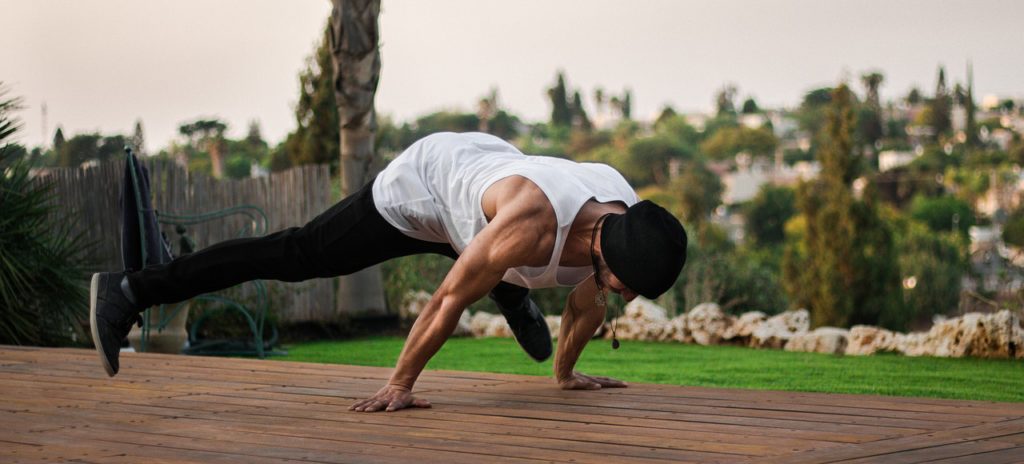 Since your body is creating resistance, naturally bodyweight training requires balance. You'll struggle to find a single exercise that doesn't ramp up your general body awareness and ability to control it.
Almost any exercise can be further boosted to work on balance- try a single-leg squat for a serious balancing act.
Get Results
All of that sounds great, but if you're not getting results, who cares, right?
Bodyweight training is incredibly effective because it requires 'compound' movements- meaning multiple muscle groups and joints worked at the same time: amplifying the results of strength and performance.
We're talking body-wide gains here!
Final Words: Will Bodyweight Exercises Build Muscle?
You might still ask yourself; " will bodyweight exercises build muscle "?
Well:
There's really no one perfect form of exercise. But if you like the sound of an exercise that is truly time-efficient, can be done anywhere, and gives you rapid, body-wide progress, bodyweight training is the business!
PS! If you would like to learn more about calisthenics and time efficient exercise, be sure to visit and bookmark my definite collection of at home strength training articles. Here you will finds LOADS of interesting stuff to help you along the way establishing your at home workout routine!
Other Helpful Resources