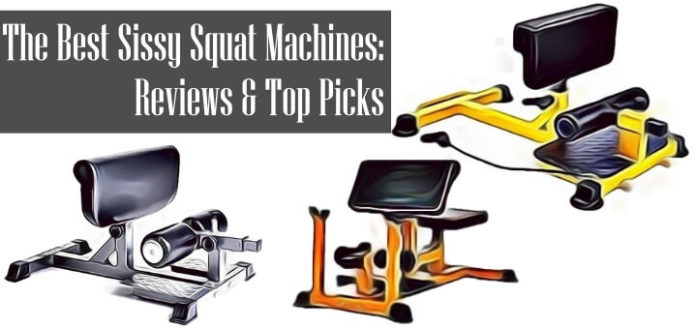 Sissy squats. I just love them!
Named after the Greek mythology king Sisyphus, sissy squats is simply the best exercise around the block for strengthening those hard to hit front of your thighs; -also known as the Quadriceps aka the quads.
Sure, sissy squats can be done without no equipment at all, -but if you want to take it to the next level a sissy squat machine will do you wonders!
Today I will show you the top 3 best sissy squat machines and in addition give you a thorough buyers guide to help you choose the equipment best suited YOUR needs.
If you are a complete newbie to how a sissy squat machine works, I suggest you read my sissy squat machine FAQ before reading this article.
Anyways:
But before we move on to the buyers guide and reviews, lets take have a glimpse at today's contenders. What is the best sissy squat machine? Here is the quick answer:
What is the Best Sissy Squat Machine of 2021? Comparison Table
---
First of, here is a comparison table to give you an overview of the different models features.
Yeah, I know -they all look the same. But the truth is they all have their strengths and weaknesses…
Features
Heavy Duty Steel Base
Non-Slip Foot Plate
Rubber Band For Better Balance
Adjustable
Comfortable Padding
350lbs max user weight
Durable Steel Construction
Biceps Curl Feature
Adjustable
Comfortable Padding
550lbs max user weight
Heavy Duty Design
Commercial Gym Feel & Quality
Large Non-Slip Foot Plate
Adjustable
Comfortable Heavy Padding
1000lbs max user weight
Features
Heavy Duty Steel Base
Non-Slip Foot Plate
Rubber Band For Better Balance
Adjustable
Comfortable Padding
350lbs max user weight
Features
Durable Steel Construction
Biceps Curl Feature
Adjustable
Comfortable Padding
550lbs max user weight
Features
Heavy Duty Design
Commercial Gym Feel & Quality
Large Non-Slip Foot Plate
Adjustable
Comfortable Heavy Padding
1000lbs max user weight
The Ultimate Buyers Guide to Purchasing a Sissy Squat Machine

---
There is nothing worse than jumping straight to the purchasing decision before doing your homework and educate yourself on what to look for in the item you are planning on buying.
To help you in getting the best sissy squat for YOU, here is a buyers guide outlining everything you will have to consider before opening your wallet..:
Stability
If you are a large person with a lot of upper weight, make sure the sissy squat machine stands firm and stable to its surface.
While bending backwards doing the exercise, a wobbly construction might get you in all kinds of trouble -like loosing your balance and ending the movement with your butt on the floor…
And that sure is NOT what you are looking for while doing your beloved leg-day!
Padding
Some of the low-end models come with padding both towards your front leg and calves which actually do more harm than good…
Think about it:
Rubbing rock hard plastic towards your front legs and calves while you are trying to focus on technique and form. Bad combo!
The padding should be comfortable and soft giving you the needed support without feeling like you are at a chiropractor appointment…
Padding Adjustability
We are all built differently…
Some of us are tall, and some of us are short -and some are in the middle.
Be sure to get an equipment that fits YOUR anatomy.
Both the foot holder and the rear cushion should be adjustable to fit your legs. Do not feel tempted to save 10 bucks and get a machine with limited, -or none adjustment possibilities. You will regret it!
Build Quality
The sissy squat transfers large amount of energy all the way from your quadriceps to the sissy squat machine construction.
The machine should be made from heavy duty steel and the different components should be either welded together or assembled with solid machine screws and washers to ensure durability.
If you need to tighten the screws every time you have used the equipment you will be frustrated (at least I would), and you might end up throwing "that damn useless sissy squat machine" in the garbage…
And that would be a real shame as I know how fantastic some of these equipment can be!
Max Supported User Weight
It is pretty obvious:
If you weigh 300 pounds you do not go get yourself a machine that only supports 250 pounds…
But even the obvious need to be highlighted!
Far to many people do not check this feature and up with an equipment not really suited their weight.
Do not become a part of this statistic!
Equipment Size
Where are you planning on storing the equipment?
In a closet?
Under your bed?
Be sure to check out the foot print the equipment leaves behind. Take some quick measurements of the are where you plan to store it. Take special notice of the height as this is most often the achilles when it comes to storage.
Features
Do you want an equipment to work out more than your quads?
Yeah, while doing sissy squats you will also train your core and glutes -but did you know that some of the equipment even comes equipped for biceps curls usage and other fancy features?
Cover all your needs to get the most out of your equipment!
Cost
The prices range from about a hundred bucks and upwards…
Where is YOUR pain point?
The most expensive models come with a lot of extras like push ups grips or the possibility to use it for sit ups.
Do you really need these extra features?
Or will you only use the equipment for sissy squats?
Consider what you are going to use the machine for, and buy one that fits your criteria!
2021's Reviews of The Best Sissy Squat Machine

---
So:
Now that you know what to look for in a sissy squat machine -lets dig deeper into each model and find out which one can pride itself as the best sissy squat machine!
Lets get to it!
The Best Sissy Squat Machine: EDITORS CHOICE
K KiNGKANG might not be the most known brand within the fitness industry, but non the less thy have been around for quite some time.
Based in Zhejiang, China -K KiNGKANG have been manufacturing professional home fitness equipment for the last 10 years! So don't be fooled, they know what they are doing!
So what is so special about their equipment?
First of:
Their adjustable sissy squat machine combines features, quality and price perfectly -resulting in an equipment providing everything you need for effective and comfortable sissy squat workouts!
The heavy duty stainless steel base provides excellent stability, while the non slip foot plate makes sure your feet rest firmly to the surface while doing your exercise. Due to the solid construction the max user weight is as much as 350 lbs! That should cover the most of us…
The construction is equipped with both adjustable rear cushion and foot rest to fit people of different heights. The cushion material is soft and comfortable making sure a trouble-less and pain free exercise!
And you know what?
Just to make the machine as beginner friendly as possible, K KiNGKANG have incorporated a set of helpful balance ropes into their design to help you stay in control if you are new to these kinds of exercises.
Okay than, to summarize -here are the pros and cons of the editors choice best sissy squat machine:
WHAT I LIKE:
Good build quality
Stable
Comfortable padding
Transport wheels
Nice amount of adjustment possibilities
Elastic bands for beginner support
WHAT I DO NOT LIKE:
As far as for home gym usage; NOTHING
The Best Affordable Sissy Squat Machine
Often the more affordable gym equipment really cannot compete with the more expensive models… But you know what?
This is not always the case!
NBpower have engineered and built an equipment suited most home gym needs! The construction is solid, the padding is comfortable and you have the possibility to do necessary adjustments to suit your height.
They have even added an extra cushion to add the some extra usability! If you own a set of dumbbells or a barbell you suddenly have your own curl stand for your biceps training!
That sure is pretty cool!
Taking into consideration the friendly price, NBpower secures the price as the best affordable sissy squat machine by miles!
WHAT I LIKE:
Affordable!
Clever Curl bench feature
Nice padding
Can be adjusted
WHAT I DO NOT LIKE:
Not suited taller people
Added curl bench adds extra equipment size
The Best Premium Sissy Squat Machine
If money is not an issue, a "premium" choice might be your cup of tea…
In that case I've got the one for you!
The Element Fitness sissy squat machine costs a bit more than the rest, -but in return it brings you that sweet commercial grade feeling…
Comfortable, heavily padded calf protection.
Heavy duty design for tons of stability and durability.
Large, high quality foot plate with anti-slip function.
Smart, compact design.
Several adjustment possibilities.
And last but not least. -The Element Fitness sissy squat machine looks just like the ones found at the commercial gyms!
Enough said!
This machine simply looks like quality and feels like quality. Can you ask for more?
WHAT I LIKE:
Extreme build quality
Steady
First class padding
Happy customers
Good adjustment possibilities
WHAT I DO NOT LIKE:
Why do People HATE the Sissy Squat? (Terrible or Terrific for Legs?)
---
Final Words: Sissy Squat Machines Really is a Good Investment
---
The sissy squat may be the most underrated leg exercise there is… There really is NO replacement for sissy squats, -at least that is if you are planning to do your exercise at home.
They can be done without any equipment at all, with an DIY sissy squat machine or with one of the best sissy squat machines listed in this article.
Either way, there should be no question about it: Every home exercise routine should contain some kind of sissy squat variation!
Other great options also available at Amazon would be:
TDS Pro Sissy Squat Machine
FEIERDUN Sissy Squat Machine
Goplus 3-in-1 Multifunctional Squat Machine
Strencor Heavy Duty Commercial Sissy Squat Machine
ARCHON Sissy Squat Machine
Unfortunately none of the above made the cut to be among my recommended sissy squat benches, but thy might all be worthy your consideration anyways.
If you want to read more about home exercise equipment, be sure to check out my massive guide to the best home strength training equipment, -PACKED with top-notch home gym equipment!