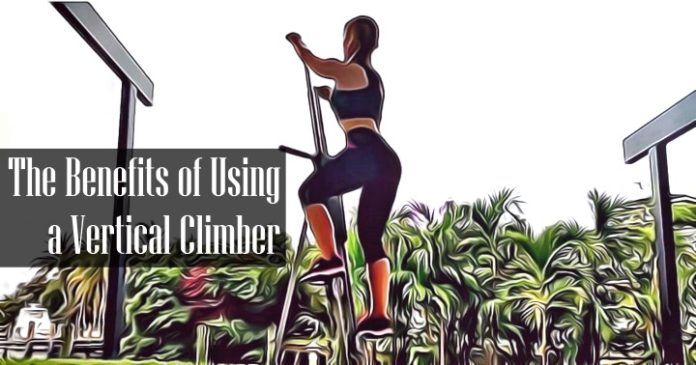 Are you sick of treadmills, exercise bikes, and the oh-so-boring stepper device?
And in your desperate seeking for an alternative apparatus to melt away that annoying belly fat you are checking out what the vertical climber is all about?
Then you are in for a treat!
In this post, you will discover 7 proven vertical climber benefits to give you a glimpse into what this strange-looking exercise machine is all about.
The 7 Top Vertical Climber Benefits
If you have tried exercising and hated it, chances are you are either doing it all wrong or performing workouts that aren't designed for your body type.
For example, if you weigh about 250+ pounds and take up skipping as your weight loss regimen (nothing wrong with skipping), you would find it absolutely exhausting and hate it while at it.
Changing the way you approach exercise instead of hating the process is a good start, and if you want to move the weight and keep it off, finding something to motivate you is the answer.
You know It's never too late to start a new exercise regime!

So, here's my suggestion for you:
How about getting a vertical climber? For starters, you only need to use your body weight in an upward direction to burn copious amounts of calories.
Cool, or what?
So, no weights are needed and you can say goodbye to the jump rope for a while until you get a little closer to your ultimate form.
Here are the 7 proven benefits of using a vertical climber:
1. It Burns Calories!
Using this dynamic machine makes exercising more efficient because it boosts your metabolism to help you burn 20% more calories than you would while using traditional machines like the treadmill, a rower, or a stair stepper!
Using a vertical climber like the maxi climber for 30 minutes, 3-times a week ensures that all your major muscle groups are worked out simultaneously, mainly because you are using your full body weight to move through high steps that simulate a wall climb.
But beware..:
It's not easy to use this machine, especially for a beginner because it really pushes you to the limits! But after acclimatizing to the movements, the few reps that would otherwise wear you down become like taking candy from a child, -literally!
2. Climbing Improves Cardiovascular Health
If you have been living a sedentary life, chances are your cardiovascular fitness is out of whack and needs a bit of fine-tuning…
If you're more concerned about losing weight, you will be getting more than that with a vertical climber. It will give you that much-needed cardio workout that will keep your heart purring like a new car engine.
Any activity that gets your heart rate up is great for your mood, weight, heart, lungs, stress, sleep, energy, and reduces your risk of heart disease, diabetes, and even some types of cancer.
That sure is a long list of health benefits!
To dive even deeper into the benefits of keeping your blood pump in good shape, check out this article; What Are the Benefits of a Good Cardiovascular System?
3. Great for Weight Loss
A vertical climber machine has proven to provide simple, low impact yet effective whole-body workouts that not only help in burning calories but also in getting rid of excess weight fast -with lesser efforts than other indoor exercise machines.
It only takes devoting 30-minutes out of your busy schedule to rip all the benefits of using a vertical climber.
And you know what?
If not for health benefits, how about exercising to prolong your life by more than three years?
Sounds good, huh?
Here's a great vertical climber workout routine for weight loss worth checking out if you are ready to melt that fat like butter!
4. Improves Upper Body Strength
Apart from looking absolutely awesome from being ripped, there are actual several health benefits to having upper body strength.
Using a vertical climber is beneficial when it comes to building and maintaining a strong upper body – but most importantly: It can help you minimize your risk of injury as well as losing muscle mass as a result of aging.
Upper body strength is essential for improving your posture and form, especially if you spend countless hours seated or hunched over behind your desk.
You know, the all too known "Zombie at the Office Position". Not good!
Your arms, shoulders, and core strength will improve significantly when you start using a vertical climber, helping you reduce the damages inflicted by office life.
5. Improves Lower Body Composition
The vertical climber will not only do wonders to your upper body, it will also improve your body from the hips and down..:
glorious glutes,
thighs,
hamstrings,
and calves
These muscles are too often being ignored, especially if you live a sedentary lifestyle.
Neglect to these areas of your body can lead to loss of skeletal muscle mass and strength and will consequently increase your risk of injury, loss of bone density, poor mobility, etc. Some things you really don't need especially at a young age, right?
The nature of workouts you get with a vertical climber is not only great for cardiovascular health, but they are also fantastic for your back, heart, lungs, and for your lower extremities.
6. Reduces Risks of Type 2 Diabetes
If you rarely get a chance to work out due to the demands of your life or work, you up your risks of developing type 2 diabetes by a third.
Yeah, that's right. ONE-THIRD/ 33 PERCENT!
The number may seem insignificant, but wait until this disease takes over your life – then you will understand the importance of physical activity.
A vertical climber can help you burn visceral fat, which is the main culprit when it comes to diabetes, high blood pressure, and heart disease.
High amounts of fat within the abdomen will result in what is known as "active fats" being stored around major internal organs such as the liver, intestines, pancreas, and heart. This accumulation can lead to dangerous health effects as:
Increased insulin resistance,
colorectal cancer,
Alzheimer's disease,
breast cancer,
and heart disease.
If this doesn't scare you enough to get off the couch and do something about your weight, nothing will!
7. Value for Money
In conclusion. While there are different types of vertical climber machines in the market today, the best thing is almost all have similar functions that will lead to great results.

This inexpensive, easy to store, and use equipment will be a great addition to your workout regimen – and provided you use it you will notice a significant improvement in your overall body strength, physical composition, mood, energy levels, sleep as well as your sex life (yeah really!).
So, what are you waiting for?
Drag your a** out and go get one of these best vertical climbers and climb your way to a fit, healthy, and happy "new you"!
Final Words: The Climbing Machine Benefits are Solid!
So, that's it!
A vertical climber:
Is effective at burning calories,
improves your cardio vascular health,
shreds of those extra pounds,
improves your upper body strength,
builds your legs and glute,
reduces risk of type 2 diabetes,
and to sum of it's affordable -making it an excellent choice for any home gym!
So, by reading about the vertical climber benefits -are you all pumped up and ready to go get one?
If so, check out my best vertical climber reviews to make sure you get the vertical climber perfectly suited to your needs!! Because buying one that does not tick all your boxes will be a disappointment…
Or, hey. Maybe this doesn't seem like your cup of tea?
Well, I've looked at dozens of different cardio equipment -and written an article or two about every single one! You should go check out the collection HERE.
Other Helpful Resources