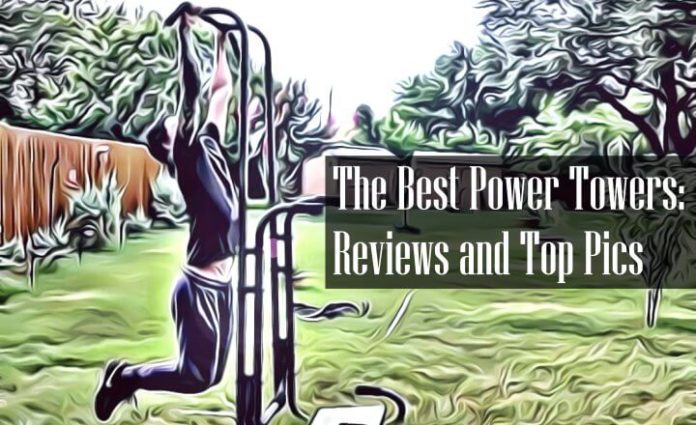 Are you looking for the best power tower for home gym use? In that case, I've got you covered!
After digging into dozens of different power towers, I have ended up with a handful of few worthy of my recommendation. Also, I have added a buyers guide and a FAQ section to hold your hand all through your decision-making process.
If you are in a hurry and do not want to read the complete power tower review, here is a quick roundup of my favorite power towers of 2021:
Comparisons Table Of The Best Power Towers
Before digging deep and looking at the power tower review section, let's take a look at the different power tower models compared to each other:
Award
Best Power Tower Under 100$
Features
Padded grips
Cushion for back
Arm rests
300lbs max weight
Stable D-frame
Padded grips
Cushion for back
Arm rests
300lbs max weight
Padded grips
light weight
250lbs max weight
Padded grips
Multiple adjustments
Cushion for back
Arm rests
Floor mounting
400lbs max weight
The Ultimate Buyers Guide To Purchasing a Power Tower
Before deciding on which power tower to buy, you need to know exactly what features to look for to find one perfectly suited to YOUR needs…
In this buying guide, you'll find 5 essential things to consider before purchasing a power tower:
Your Body Size
In some contexts, they say size doesn't matter…
But you know what?
In the power tower context, it does matter!
Be sure to get a power tower that fits your size, and at the same time, can carry your load.
No point in getting a 7 feet tall tower if you're only 5 feet yourself. Your tower should be both tall enough and be of a with that fits your arms range.
With regards to weight capacity buying a tower with a stated maximum user weight of 200 pounds will be a bad fit if you're a 250-pound gorilla.
Agree?
The Size of Your Wallet
Some of the power towers are pretty darn costly, while others are the opposite. Of course, the quality of these towers will be different – but that does not mean the less expensive is a bad piece of equipment.
Make sure you consider the cost/ benefit – get a tower that matches your wallet and your needs! Some of the models like the Stamina 1690 Power Tower are both affordable and more than good enough for most home exercisers!
Where are you Going to Place the Power Tower?
As their base come in different sizes, the different power towers leave different footprints.
Before you splash the cash, consider the space you've got available.
Some of the power towers are pretty massive, while others are kind of petite…
Measure the height, and depth of the area you plan to use as your muscle-building zone. Make a plan and ensure the power tower fits like a hand in glove!
Are you a Beginner or "Pro"?
Do you really need that fancy "best premium power tower," or will you be okay with the "top affordable power tower"?
Get a power tower that matches your fitness level – and planned future fitness level. If you do not have the genes to become a 250 pounds gorilla, you don't need a max user weight of 400 pounds.
As mentioned earlier, be sure the tower matches your wallet – and your fitness level!
Which Exercises are you Planning to do?
Some power towers come with a lot of features; some others don't…
If you're planning to do "the captain's chair", "vertical knee raise", and "leg raises," it might be cool to have both a cushioned backrest and a pair of comfortable forearm rests.
If you're planning to do row exercises, get yourself a tower with an adjustable bar.
If you want to incorporate a suspension trainer into your exercise regime, it would be beneficial to have a power tower with the opportunity to mount the base to the floor.
Thoroughly consider how you want to use the equipment – and make sure you get one that matches your needs!
The Benefits Of Using a Power Tower
They Are Perfect For Both Beginners and Seasoned Trainers
Either you're a complete beginner in the world of fitness, or you're the next Mr. Olympia – a power tower will get the job done.
Newbies should get a basic tower, while 250 lbs bulls should go for a more advanced commercial "grade-ish" unit with the capacity to carry both your body weight and an additional weighted vest.
If you're struggling to do pull-ups, follow this beginner pull-up program, and you'll be doing your first pull-ups in no time!
Uses Your Body Weight as Resistance
When utilizing your body weight as resistance, you will build real, functional strength.
Don't get me wrong, going to the gym and pumping iron will sure as he** get you strong. But you will not get the same kind of strength as with calisthenics…
By using a power tower and your body weight, all your muscles will get a piece of the action. Not only the primary muscle will be working – but your core and a whole lot of secondary supportive muscles as well.
I personally stopped lifting weights 7 years ago to only focus on functional training. And to be honest, I have never been stronger!
RELATED:
Relatively Low One Time Investment
While a gym membership costs 50$ a month, you can get a perfectly fine power tower for as little as 100$…
Yeah, that's the same price as two months of gym-going!
Supports Multiple Exercises
A power tower is truly a multi-functional piece of exercise equipment. Equipped with several handles, hand grips, and bars, brings tons of options to your exercise regime:
Pull-ups
Chin-ups
Push ups
Leg Raises
Dips
Core Training
The power tower got your back!
PRO TIP: Combine the power tower with a suspension trainer and resistance bands to unlock the door to a whole new world of exercise opportunities.
Power Tower FAQ
Are Power Towers any Good?
Well, it depends on how you use it…
If you do pull-ups, push-ups, dips, leg raises, and chin-ups – you can build a serious amount of muscles!
Sure, you can do all of these exercises without using a power tower, but using one sure as hell makes it both more practical and fun!
Can I use a Workout Station for Muscle ups?
Then you better have a damn solid one!
Most power towers might be a bit too wobbly to do muscle-ups, at least the under 300$ ones…
Muscle-ups will cause a lot of movement and will have most power towers shaking as you're throwing yourself to the top.
Some of the available models, though, are delivered with a heavy-duty steel base, and with both bolts and holes for floor mounting. These will stay solid as a mountain, even if you're doing the most intense muscle-ups possible!
Can I get Injured While Using a Pull Up Tower?
Sorry, but the answer is YES!
But that goes for all fitness equipment and exercise machines…
Or wait, that goes even for going down the stair in the morning – or washing your hair in the shower!
Every activity that involves some kind of movement will inflict some kind of risk concerning injury.
But are the pull up tower more dangerous than other exercise equipment?
NO!
As you utilize your body weight as resistance, there are no 300-pound weights to accidentally tip over you.
What Exercises Can I do With an Exercise Tower?
A lot…
Push-ups, check!
Pull-ups, hell yeah!
Dips, yes!
Knee rises, you got it!
Chin-ups, sure!
Vertical leg lifts, absolutely!
And the list goes on…
If you combine the power tower with a suspension trainer, you suddenly have a complete home gym with 100's of exercise opportunities!
Can I Use a Weighted Vest With a Home Power Station?
That depends…
If you plan on using a weighted west when doing your pull-ups or dips, be sure to get a tower that manages the load. The frame, bars, and handles should be made from heavy steel – and pads should be of high-grade material.
The different towers all have different specifications.
Some will have a maximum weight rating of 250 pounds, while others will have 500 pounds.
What Muscles Does a Power Tower Work?
A power tower works several of the muscles in your body – but primarily those located in your upper body.
Use the integrated pull up bar to train your back, arm, and core muscles.
Want to strengthen your chest? Then use the push-up bars…
What about the triceps then? Hey, no problem! The dip station will work just perfectly!
You can even work on your biceps by doing chin ups from the pull up bar.
These are only a few of the ways to exercise using a power tower. As you can see, you can target a lot of different muscles – it all depends on your workout routine.
What is the Best Power Tower for Home Gym? 2021's Top Picks
What is the best power tower depends on a couple of different things…
In this section, we'll take a closer look at the top power towers, and provide you with a detailed review of each model.
What are their strengths?
And what are their weaknesses?
And of course, what is the best power tower for home use?
Let's find out!
---
The Top Power Tower for Your Home Gym: EDITORS CHOICE
Let's start off by looking at the review of my favorite model!
Don't get me wrong, if I had a lot of money in my wallet and did not care about the price, the Fitness Reality power tower would be my choice.
Well, but in a review like this, price DOES matter.
Taking this into consideration, the Body Champ Power Tower is my preferred option.
Body Champ has been in the exercise equipment business since 1993, offering a large variety of equipment.
In the VKR1010 Power Tower, Body Champ delivers a well-built product that includes all the fitness expected from a quality power tower.
Comfy hand grips, cushioned backrest, and forearm rests – all packed in a solid heavy-duty steel frame.
And on top of the nice features, the price is far from frightening as well!
Let's take a closer look at the features:
Assembly size; 58,5Lx 46,5W x 83H inches.
Weight; about 88 lbs.
Heavy-duty cushions for back and forearms
Solid, heavy duty steel construction D-frame
Protective feet to prevent damages to floor
Non-slip handles with grip
There is a lot of similarity between the Weider Power Tower and the Body Champ. What makes the difference between the two is the added balance the Body Champ tower brings due to the curved feet base.
When buying a VKR1010 Power Tower, you can rest assured that you will get a quality product built to last!
THE PROS
Excellent value
Perfect Build quality
Good grips and cushions
Steel D-frame
Happy users!
Easy to assemble
THE CONS
Not suited for the smaller users (5″ and under)
No height adjustment
---
Most Bang For The Bucks
Weider is one of the more known brands in the home exercise equipment scene.
In their power tower, they have combined an attractive price with the excellent build quality and features found in power towers twice the price!
Manufactured ICON Health & Fitness, the Weider brand, has been among the most trusted names in the world of fitness for the last 25 years or so.
When buying a piece of equipment which brand stems from Arnold Schwarzenegger's coach Joe Weider – you know it's the shi*.
The features:
Assembly size; 57L x 41W x 84H inches
Weight; about 86 lbs
300 lbs maximum user weight
Pull up bar with padded hand grips
Push up bars with padded grips
Dip handles with padded grips
Vertical knee raise station with cushioned armrests and padded grips
Comfortable vinyl backrest
Built from heavy-duty steel tubing
Looking at the affordable price, and the fantastic features, it's a no-brainer handing the Weider power tower the "most bang for the bucks" award.
Don't get me wrong, you will not get a high-end gym-quality 1000$ piece of equipment…
But you will get just what you need if you're looking for a power tower to use at home!
THE PROS
Provides Good Value
Sturdy Construction
Durable Material
Comes With a Warranty
Padding for high comfort
Trusted brand
THE CONS
Tools for assembly not part of the bundle (mallet, wrench, and screwdriver)
No Height Adjustment
Not suited for the smaller people (5″ and under)
---
Best Power Tower Under 100$
If you are looking for a power tower but do not want to spend a lot of money, this is your obvious choice!
Stamina 1690 Power Tower is an affordable, yet functional and solid piece of equipment. Stamina has been around since 1987, bringing excellent value and smart solutions to their home exercise equipment.
The features:
Assembly size; 50Wx 41,5D x 81,5H inches.
Weight; about 54 lbs.
250 lbs maximum user weight limit.
Solid steel frame
Foam padded push up bars
Foam padded pull up handles
Foam padded sit up station
Foam padded dips grips
Non-slip end caps
The Stamina power tower offers a far range of the same opportunities as more expensive equipment. Still, of course, it also has to neglect some features to keep the price low…
To name a few, the equipment only holds 250 lbs and also misses the back cushion and armrest the more expensive brands carry.
But if you do not care about these minor shortcomings, this is definitely the right power tower for you!
Based on this, the Stamina 1690 power tower is awarded the "best affordable power tower for home gym use" award!
THE PROS
Very nicely priced
Made from solid steel
Small footprint
Comes With a Warranty
Quick and easy to assemble
Very happy customers!
THE CONS
Missing back support and armrests
Max 250 lbs user weight limit
Not as "fancy" as more expensive models
---
Best Premium Power Tower
If you've got space and a tight budget is not a problem – well, the Fitness Reality X Class Power Tower should be your choice.
Packed with features and construction solid as commercial-grade Power Towers, you'll get the feeling you are at "Golds Gym" within your own home.
By bringing a whole range of adjustment opportunities and mounting positions, this heavy-priced steel construction competes in a league of its own!
The features:
Assembly size; 63,4Lx 49W x 83H inches.
Weight; about 150 lbs.
400 lbs maximum user weight.
Angled ergonomically designed forearm and back cushions
Adjustable handlebars with foam rollers (7 different positions)
Multiple grip positions
Made from heavy-duty steel tube
Adjustable stability beam
Step support for easy access
Opportunity for floor mounting
All grips and handles covered with Foam for better grip
Adjustable height
As I have already mentioned, this power tower from Fitness Reality stands out among the rest of the reviewed power towers.
Due to added adjustment possibilities, you suddenly open the doors to a new range of exercises. It's also in its own class when it comes to building quality – giving you that all good "at the gym feel" while working out.
But it all comes at a cost.
Fitness Reality X Class High Capacity Multi-Function Power Tower sells for twice the price as others of the reviewed equipment – which is acceptable when you look at the features.
Anyways, there is no doubt: The X Class High Capacity Multi-Function Power Tower runs off with the title; "Best Premium Power Tower."
Well deserved!
THE PROS
Several adjustment opportunities
Extremely solid and sturdy base
Ergonomically designed
400 lbs max user weight
Comes With a Warranty
High user rating
Commercial grade feel
---
The Users Pick
The Gold's Gym XR is loved by its users for a good reason…
It really is a piece of amazing gym equipment!
Build a robust core with vertical knee raises, use the dip station for beautifully shaped triceps, or use the pull-up bar to develop a strong back. Whatever your goal is – the Gold's Gym XR will do its utmost to bring you there!
The equipment is easy to assemble and stands sturdy during usage. A lot of affordable power stations tend to wobble when being used with high intensity – a problem that is not applicable to the Gold's gym model.
The features:
Assembly size; 27Wx 57Lx 84H inches
Weight; about 90 lbs
250 lbs maximum user weight
Comfortable handgrips
Padded backrest for high comfort
Extra grips for multiple exercises
Comfortable handgrips
Vertical, angled and horizontal handlebars
Padded dip station
No wonder the users look at this beauty as the perfect power tower or what?
Now:
Let's have a look at the pros and cons of the Gold's Gym XR 10.9…
THE PROS
High user satisfaction
Loads of different grips and handles
Easy to assemble
Comfortable grips
High value!
THE CONS
Only 250 pounds maximum user weight
Fixed height
---
Beginner Power Tower Workout
Final Words: Power Towers Are a Good Investment
Still not sure if a power tower is for you?
Well, I understand…
A Power tower is a pretty big piece of equipment, and if you do not feel you have enough space for it, you should not get one.
But if you have space, and if you're serious about building muscle at home, investing in a power tower is worth every penny!
Actually, I like the power towers so much I've written a whole article on why you should buy a power tower to convince you!
What do you think?
Have I neglected a power tower that should be part of the list?
Here are the models that sadly did not make the cut, but were all considered:
Aainfox power tower
Xmark power tower
Bestone power tower
Iron jack multi function power tower
Bowflex BodyTower
Yoleo power tower
You didn't fancy any of the above?
Have no fear!
Take a look at my at-home strength-building archive – LOADED with reviews, workout routines, and exercise tips!
Other Helpful Resources