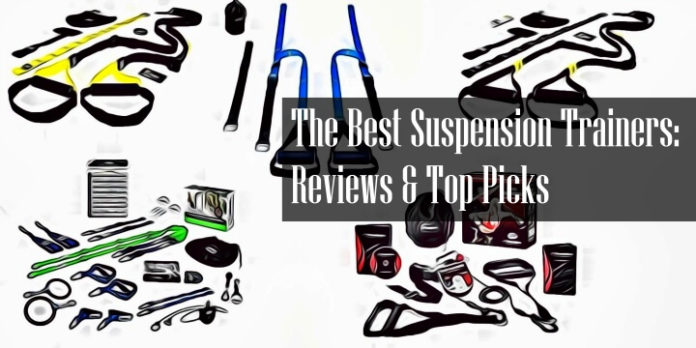 "In my commitment to helping you get in the best shape EVER, I've looked at the top suspension trainers currently available and listed the six best trainers on the market. Also, I've added a thorough buyers guide and a FAQ to make sure you end up with a suspension trainer perfectly suited your needs."

Now:
Let's find out which is the best suspension trainer for the money in 2022!
IN A HURRY?
Well, if you don't have the patience or time to read the full article – here is a quick look at my favorite 3 suspension trainers:
Now:
Before we move on to the buyer's guide and in-depth reviews, let's compare the top suspension trainers to each other.
Award
Best Premium Suspension Trainer
Summary
"TRX is the most known suspension trainer manufacturer with thousands of happy customers. There is a reason for it… Their product is simply rock solid!".
"Among all the suspension trainers Ultimate Body Press will give you that extra bang for your dollars".
"The most complete suspension training bundle out there. The human trainer essential kit gives you EVERYTHING. By far the best premium suspension trainer kit around".
Summary
"TRX is the most known suspension trainer manufacturer with thousands of happy customers. There is a reason for it… Their product is simply rock solid!".
Summary
"Among all the suspension trainers Ultimate Body Press will give you that extra bang for your dollars".
Award
Best Premium Suspension Trainer
Summary
"The most complete suspension training bundle out there. The human trainer essential kit gives you EVERYTHING. By far the best premium suspension trainer kit around".
The Ultimate Buyers Guide To Purchasing a Suspension Trainer System
There are loads of different models on the market, and they all come with their own strengths and weaknesses.
Before you spend your hard-earned cash, you should know what features to look for in top suspension trainers.
So:
I have looked at the different features and listed them in this buyer's guide to help you make an educated choice in your search for the perfect training straps!
Here is what you should consider:
The Overall Functionality
There are two main types of suspension trainers available in the market: a static and a rotational one.
The static is the traditional equipment that provides simple tension to your muscle groups.
The other one has a pulley attached to it to allow rotational movements that the static equipment can't provide.
Know your workout plan and fitness goals to determine which of the two best suits you. Which kind of exercises do YOU prefer?
?: IG felixtrxmadd

More TRX: https://t.co/pPp7cYoF21#TRX #SuspensionTrainer pic.twitter.com/7BzCYZ0OlM

— TRX® (@TRXtraining) November 7, 2018
Equipment Quality And Durability
Remember that suspension trainers will carry your full body weight, so make sure they're as strong as Spiderman's web!
Straps should be made of quality materials with industrial-grade webbing, and the buckles should be made of sturdy carbon fiber.
Look for information on the maximum load the equipment can handle. Purchase one that exceeds your body weight as an extra safety precaution.
The Grip Comfort
You'll be with your suspension trainers almost every day, so you might as well get one that's comfortable to hold while in use.
It should be tacky enough to prevent you from slipping but not too rough that it causes blisters. It should also provide more freedom to move your hands and feet.
An ergonomically designed grip can prevent you from putting any unnecessary strain on your hands, wrists, ankles, and feet.
Strap Length
The length of the straps is of great importance, depending on where you'll anchor them.
Longer straps, in general, allow more freedom of movement and mounting height.
And the more freedom of movement, the more exercises you will be able to perform!
The Anchor Strength
The strength of the straps is only as good as how strong the anchors are.
Having a durable strap with a brittle anchor is useless!
Suspension trainers are usually latched to a door, a ceiling mount, or tied around anything stable enough to carry your body weight.
The anchors must be robust and secure. At the same time, the anchors shouldn't leave marks after you remove them from your door or any ceiling fixture.
Portability And Ease of Setup
One of the most excellent features of suspension trainers is their portability.
You can literally set it up and get started anywhere!
Look for one that weighs only a few pounds so you can easily bring it anywhere you want. 
Usually, they come with a carrying bag when you buy them in sports shops.
You should be able to set it up for use in under a minute, faster than you can fry an egg for breakfast.
Equipment Price
For their versatile functionality, suspension trainers are relatively cheap compared to other fitness equipment.
Prices range from as low as $50 for generic brands to something a little over $200 for professional brands.
What is your ideal price range?
Don't go buy the most expensive model if your wallet does not allow it!
The affordable suspension trainers might, in some cases, be more than good enough for most people!
Things You Should Consider
Okay, now you know some of the pros of suspension training – but the question remains:
Will a suspension trainer match YOUR needs?
Will you and a suspension trainer be a match out of heaven?
Before you look for suspension trainers, take into consideration the following factors:
What is Your Fitness Level?
Although suspension training is known for high-intensity workouts, it's versatile enough to allow moves suitable for beginners in the world of fitness.
Make sure you know how much your body can handle and how your balance and muscle coordination fares before you start working out.
Do You Have Any Medical Conditions?
Never attempt to engage yourself in suspension exercises if you have heart conditions, spinal injuries, arthritis, or knee inflammations.
Make sure you've received clearance from your doctor first before holding those suspension straps.
What is Your Purpose?
How often are you going to use them?
What sort of exercises are you planning to perform?
Who else will use the trainer?
Do you plan to incorporate rotational exercises into your workout regime?
Does your body weight allow you to perform this type of workout?
These are some of the questions you have to ask yourself to know how you'll use your trainers.
Your answers will play a part in the type and features of the straps you'll have to buy.
Location of Equipment Usage
Where do you plan to anchor your kit?
Are you planning to put it on a fixed area in your house or gym?
Do you plan to bring it anywhere you want?
Suspension trainers are basically portable, but you may need specialized anchors to let it latch better on specific areas.
"TO GET THE MOST OUT OF YOUR TRX TRAINER, FIND A WORKOUT SPACE THAT IS FLAT, NON-SLIP, AND GIVES YOU AN AREA OF APPROXIMATELY EIGHT FEET LONG AND SIX FEET WIDE."
Reference: aliveandwellfitness.ca – Where To Set Up Your TRX Band
4 Necessary Safety Precautions to Take Notice of
Even though suspension training is friendly to beginners, there are certain moves and forms you need to learn first before you can perform full-blown suspended exercises.
Maintaining proper form, knowing which muscles to engage, and performing the tricks to keep your balance are some of the basics you need to master.
Once you've mastered these things, it's time to ensure your equipment is safe to use.
Inspect Your Equipment Before Use
Always inspect the equipment before you use them.
Do not use suspension trainers that are already worn out or show signs of damage. Replace them immediately or ask the manufacturer if they can offer help in fixing your equipment.
Using compromised equipment can lead to injuries or even grave accidents.
Check Your Setup
Avoid clipping the carabiners into intermediate loops since they're not meant to hold weight.
Doing so may weaken the stitches and gash the straps. Hook the carabiners only into designated slots to avoid compromising the equipment.
Also, do not let the straps sit along sharp edges to avoid tearing them.
Continuously rubbing the straps against sharp edges while you work out will shorten the lifespan of your equipment.
Secure Your Anchor Points
Make sure you attach the equipment to secure and strong points that can hold your whole body weight for prolonged periods.
Perform weight tests by pulling the straps real hard after securing them on anchor points.
You don't want the straps to fall down in the middle of a workout…
Equipment Maintenance: Keep Your Exercise Equipment Healthy!
Owning your own fitness equipment is a form of investment. You should treat it as a treasure because you'll use it for a long time.
Using the equipment the wrong way is one method to shorten its lifespan. One example is rubbing the strap along with the anchor point in a sawing motion during workouts.
The trainer is meant to remain anchored and unmoving in one place. Rubbing puts friction on portions not meant to withstand it, putting tears and scratches on the straps.
Avoid exposing the equipment to intense heat for prolonged periods. Similarly, keep it from moisture and wetness to avoid wilting the webbing of the nylon straps.
Follow these simple steps, and you'll surely keep your suspension trainer healthy like a baby.
Which Type of Suspension Trainer Should I Buy (With or Without Pulley)?
TRX®, the frontrunner in manufacturing suspension trainers, used to monopolize the market with their suspension equipment.
After some time, CrossCore® came into the picture and added a pulley to their trainer, adding new dimensions to traditional suspension training's workout variety.
These two schools of suspension training have gained supporters who continue to debate which of the two regimes is better…
Both of them are excellent exercise equipment, and each one possesses features that the other one lacks.
TRX's suspension trainer promotes static bodyweight training and is more stable and reliable in carrying heavy loads. On the other hand, CrossCore's equipment promotes rotational bodyweight exercises because of the pulley mechanism.
The latter has enhanced maneuverability and versatility compared to the TRX trainer, making it better in a few – but important aspects of bodyweight training.
Both gears are good buys, deciding on which to choose is up to your preferences and liking.
If you would like to know more about how the pulley mechanism works, take a look at my best suspension trainer with pulley reviews.
See you there!
What is the Best Suspension Trainer for The Money? 2022 Reviews
Suspension trainers have become a mainstay in the gym and home exercise setups, however not all are made equal…
Luckily, I've had a look at the "crème de la crème" among the available models to make your decision process go smoother.
Read on to discover my top 6 favorites:
---
The Editor's Choice
TRX was developed with the aid of military science and feedback from users in the field, so rest assured it's built to withstand heavy usage.
It's made of materials built to survive the most intensive environments. 
Indoors, outdoors, or in the middle of the jungle – its quick setup feature allows you to work out anywhere you want to!
Wherever you choose to do your workouts, the system ensures your stability and comfort in the process.
The TRX Home Gym comes with the following items in its package:
Two anchoring solution
Mesh pack
60 seconds set up the device
Workouts to download directly to your phone
I picked this product among others and awarded it with the Editor's Choice badge simply because it's the perfect fit for home training enthusiasts.
True to its word, the TRX's is simply pure quality!
The TRX is versatile and can withstand heavy usage. You can do a full-body workout with it, including intensive cardio workouts lasting over 20 minutes, and it will still be up for the next challenge.
You can bring the equipment anywhere you want, using the included mesh bag.
Aside from muscle training, it can also be used as an aid for rehabilitation activities. Its grips allow even users with sweaty palms to comfortably grab the straps.
Warning:
Beware of fake TRX products sold in online shops. Many users who unknowingly bought TRX imitations only realized what they got was a fake when the parts snapped apart during use… 
Make sure you're getting the product from legitimate sources to avoid injuries caused by a substandard build.
The TRX is an all-rounder that exhibits quality you can't dismiss. Its durability and versatility prove it's worth every penny it costs.
THE PROS
Made of high-grade materials
Versatile and durable, suited for heavy use
Has comfortable grips
Easy setup
THE CONS
Expensive
No wall anchor in the package
Counterfeit products tarnish the reputation of authentic ones
---
Most Bang for The Bucks
The Lifeline Jungle Gym XT, is one of the veterans – and it has been voted among the best suspension trainers for ages…
Designed to provide you with a full body workout, the XT straps let you do TONS of different exercises – either your aim is to build strength, rehab after an injury, or if you just want to work on your cardio.
The straps are built to last, using industrial-grade materials. These suckers are together with the TRX bands, the most popular brands among gyms all around the globe. If a gym offers suspension training classes – chances are pretty high, you will be using Jungle Gym while attending.
The Jungle Gym comes with a split anchor design, making them more versatile than lots of its competitors. Each of the straps is equipped with a door anchor solution and two strap end adjustors.
Integrated into the grips, you'll also find a comfortable foot cradle. Doing lower body training has never been easier!
Oh wait:
Before I wrap up the Jungle Gym reviews, I should mention that the cam buckles operate with a breeze – letting you change from 16 – 94″ in length in a matter of seconds!
Sounds nice?
Here's what you will get in the package with your new Jungle Gym:
Non-scuff Duro Link Anchor
A set of innovative suspension trainers
Built-in door anchor
3 level workout poster
12 online workouts with an exercise guide
Users LOVE the Jungle Gym, and I do too!
Among the best suspension trainers, these straps get my "most bang for the bucks" award as they will give you tons of exercise equipment for your money!
THE PROS
High Quality
LOADS of satisfied users
Big exercise variation
Known brand
Smart design
---
The Premium Choice
The Human Trainer Complete Pro Kit is a complete suspension training package, including several accessories that can be used to adapt to different situations and training purposes. 
It's versatile and can be set up indoors or outdoors as long as there's a stable anchor point where it can be attached. It boasts the manufacturer's patented dual anchor and dual anchor versatility setups, which both provide improved suspension stability.
All Human Trainer products are included in this kit, something that makes it a bit pricey:
Rotational pulley
2x main straps with door anchors
2x versatility anchors with door anchor
2x foot cradle handles
2x ceiling mounts
2x extra handles
A pair of short versatility anchors
Pair of abs slings
Pair of Olympic rings
Pair of triceps ropes
An advanced poster
4x e-books
Mesh carry bag
A copy of The Human Trainer DVD
Certificate of authenticity
Product manual
Exercise guide
The manufacturer also offers a 90-day money-back guarantee for customers not satisfied with the straps. 
The kit is also covered with a 2-year immediate replacement warranty on selected parts.
That is a lot of stuff bundled together – CRAZY!
This product is ideal for professional use. You pay for are the accessories that will enable you to perform a wider variety of exercise routines than other trainers. 
This is the most comprehensive suspension training kit available in the market.
For home use, this seems to be overkill since you may not need most of the items included in the package. But if you want a premium product – this is your choice!
THE PROS
Includes a lot of items in the package
Can be used for hundreds of exercises
Variety of anchoring setups and cradle handles
Great warranty coverage
Superior Quality
THE CONS
Ludicrously expensive
Carry bag can't contain all the items in the kit
---
Recommended Product
These training straps from ProProo are made of professional-grade nylon for improved durability. 
They include a travel bag where you can pack everything so you won't miss a training session wherever you are. You can also set it up and get started in an instant:
In your garage,
around a tree,
or in your room.
All without the help of tools.
The manufacturer is kind enough to include the following features in their product:
Training guide poster with exercises
Quick-adjust buckles
Universal utility anchor
6′ straps indexed for fast, easy adjustments
Heavy-duty cam buckles and high strength handles
Carrying bag
These straps have features similar to more expensive variants from TRX and other high-end brands – but cost just a fraction of their price!
The ProProo Home Gym Bodyweight Resistance Trainer costs around fifty bucks. In contrast, similar products from more known brands cost over a hundred.
How is that for a difference?
Owners of this product love how the manufacturer threw in their "flat handles" instead of regular foam, which is the material usually found in regular suspension trainers. These are more comfortable to grip, and it's more durable compared to foam.
The anchoring system lets you easily hook the straps up to all kinds of places, from doors to tree limbs. There are no limits to where you can get your exercises on using this piece of equipment!
The product is also as durable as those from big brands.
The clasps are sturdy enough to handle your weight, and the straps are tightly stitched – they look like they won't break even after years of use.
THE PROS
It has features similar to more expensive trainers from known brands
Nice grips
6′ straps indexed for fast, easy adjustments
Quick-connect' S' hook anchoring
Affordable price
THE CONS
No ceiling or wall mount included in the package
---
Best Kit For Travel
TRX is proud to present its lightest suspension trainer ever – the GO Kit. 
It weighs only 1lb and has a mounting height of 7-9ft. 
This trainer is so lightweight that you won't notice you're carrying it around, making it the best gym equipment for travelers. 
Despite its weight, it's strong enough to handle over 300 different exercises. You can also set this thing up in just a minute.
Expect to get the following items when you buy this product:
Door anchor
Suspension anchor
Workout poster containing 20-minute exercises
Setup guide for quick use
Mesh carrying bag
A key card containing codes to access workouts online
TRX also offers a 1-year limited warranty on the product
Owners gave this product an overwhelming positive grade for its value. 
It has a sturdy built that can be compared to professional straps used in gyms. Despite being lightweight, it can handle at least a man that stands 6-foot tall and weighs 200lbs.
The only drawback is its foam grips. They're not as comfortable and as durable as rubber ones, but they still do the job of strengthening your hold.
For its price, the product performs better than expected of something that weighs as light as a feather.
THE PROS
Weighs only a pound, making it extremely portable
Includes free workout content
Easy to set up and get started
Can handle heavy loads
THE CONS
Foam grips
No mounting brackets
---
Best Affordable Suspension Trainer Kit
Made in the US, these training straps from ComCor are made of industrial-grade components and webbing – built to last a lifetime! 
To make sure the straps can hold the weight of even a gorilla, they have been tested to over 1000 pounds. That should do the trick!
The ComCore straps have a double strap attachment, meaning they can be secured to the sealing, etc. using two anchors. Using a double anchoring system minimizes the risk of the straps rubbing your shoulders and arms while doing push-ups, among others.
ComCor has integrated several nifty details into their trainer to make sure they are a perfect fit for newbies as well as the seasoned trainer:
High-end industrial straps, buckles, and grips
Flat grip for reduced chafing
Quick-adjust buckles
Universal utility anchor
Easy to set up 2-point attachment system
Heavy-duty EPDM power grips
It really fascinates me how quality US-made products like the ComCor suspension gym fitness trainer can be sold at the same price as cheap China counterfeits… 
It almost sounds too good to be true!
Anyways, too good to be true or not:
If you ask me, this kit is a real bargain!
THE PROS
EPMD all-weather power grips
Practical 2 point attachment system
Lifetime warranty against defect
Affordable price
THE CONS
No ceiling or wall mount included in the package
No carrying bag
---
The Alternatives
Although I have listed my top best suspension trainers in this review, there are a couple of other ones available as well. And some of them are actually pretty good!
Here are some other great options that are also worth considering:
Emerge Ex2
Crane
Nossk
Qonquill
If you are short of cash – or you are a DIY kind of person – the Scooby 6$ SRX is by far the best DIY suspension trainer. Why don't you go check it out?
Final Words: Suspension Training Systems Work
Suspension training offers a lot of benefits to your physical fitness.
That is a fact!
The added challenge of having specific body parts suspended in the air forces your body to exert more effort and help improve your balance, strength, endurance, and muscle coordination in the process.
Its effectiveness has been proven by many athletes and is backed by several scientific studies.
Even the military incorporates suspension training in their workout regime because of its efficiency. But like every other sport or exercise, you have to observe safety precautions to avoid injuries and accidents.
The portability and versatility of suspension trainers make them more convenient for people to perform intensive workout sessions in the comfort of their homes.
Being handy is the most significant advantage of suspension trainers: They pack the functionalities of several gym apparatus into a single lightweight and compact gear – which you can use anytime and anywhere you want.
Now that we're done discussing how amazing suspension trainers are, and you know which are the best suspension trainer – you have no more room left for excuses that you're too busy or the gym is too far from home to get a dose of exercise.
Even a 15-minute workout on the suspension trainer is enough to boost your muscular and cardiovascular strength. If you add another five minutes you will be able to do a full-body workout to build strength and killer core muscles.
So, go and choose one of the best suspension trainers I've listed and get started working out for a healthier lifestyle.
Other Helpful Resources