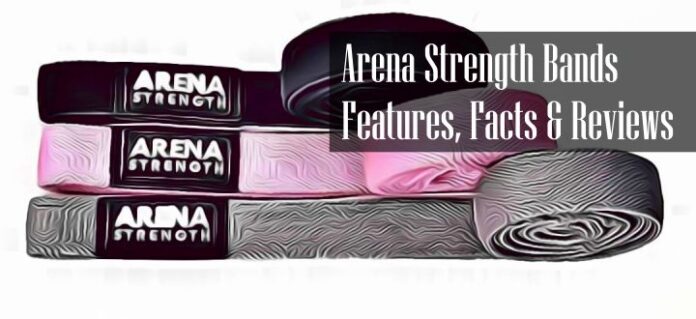 Several of you have requested me to write an Arena Strength bands reviews – and finally, it is here!
Now:
The big question is: Do the Arena Strength bands live up to the hype? Or are they just another average resistance band?
Can they challenge the WODfitters loop band set for the throne as the very best resistance band?
Read on and find out!
2021 Arena Strength Bands Reviews
The Arena Strength Resistance Band is a long fabric band that is great for people trying to get that perfect hourglass figure.
It is ideal for full-body workouts – guaranteed to help you get those properly toned arms, abs, and legs.
If you are looking to get an all in one home workout equipment that does not require a lot of instructions and guidance to use, then you should be looking at this resistant band.  You can incorporate different routines into your workout programs with it, and it also works out your muscles without you having to use additional weight.
This resistant band is lightweight and portable; it comes in a set of three distinct strength levels marked with different colors. The gray resistance level is for light, pink for medium, and black for hard. Users are advised to start with the gray one, and with continuous usage, they can eventually work up to black.
Another plus is that it is made with superior fabric and needlework, ensuring that this band does not break, tear, or stretch out no matter how long the owner has been using it.  This band promises to give you a product that can be used for years with a 1-year money-back guarantee included in every purchase.
 As if that is not enough, you also get a full-body workout guide that can guarantee you that sexy silhouette, with proven workout routines to strengthen your upper and lower body. You also get access to multiple workout resources like nutrition guides and online workout videos that show you how to use the strength band. There is also a Facebook group of women who also use this product to share experiences and ask questions.
To top it off,  this product comes with a small carry case where it can be stored and can easily fit into bigger bags to be carried to the gym or taken along with you on a trip.
Whatever it is that is your body goal, from a flatter stomach, a round and firm butt, to a complete bikini body – the Arena strength band promises to deliver it to you in a few weeks.
Notable Features
Durability: This product was indeed built to last you for a long time. The fabric used is high-quality materials that prevent them from snapping or stretching out after a while. Wouldn't you hate it if you used your band for a month, and it doubled in length? With this band, you do not have to worry about that as it comes with a 1-year guarantee, which means you can enjoy using it for more than one year without complaints.
Comfort: this band is very comfortable; it won't slip up when you sweat and would not pinch or dig into your skin when you use it. It guarantees you premium comfort as you exercise. A latex band on the other side feels way less comfy to your skin.
Portability: this band is big enough to stretch and work on your full-body, yet it is very light, and you can easily fold it up and put it in the purse that comes in its packaging. In case you decide to workout anywhere else, or you are going on a trip for a while, you can pack up your band and be on your way.
Usability: as a one-piece instrument, this band is straightforward and efficient to use. You do not have to be a fitness coach to use it; there are different strength levels to fit everyone's ability.
Quick Facts
Size: 11.5*4.6*16 inches
Weight: 422 Grams
Color: Gray, Pink, and Black
Material: Cotton
Package Contents:  3 resistant bands with different resistance levels, 1 purse, and workout routine
THE PROS
Can be used anywhere
Different strength levels to fit everyone's capability
Do not dig into your skin at higher strength levels
Comes with a workout guide to show you how to use it
Provides a great workout!
THE CONS
Not suitable for machine wash
They are not completely latex-free
Who Should Use an Arena Strength Resistant Band?
The great thing about this resistant band is that a wide range of people can use them:
Either you are a beginner or seasoned trainer I highly recommend both fabric type bands and rubber bands. If you are wondering if even you can use this band – the answer is YES! 
Yes, you read that right.
It does not matter if you are a man or a woman. If you want to tone your lower and upper body, you can use the Arena Strength Resistant Band anywhere and anytime.
Some people think that these bands are only good for newbies; this is not true because it has different strength and intensity levels, and there is one suitable for everyone's needs.
The thousands of happy Amazon customers are proof!
The Alternatives
There are several alternatives to the Arena Strength bands – some of them can be seen in my best resistance bands for pull-ups reviews. Other great options are:
None of the above are fabric resistance bands – the first two are traditional rubber loop resistance bands, while the Bodylastics band is a tube band. You can read more about each of them by clicking the links above.
If you on the other hand are looking for pure fabric booty bands, you should check out my best fabric resistance band for glutes reviews. Spoiler alert: The WODfitters booty band set went all the way to the top!
Final Words: Arena Strength Fabric Resistance Bands – Are They Worth it?
So, can fabric bands compete with traditional latex bands? The Arena Strength bands can… They are of great quality and are comfortable to use no matter which fitness level you are at. Use them for regular strength training or assisted pull-ups – they will deliver excellent results at both!
If you are looking to do specific exercises focusing on your booty though – fabric glute bands would be a great addition to a full-size loop band. Glute bands are perfect for doing donkey kicks, hip thrusts, leg lifts, and other booty workouts. Check out my best glute band reviews if you are curious to learn more.
Hey:
Do you want to read even more product reviews?
Make sure to visit my strength building archive LOADED with workouts, exercise videos, and actionable fitness hacks!
Hope to see you there!